As Amanda Woo, CEO, AirAsia super app, explained at the Oct-2021 edition of CAPA Live, AirAsia "used be an airline" – a highly successful one at that which had ranked "the world's best low-cost airline, a few years running in a row."
But times have changed and the airline's former chief commercial officer is now, she's leading AirAsia into new revenue streams, tapping into her decade and a half experience of airline revenue generation, eCommerce digital marketing, and lifestyle brand creation.
So, what is AirAsia super app? "In short, we are no longer just an airline. Super app is actually a single platform ecosystem for everyone and everywhere, anytime that you can use," explains Ms Woo.
It is already proving a successful formula for an airline that has seen its operations severely dampened by ongoing travel restrictions across its home market of Southeast Asia. In Sep-2021, the AirAsia super app reported "strong revenue growth" of 39% year-on-year, attributed to new product offerings and commissions.
While AirAsia has almost 20 years of experience with airlines, "the entire Super App is of a start-up mentality," explains Ms Woo. "We are keeping to our real DNA, which is a low cost model across any new line of businesses that we're going to introduce". She said the app offers the "the lowest commission model for our food merchant" and the "lowest ride hailing commission model to the drivers", adding: "We are actually the cheapest ride hailing fares in town".
Impressively, the super app already has an airline relationship far beyond the AirAsia brand. Within the app, travel continues to be the company's "core business vertical", generating 80% of its revenue, notes Ms Woo. That airline relationship now extends to about "30 airlines across the world," according to the executive.
AirAsia now plans to introduce an enhanced version of its Unlimited model "very soon, probably in a month's time," says Ms Woo. The unlimited subscription model enables customers to pay a subscription fee and redeem products, including flights and food delivery, free of charge.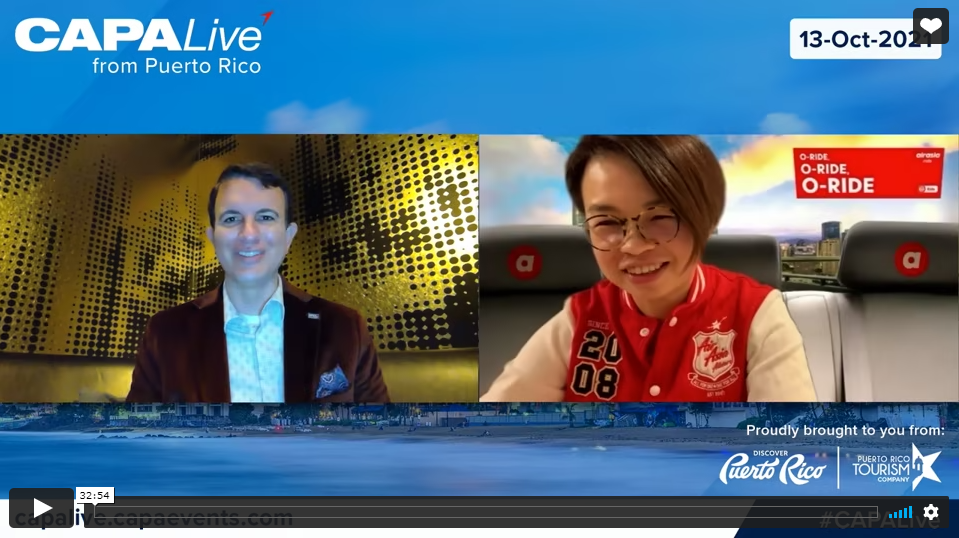 Click on this link, or the image above, to watch a CAPA TV recording of Amanda Woo's CAPA Live interview with APEX (Airline Passenger Experience Association), CEO, Dr Joe Leader.