The report, by The UK Domain, which provides small business advice on starting, building and growing an online presence and run by Nominet, the official registry for all .UK domain names, highlights just how our internet behaviours have changed over the past year.
While some industries such as eCommerce have experienced an increase in traffic during 2020, sadly, the travel and transport have experienced huge declines in website traffic numbers in the UK. With travel restrictions forcing the cancellation of business trips and holidays as flights were grounded as travel bans and quarantines were introduced, the travel industry has experienced massive declines in trade.
According to The UK Domain, in the UK online searches for '2020 holiday' saw a decrease of -87% in the last 12 months, with its highest point in Jan-2020 just as news started to spread across the world about coronavirus. This had a massive impact on website traffic.
Skyscanner, the popular metasearch engine and travel agency, had broken into the top 100 websites in the UK in 2019 as strong growth had pushed annual visitor levels beyond 200 million. However, reduced interest in 2020 has seen it slip out of the top 100. Replacing it was American e-commerce company Wayfair that sells furniture and home-goods. The UK Domain acknowledges that this illustrates "people's change in priorities" this past year.
Major OTAs Booking.com and Tripadvisor did manage to stay in the top 100, according to the research, but both experienced severe declines in annual traffic in 2020 of over -21% each. Booking.com, who had grown from 2018 to 2019 from 432 million visitors to 453 million in just a year only, received 312 million visitors in 2020, according to the data. It is a similar story for Tripadvisor that lost over 156 million visits in 2020, says the research.
With even domestic travel halted and many people asked to work from home, websites such as Trainline (an independent digital rail and coach ticketing platform) and TfL (the local government body responsible for the transport system in Greater London) followed Skyscanner out of the top 100 in 2020.
Unlike Skyscanner there was already downward movement in visitor levels for both sites between 2018 and 2019. This possibly hints at the transport industry "turning to apps to give a better customer experience," claims the research. However, while a continued trend, the huge decreases in traffic from 2019 to 2020 was clearly influenced by the pandemic.
It's not all doom and gloom for the travel industry though. Although 2020 has been an incredibly difficult year for travel companies and those who work in them, the industry as a whole "can expect to see increases in trade in the next few years," predicts the report. While '2020 holiday' may not have proved a popular search term for UK web users 'summer holiday 2021' certainly is. In the last 12 months UK online searches are up +1,015%, it says.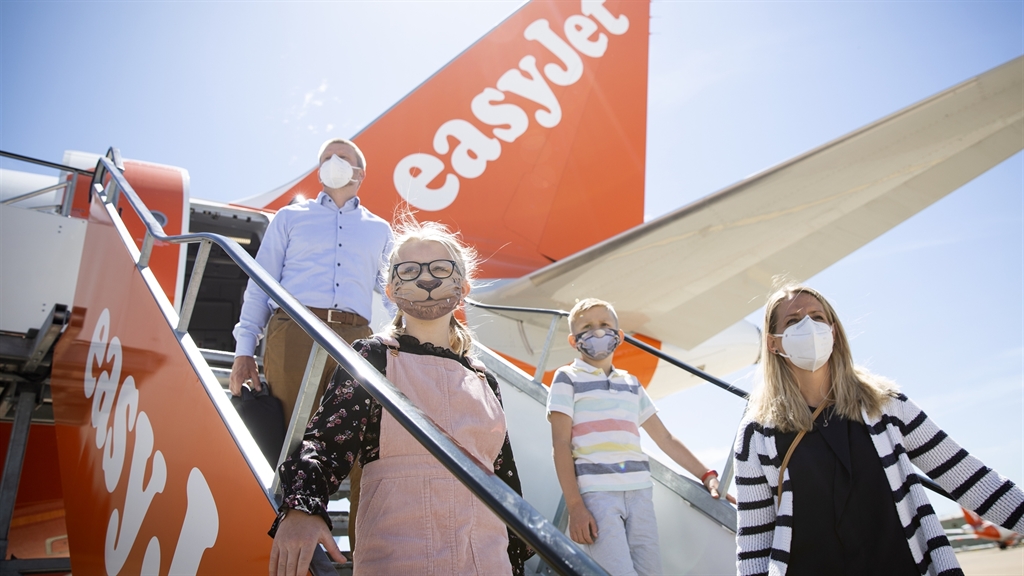 A survey conducted by easyJet of 5,000 consumers across Europe between 08-Jan-2021 and 20-Jan-2021 has shown that almost two-thirds (65%) were planning to or had already booked a flight in 2021. The pent-up demand seen among Brits was even stronger with 68% of UK consumers actively looking to travel in 2021. The airline's existing customers are even more likely to travel this coming year, with almost three quarters planning a trip.
With the majority of consumers stating they like to travel a lot (82%), the survey also revealed that travel still remains a priority for many and of those who had already made a booking for 2021 (14%) over half (56%) said they intended to book again this year, showing a strong appetite to make up for lost time.
The survey was conducted at a time that much of Europe was already in or was returning to lockdown measures and in the early stages of the vaccine roll-out, which the airline believes shows that consumer intent to book a long-awaited trip is only set to grow once travel restrictions are relaxed.
For those still waiting to book to travel this year, the majority (82%) are waiting for when there is more certainty around travel restrictions lifting, with further research by the airline showing that quarantine restrictions are a significant driver in restraining demand to travel. This indicates that demand returning is dependent on travel restrictions being rolled back safely.
The vaccination programmes across the UK and Europe continue to progress and this already appears to have delivered a boost for travel bookings; in early Jan-2021 easyJet holidays reported seeing a +250% jump in bookings compared to last year. This, it said, was being driven in part by an increase in bookings from over 50s who are among the first to be receiving the jab.
Airlines such as easyJet are viewed as being well positioned for the travel recovery as short haul leisure will return first, while customers are expected to be increasingly likely to seek value and trusted brands. In fact, Jozsef Varadi, CEO of Wizz Air, told Reuters last week that the longer the COVID-19 crisis lasts, "the better we will emerge" in terms of competition.