Once again, health and wellbeing was ranked as one of the top priorities for the year ahead. The survey found that almost half of respondents had already incorporated traveller wellbeing into their company's travel policy.
But the level of wellbeing measurement remains hugely varied. The findings showed that only 5% have optimised and integrated wellbeing throughout their organisation and just 16% take a proactive consistent approach. In fact, most were found to measure traveller wellbeing on a reactive basis, by defining basic policies, or gathering metrics.
"Wellbeing is a major issue in society in general and we are seeing a knock on effect in business travel. After lots of talk about the subject over the last two years, we are seeing conversations turn into action," says Graham Ross, UK general manager, FCM Travel Solutions
The survey is closed to buyers only and is fielded over the first two weeks in October. The confidential questionnaire is comprised of 20 questions varying in complexity that covers topics such as core challenges, company confidence, tender process, GDPR, travel programme, policy, travel gadgets and technology.
CHART - What are the biggest issues or challenges travel buyers expect to face when it comes to managing travel in 2020?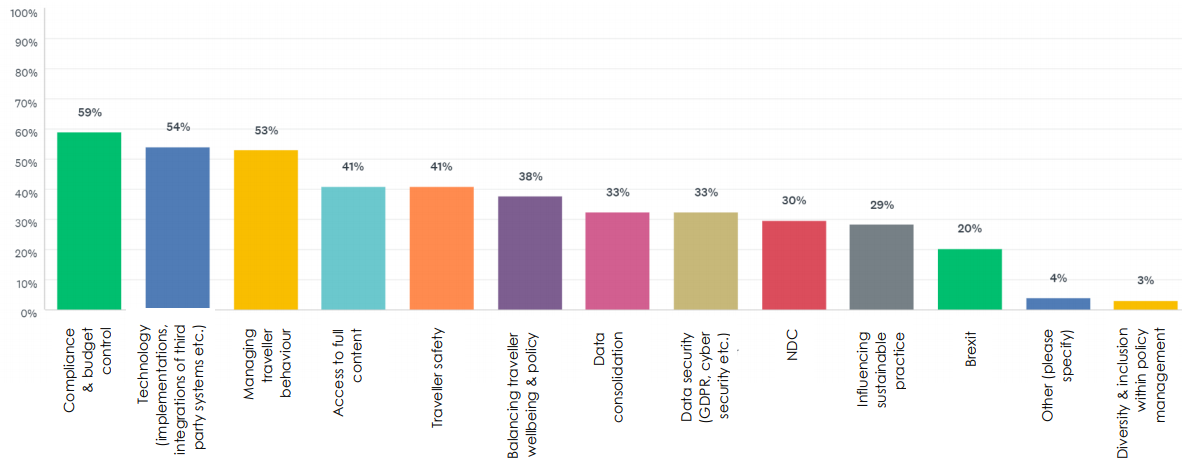 Source: Institute of Travel Management (ITM)
It highlights other big challenges for buyers include budget control, implementation of technology and managing traveller behaviour, while access to full travel content was identified as a major concern for 41% of those surveyed.
"Travel content and distribution are also going to dominate 2020 driven by NDC which will lead to a shift towards bigger conversations around cost and commercials," says Mr Ross.
With a new majority Conservative government voted into power in the United Kingdom last week it appears that the country's exit from the European Union will finally take place in 2020 and in this post-Brexit environment two thirds of respondents (67%) are confident that their travel spend will remain the same, while almost a quarter (24%) expect it to increase. In fact, just 8% are forecasting a drop in spend and adapting to changes in regulations caused by Brexit are ranked low on travel managers priorities next year, according to the responses.
The sustainability agenda is growing in momentum, but only 17% of those surveyed said that their travel policy would favour airline suppliers using biofuel, even if the flight option was more expensive. As ITM highlights, this poses the question of how much corporates are willing to pay for environmentally friendly products, such as aviation biofuel.