There are an increasing number of studies that have looked at business travel and its impact on staff health and wellbeing. Business travel is an essential part of work life for many people, but it can often cause distress for employees. Latest research of UK corporate travellers reveals that around one third have seen their mental health suffer due to work travel.
"From justification of the meeting to the safety of the individual, it is essential that the employer maintains their duty of care," highlights Capita Travel and Events in its recent report, 'The Unnoticed impact of business travel', where it has questioned UK employees who often travel for business on their thoughts on travelling for work and why it can have a negative impact on their lives.
Some of the findings are as expected, while others are rather alarming with clear signs how the pressure and stress of travel is impacting the mental health of employees. While many people do enjoy travel, there's no doubting that it can be draining, especially when it's a common part of your regular working.
The survey found that about a third of people have felt ill or suffered from a lack of sleep as a result of travelling for work, with around a quarter (24%) revealing they have had a row with their partner about working early or late.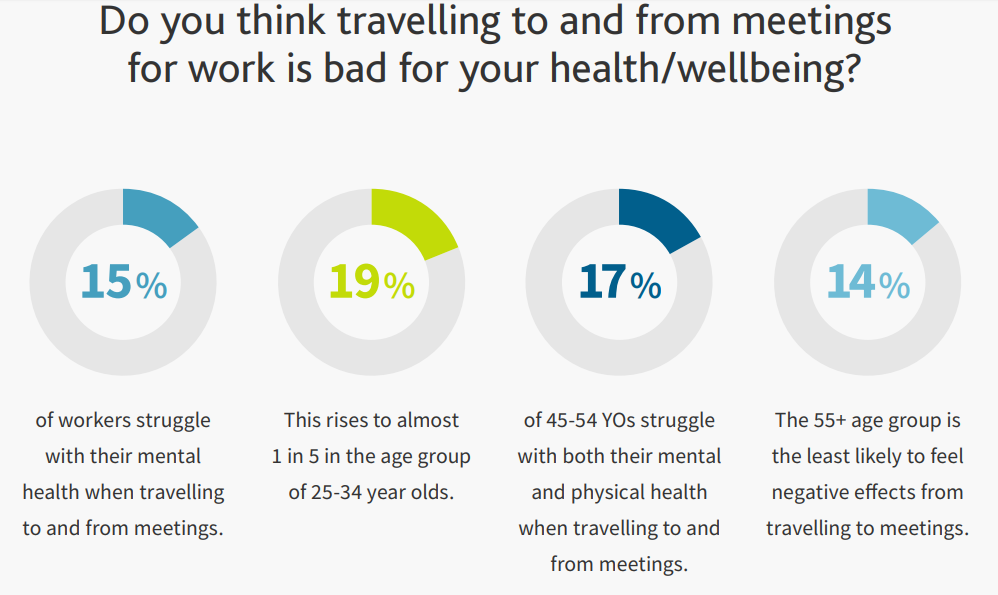 When it comes to the travelling, 15% of workers admitted they've struggled with their mental health when travelling to and from meetings. This increased to almost one in five (19%) for 25-34 year olds. Two in five (41%) said they are forced to work beyond their core hours when travelling for work, while more than a third (37%) said they have skipped a meal due to their travel schedule.
The survey further questioned the value of meetings and surprisingly revealed that one in four (27%) had arrived at a meeting only to find out they didn't need to be their. While the results proved that in most instances meetings that involve staff travel remain important, almost a third (30%) of respondents said they went to meetings because they 'feared if they didn't, it would negatively affect their career'.
Meanwhile, 36% of people only attend because they're told to. Similarly, 34% of people admitted the meeting they attended could've been held virtually, a smarter solution from both a health and wellbeing and wider sustainability perspective.
"Across the whole workforce – and the whole population – this is a huge number of people whose health is suffering from the lack of smart travel for work," claims Capita Travel and Events, which endorses businesses to consider a wider smarter working picture and effectiveness when it comes to travelling for business.
"For many, business travel used to be thrilling – but for most people it's now a real chore. Rather than being an adventure, it causes dread, uncertainty and all sorts of problems," acknowledges Jonti Dalal-Small, a behavioural psychologist at Capita Travel and Events, in the report.
You can view the full report The Unnoticed Impact of Business Travel or view an Infographic of the survey highlights.