Under the unified Travelport Axess brand, the JV will bring together Axess' expertise in the Japanese market and Travelport's global technology experience and will provide online, mobile and corporate travel options. The company will continue to offer travel agents services through the Axess GDS platform, while also enabling access to Travelport's GDS platforms, Apollo and Galileo.
Additionally, alongside global booking and expense management tools as well as access to New Distribution Capability (NDC) content, offering Japanese travel agencies and their customers the best of locally developed products with global connectivity and capabilities.
Travelport has been working closely with JAL's Axess business since 2012 and has provided its core systems under technical collaboration arrangements. The new JV will enable it to strengthen its position in Japan's growing international travel industry as it works to build Travelport Axess into the leading GDS provider in Japan. This will be supported by having a team of Japan-based service agents and product specialists that are "able to deliver products tailored to customer needs".
IMAGE - The ownership structure and formation of the new Travelport Axess joint venture from Travelport and Japan Airlines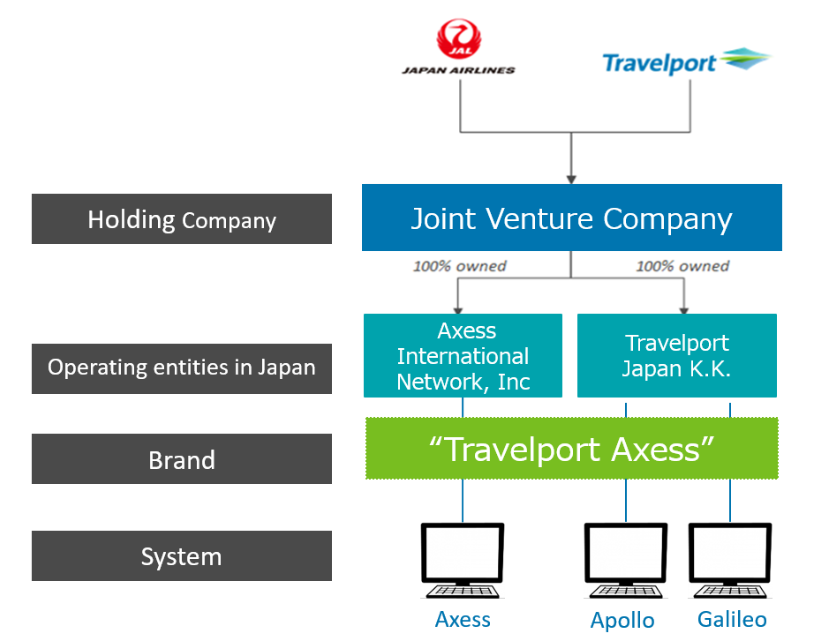 Source: Travelport Axess
Travelport's president and CEO, Gordon Wilson, says the JV formation represents a "significant advance in the provision of state-of-the-art technology for the Japanese travel industry," while its CCO, Stephen Shurrock, says Travelport's API-based commerce platform technology will "bring greater choice and exceptional performance" to the Japanese market and its travellers".
JAL's general manager, international passenger sales, Yoriyuki Kashiwagi, says the future of travel "will be transformed by technological innovation" and the new JV will help Japanese travel agents "to respond to growing global demands by offering services based on state-of-the-art technology".
Under the planned agreement, Travelport will hold a majority stake in Travelport Axess, with JAL controlling the remaining share and playing an active role in the joint venture. Following the formal signing of a definitive agreement the new joint venture is expected to be formally founded on 01-Jun-2019. Initially, Travelport Japan and Axess will continue to operate independently, but a gradual programme of integration to combine the two organisations will commence later this year.