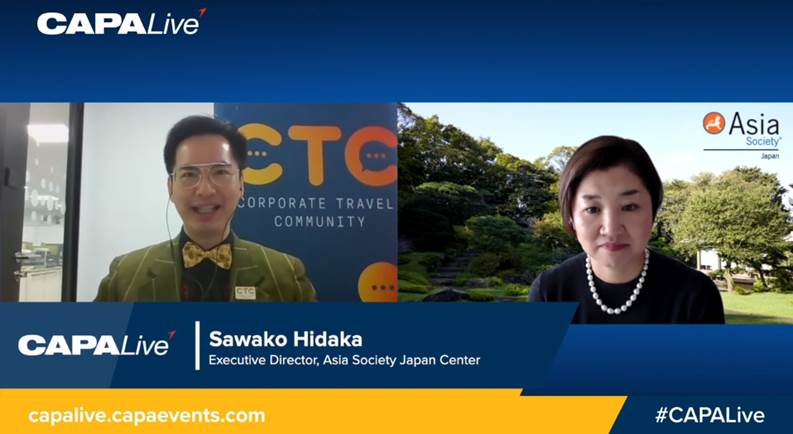 Benson: Are there any new travel measures levied by the Society to deal with COVID?
Sawako: At the moment, no staff in the Society are travelling. Even domestically there are some guidelines, for instance, in our New York headquarters staff will not be going back to work in the office until later this year. Nevertheless, operations at some centres have resumed already, for example the Hong Kong Centre has reopened the art exhibition. Starting from 27-Apr-2021, to commemorate the centennial of an inspirational Chinese figure in integrated art, Xie Jing-lanLalan Tse, we will showcase over thirty masterpieces and archival materials to celebrate her significance as a pioneer of cross-disciplinary art and impact on merging the aesthetic of the East and West. However, we have implemented special precautionary measures to ensure the public's health and safety. All visitors are required to use the "LeaveHomeSafe" mobile app or register personal information at the main entrance upon arrival. This is to ensure the people tracking mechanism is instantly capable if any COVID cases are reported during our exhibition.
Benson: Well done! Wonderful precautionary measures! I would like to further deeper dive on your views on working from home, since you mentioned about the policy in your New York headquarters. Do you think this will continue to be a new global trend?
Sawako: It is a fact that a lot of corporations around the world in the past one year or so are encouraging working remotely, or work from home. From Japan's standpoint, compared to other countries, working from home or working remotely were not part of Japanese culture. It's only because of the pandemic people are reluctantly encouraged to do so. Two more pragmatic points to further consider is that a) Japan (particularly Tokyo) is one of the highest densely populated areas, the average living space is comparatively speaking much smaller, and b) the younger generation in Japan don't necessarily have WIFI or they don't necessarily have a computer at home, though they are brilliant users of their smart phones or devices. There is a saying: "one size doesn't fit all", and I think this applies here.
Benson: What do you prefer more? Face-to-face or virtual?
Sawako: We are getting use to this virtual environment more, but at the same time please don't forget we are human beings. We have feelings and we don't want to feel lonely. Therefore, we need to continue to learn how to connect and we need the human touch as well for sure. But I think having this COVID global experience, the way that people are thinking about corporate travel and about having meetings, could have a newer mentality instead of always thinking from a traditional angle.
As a sneak preview of the forthcoming edition, Sawako San will wrap up her bold view towards corporate travel. Please stay tuned for this in-depth dialogue! 😊