The potential service comes as Hong Kong airport faces constraints. A number of intercontinental airlines are considering alternative airports to Hong Kong but no service has eventuated – yet.
It is unclear whether a service to Macau or Shenzhen, or even Guangzhou, can be sustainable once incentives and subsidies end. The opening of Hong Kong's third runway early next decade is increasingly on the horizon, provoking airlines to wonder if they should instead wait and grow at Hong Kong.
Turkish Airlines offers a daily flight to Guangzhou
While Turkish Airlines cannot offer a daily flight to Hong Kong, it does have a daily nonstop flight to Guangzhou. That flight, like the Hong Kong flight, is served by a 777-300ER. Emirates and Qatar Airways also offer a daily service each, but typically on the A380. (Etihad only serves Hong Kong.)
Emirates, Etihad, Qatar Airways and Turkish Airlines seat capacity to Guangzhou and Hong Kong: week commencing 09-Jul-2018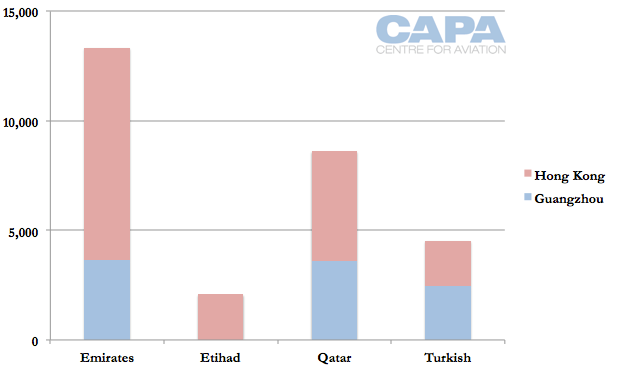 Source: CAPA – Centre for Aviation and OAG
Emirates has not significantly grown its Hong Kong operation since upgauging to A380s, but in recent years Qatar Airways has significantly expanded by upgauging from A330s to a range of aircraft, including 787-8s, A350-900s and 777-300ERs, although the 777-300ER appears to have been mostly used for its belly capacity while the State of Qatar faced constraints from the regional blockade. Unlike Emirates and Qatar, Turkish has not grown its seat capacity to Hong Kong since 2013 (see chart below).
Emirates, Etihad, Qatar Airways and Turkish Airlines annual seat capacity to Hong Kong: 2008-2018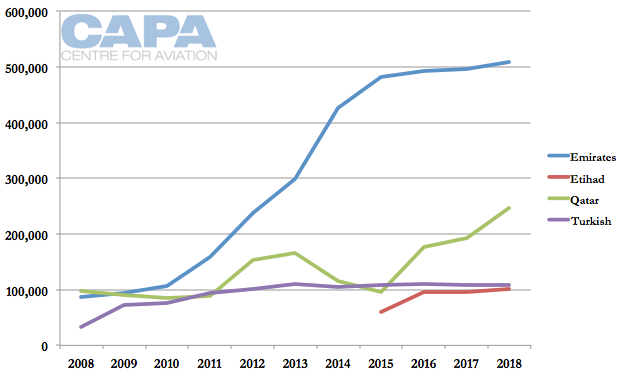 Source: CAPA – Centre for Aviation and OAG
Turkish Airlines faces constraints in Hong Kong
Much has been said of Hong Kong's slot constraints, although there are incremental slot additions resulting from improvements to air traffic management.
Turkish Airlines has faced the more unusual challenge that Hong Kong will not grant Turkey traffic rights for a daily service. Instead, Turkish Airlines is left with the unusual allocation of six flights per week.
At least once, Hong Kong has rejected a request for more traffic rights under advice from Hong Kong Airlines. Hong Kong Airlines lobbied on behalf of its sister HNA carrier MyCargo Airlines (formerly ACT Airlines), which is based in Turkey. The view appeared to be that a further increase of one flight per week would enable Turkish Airlines to carry cargo in the belly of its flight; it would thereby potentially pose competition to MyCargo. That would have been a stretched argument, but it appears to have worked.
In comparison, Macau has traffic rights and slots available. Operationally, Macau is not the goldfield it may seem to be: there is a lack of choice in ground partners. Commercially, it is unproven whether Macau is a large enough market – especially for a premium cabin. Even low cost airlines exited or reduced service to Macau after incentives and subsidies ended.
Macau airport has not had long haul service since 2010
Macau airport has lacked its own long haul flights since the 2010 collapse of the local airline Viva Macau, which linked Macau with the long haul destinations of Melbourne and Sydney. Macau has had to rely on surface links, including a ferry from Hong Kong International Airport that passengers can access without entering and clearing Hong Kong immigration and customs. The ferry was recently made available to airline passengers as a codeshare service.
Outside East Asia, Macau had limited services to the Maldives in 2015 and 2016 from Mega Maldives. Airlines have also offered limited service from Macau to the Pacific island Koror (Republic of Palau).
Three weekly flights possible, but unknown if they will be nonstop
Macau airport has confirmed to MNA that negations with Turkish began in Mar-2018 and they hoped to finalise a service as soon as possible, although this would represent a very short lead time for route development. Turkish Airlines has not commented to MNA.
An unspecified source has told MNA that talks were for a three weekly flight, but the report did not specify whether the flight would be nonstop, triangulated or tagged with another destination. These are not typical long haul routings for Turkish Airlines, but could reduce start-up risk.