Recent research from the World Travel & Tourism Council (WTTC) shows even a modest increase of just one million more international arrivals into Europe could generate an extra USD0.48 billion in GDP. This would provide a massive and much-needed economic boost for EU economies struggling to survive following the imposition of travel restrictions to combat the spread of coronavirus.
Across Europe and elsewhere many governments are evaluating reciprocal 'travel corridors' to enable holidaymakers to take summer holidays and prevent the collapse of the Travel & Tourism sector. The latest analysis from the WTTC, which represents the global Travel & Tourism private sector, highlights that even relatively minor increases in travelling would bring significant economic and job benefits.
It says that for every 1% increase in international arrivals, a massive USD7.23 billion in additional GDP would be generated. So, an increase of 100 million international arrivals – equivalent to an increase of +6.7% – would result in around USD48 billion in additional GDP.
"We know restarting the Travel & Tourism sector is a huge challenge, but the economy can be restarted while also prioritising and protecting the health of travellers and those who work in the sector," explains Gloria Guevara, president & CEO, WTTC. "It is vital that governments ensure that the right measures are in place, such as protocols and a comprehensive testing and tracing programme."
It's often said 'a little goes a long way' and the WTTC figures seem to prove it. Its research makes it clear that even a modest resumption of travelling can have massive economic benefits and bring thousands of desperately needed jobs back, providing a critical boost for the struggling sector and generating desperately needed GDP for economies left floundering after being struck by the pandemic.
"We encourage governments to do all that they can to ease the lockdowns and travel restrictions to allow the resumption of responsible travelling. Guided by WTTC's Safe and Seamless Travel initiative, it should include testing and tracing, consistent with advice from WHO and local health authorities. Together, we can control and reduce the spread of Covid-19 and at the same time protect public health and bring confidence back to travellers and to the wider travel sector," says Ms Guevara.
According to WTTC's 2020 Economic Impact Report, during 2019, Travel & Tourism was responsible for one in 10 jobs (330 million total), making a 10.3% contribution to global GDP and generating one in four of all new jobs. This year those levels look very different. The scale of the impact is evident in research of European bookings where flight booking data shows London has fallen to the bottom of the top 10 most booked European cities.
In the first half of June last year as the holiday season was in full swing, London was the most heavily booked city in Europe for any date of arrival, followed by Paris and Rome. However, travel restrictions imposed as a result of the COVID-19 pandemic, such as the quarantine rules imposed by the UK government, the capital has slumped to the bottom of the top 10, according to joint research by WTTC and ForwardKeys.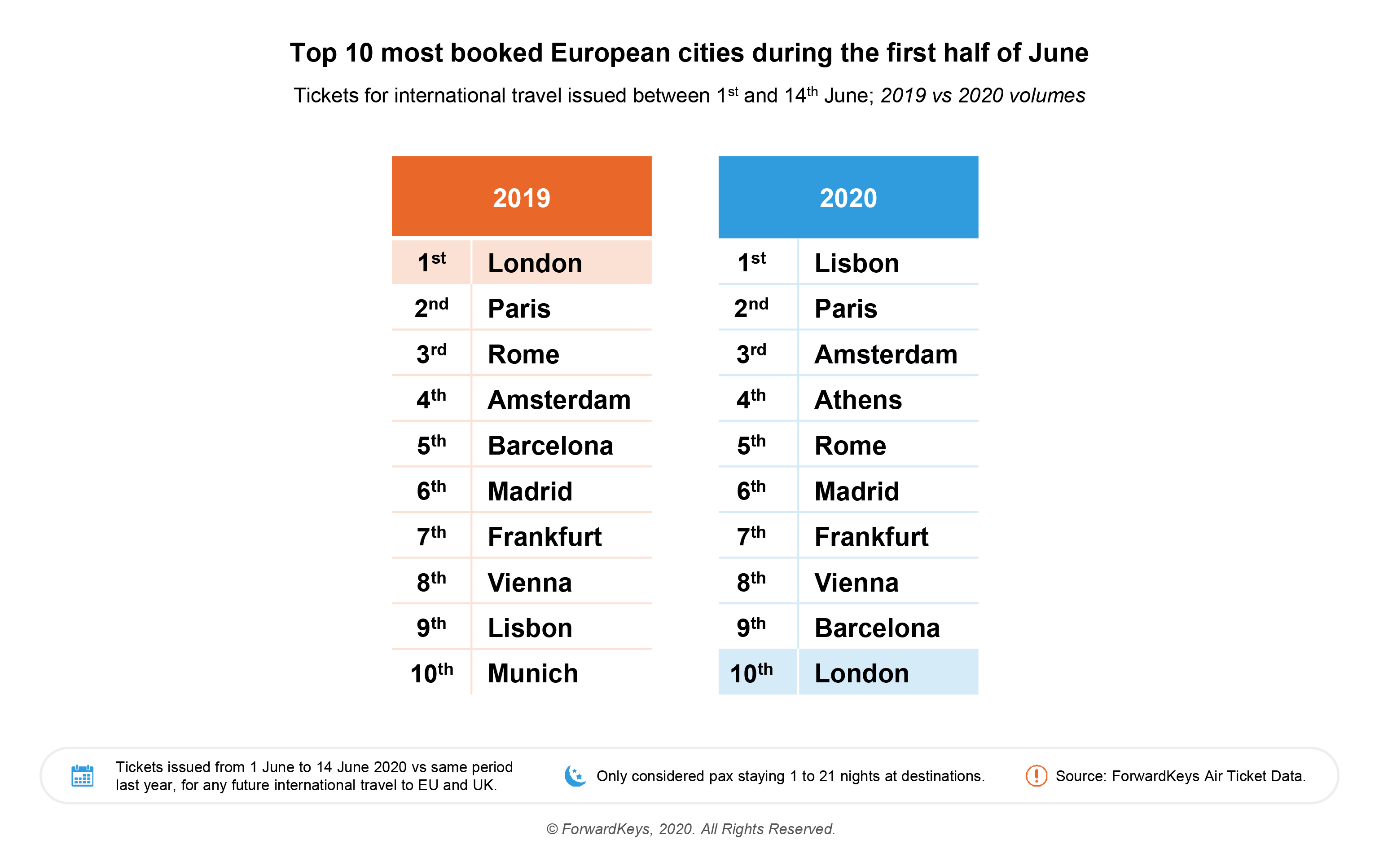 While Europe has begun to relax travel restrictions and bookings have begun to pick-up, those for London have languished. Lisbon meanwhile has soared to the top of the list of most booked European cities during the first half of June, compared to sitting close to the bottom in ninth place in 2019. Portugal has been one of the first countries to establish enhanced hygiene and safety protocols to welcome tourists and has one of the top testing rates to control transmission.
According to ForwardKeys research, new tickets issued for future international travel to the European Union (EU) dropped by 84.4% in the first half of June compared to the same period in 2019, recovering from a 94.5% overall decline in May. Meanwhile bookings to the UK plunged by a staggering 96.7% in the first half of June, almost unchanged from the precipitous 97.2% collapse in May.
New flight bookings for all international future departures from the EU slumped by 80.2% in the first half of June 2020, compared to the same period in 2019, recovering from a hefty 92.3% decline in May, according to the joint research.