Founder Travis Kalanick, who was ousted from his chief executive role in 2017 while remaining on the board, has sold most of his stake in Uber, valued at over USD2.5 billion of stock, in two months. Comparisons are being made with Apple. Steve Jobs also sold most of his shares in the company he co-founded in the mid-1980s after he was also cast out. The value would have increased dramatically had he retained them.
The general consensus is that when 'insiders' sell, it normally signals bad news about a company to the markets. Of course Mr Jobs returned to Apple in the late 1990s to lead it to the powerful position it holds today but it looks unlikely that Mr Kalanick will do the same at Uber.
Apart from selling his Uber shares he has kept himself busy by financing a new venture, City Storage Systems, or Cloudkitchens as it is also known, which is buying up real estate which it can to lease out to restaurants that have or subscribe to food delivery apps such as Deliveroo, Just Eat, and, of course, Uber Eats.
CHART - Mr Kalanick's successor, Dara Khosrowshahi, has tried to halt Uber's losses but the share price remains at some 33% below the May IPO price of USD45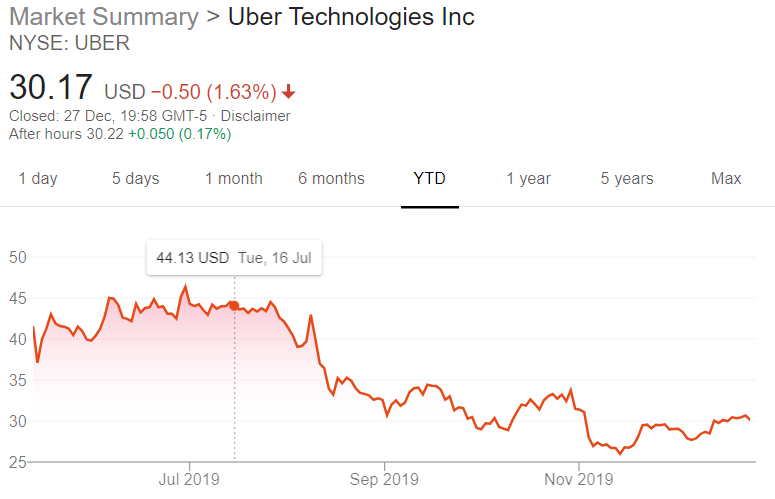 Source: Google/NYSE
But Uber has other problems, too, at tactical and operational levels. The firm was effectively banned from London, UK in Nov-2019 after the regulator Transport for London (TfL) said it had identified "a pattern of failures" by Uber which led it to conclude that it "is not fit and proper at this time". It has appealed and can operate during that, and future appeals, which could ultimately see it continue to operate in the UK capital for many years
A key regulatory breach discovered was a change to Uber's systems that allowed unauthorised drivers to upload their photos to other legitimate driver accounts. This let them pick up passengers as though they were the 'booked' Uber driver on at least 14,000 trips, which meant all those journeys were uninsured, TfL alleged.
While TfL recognised Uber had taken steps to try and tackle problems, it was concerned the firm's systems "seem to have been comparatively easily manipulated". This is actually the second time Uber has lost its licence in London.
One ironic issue that Uber faces is that by using the technology possible to solve this problem - face-scanning technology – it could find itself in trouble with the Information Commissioner.
Separately, Uber is currently involved in a Supreme Court battle against giving its drivers basic employment protections, including the minimum wage and holiday pay. It has engaged in legal appeals since 2016, when an employment tribunal found it unlawfully classed drivers as independent contractors.
https://corporatetravelcommunity.com/ubers-london-court-case-has-ramifications-that-stretch-far-beyond-europe-and-the-regulation-of-ride-sharing-operators/
To add insult to injury Uber was then banned on 19-Dec-2019 from operating in seven cities in Germany including Frankfurt, Munich and Berlin, after a court ruled that it lacks the necessary licences. It could mean Uber having to pay EUR250 per ride in fines, and even EUR250,000 in the case of repeated offences. Again, the ruling is subject to appeal.
At the end of Nov-2019 Uber drivers in France occupied or shut down the vast majority of the company's offices, hoping to force the company to negotiate better working conditions although the action was part of nationwide anti-capitalism demonstrations which remonstrated that "the gig economy has gone too far". Uber executives had to move its operations over to hotels and co-working spaces.
All this opens the way to Uber's rivals to steal a march on it. In London the main rivals are Lyft, Hailo and Bolt, the Estonian company which began life as Taxify and which for several years has been trying to get one over on Uber.
https://corporatetravelcommunity.com/goodbye-uber-hello-ola-will-it-be-all-change-in-the-london-ridehail-space/
In the US there are operational challenges to Uber. For example the firm has threatened to cease operations at Phoenix Sky Harbor International airport effective Jan-2020 if the Phoenix City Council goes ahead with a plan to impose a USD4 per ride fee for trips to or from the airport. The fee will be increased by 25% annually out to 2024.
Meanwhile, at Ontario International airport in California a USD396,000 pilot programme was launched offering free Lyft rides between the airport and four Metrolink train stations, to provide airport customers another cost effective option to reach passenger terminals. The programme allows for Lyft rides of up to USD35 and is funded by a collection of local authorities, the rail provider, and Lyft. The scheme doesn't do away with ride-sharing, but it does shorten journeys and stops the Transportation Network Companies blocking roads at airports.
So at different levels the TNC model, and especially Uber's is coming under increasing attack, from both legislators and those disruptors. For Uber, is it all starting to unravel as new generation disruptors disrupt the original disruptors!