But, Ontario International has not been influenced by the negative sentiments and its deputy CEO Atif Elkadi said that while losing Uber is "unfortunate", Lyft will still operate at the airport as well as "shuttles provided by OmniTrans (the San Bernardino bus company) and convenient parking facilities".
Ontario International is not your normal airport, as has been highlighted recently in the following The Blue Swan Daily report. It is one of a rare breed of US airports which has divorced itself from a very large municipal owner (in this case Los Angeles World Airports) which it did not believe was supporting it, to forge its own path. It means business and seemingly takes no prisoners.
https://corporatetravelcommunity.com/out-of-the-storm-clouds-after-messy-divorce-ontario-international-proves-there-is-life-beyond-los-angeles/
When the CAPA – Centre for Aviation report 'Airports and Uber – TNCs now more welcome at airports' was published in Oct-2016 many airports were still unsure how to handle TNCs, which in some cases had appeared out of nowhere and were unprepared for. There was no real understanding of their impact on car parking and rental revenues, key revenue areas for airports, and many airports that took part in a survey for the report didn't know how much to charge them or even if they should charge them at all.
They were equally uncertain as to how to their treatment should differ, if at all, to that of traditional taxis, chauffeur drive limousines, minicabs and even on-demand bus services. Many could foresee the need to set up a new cost/profit centre that they didn't really want Lyft has in the main been more proactive in forging airport relationships than has Uber and there is a third force in 30 US cities, Wingz, which, as its name suggests, initially forged its identity as an airport supplier.
Airports that had accepted the situation and had thought about pricing generally had selected a pick-up/drop-off charge of between USD1.50 and USD5.00, determined mainly by local circumstances. The Port of New York and New Jersey opted for a daily USD15 fee per car, applied for in advance by drivers committed to airport runs, rather than per-trip charging. The report noted that Brisbane airport in Australia had selected a charge of AUD3 (then USD2.28) as compared with taxi drivers' rate of AUD3.60 (USD2.73) while Sydney airport was charging AUD4.
These are not high charges, and more so as they usually apply to the full range of sub-models, which in Uber's case range from basic (Uber X) to luxury (Uber Black) with a plethora of divisions in between. In India you can even travel by UberAuto, an auto rickshaw, now. In fact, if you select 'downtown to airport' travel options for any city on the website Rome2Rio and Uber (the brand is displayed generically) will often be one of the most expensive.
If Ontario had increased prices by 100%, Uber might have something to complain about. Its reaction to the price increases compares closely with the air transport business which is familiar with attempts by low-cost carriers (LCCs) to bully airport operators.
All airlines want to get the best deals, but Ryanair has regularly been highlighted among the chief culprits for 'throwing their toys out of the pram', threatening to reduce the number of routes or even to close down a base altogether (always "with the loss of thousands of jobs") if the airport operator has the temerity to increase its charges or to introduce a charge to the passenger.
What Ryanair has learned though is that it is no longer the only show in town. Uber may be about to discover the same applies in its business. Floundering after its IPO as so many other huge floatation companies have, it lost USD5.2 billion in the second quarter of 2019, by way of stock-based compensation, driver rewards and research and development on things like self-driving cars, and sales and marketing, in order to keep growing, for the sake of growing. To be honest, complaining about a USD1 hike in airport charges seems rather pathetic in those circumstances.
IMAGE - Uber's stock market price. It was floated at USD45/share in May-2019 and the share price was USD37.76 at 12.02 EST on 12-Aug-2019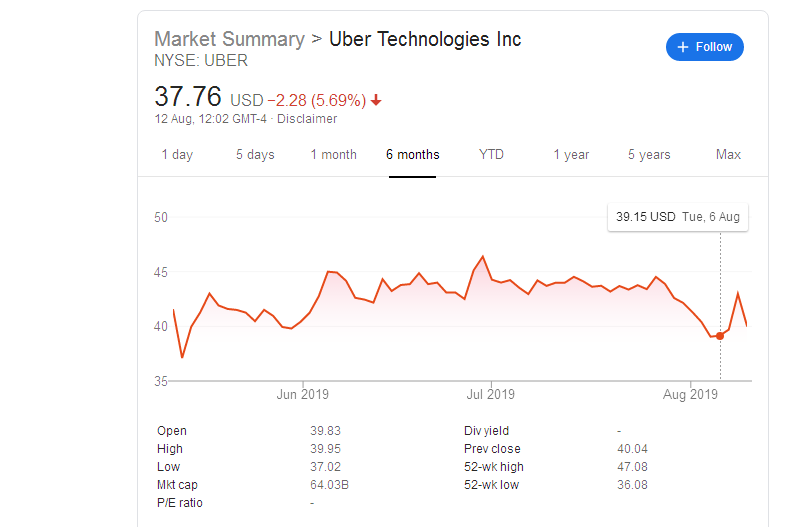 Source: NYSE