In contrast to Roy Morgan's first major release on the 'Uber phenomenon' just under two years ago, Uber is now a phenomenon for all ages, and the strongest percentage growth since 2015 has been among older age groups 35. However, despite this exceptional growth a clear majority (58.7%) of Uber users are still aged under 35, either 14-24 (25.1%) or 25-34 (33.6%) with a further 23.4% aged 35-49 and 17.9% aged 50+.
Growth of Uber users by age group (2015 v 2017)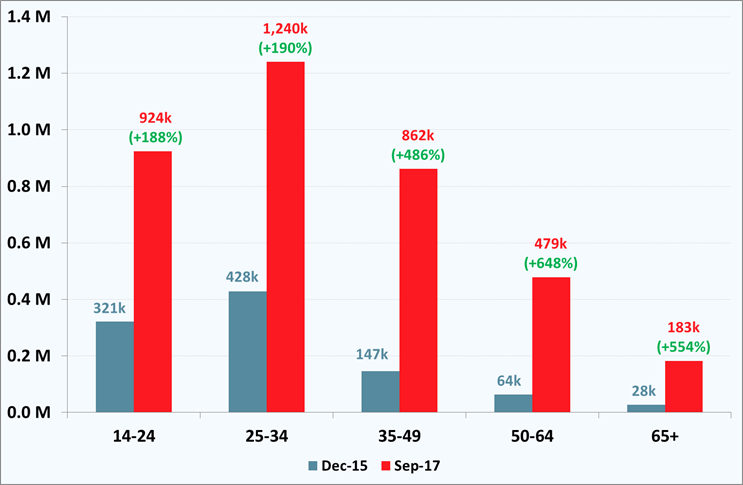 Source: Roy Morgan Single Source (Australia)
One interesting change from two years ago as Uber has become more widely used throughout society is that in 2017 clearly more Australians have travelled by Uber (3.7 million) than the 3.25 million Australians (or 16.2%) that have ever downloaded the Uber app. In 2015 these figures were reversed: (5.2% had downloaded the app cf. 5.0% had ever travelled by Uber).
The rising number of Australians travelling by Uber without ever downloading the app is an example of 'network effects' as more people download the app, it's more likely than when out with friends, family member or a partner that someone is able to utilise the service through others without ever actually downloading the app themselves.
Roy Morgan CEO Michele Levine says the incredible success of the Uber mobile ride-hailing app is finally attracting competitors to the field as the market matures:
"The 'Uber phenomenon' has taken Australia, and much of the rest of the world, by storm in recent years and today's analysis of the Australian Uber market reveals stunning growth for the mobile ride-hailing app in the last two years as the service has rolled out progressively around Australia. Although Uber entered the Australian market late in 2012, the service was only extended to Tasmania less than a year ago and only accredited in South Australia a few months ago in April 2017.
"It is also this ease of service that is finally attracting credible competitors to take on Uber and this month European ride-sharing company Taxify has launched in Sydney with a reported 4,000 drivers already on its platform and plans to roll out in Melbourne in the coming weeks. Taxify, which claims over 4 million customers in 20 countries worldwide, is vowing to cut costs for consumers and appeal to drivers by offering a larger cut of each fare."
Take a look at our recent analysis of the Uber's competition in Australia and around the world, visit Uber's competition continues to grow: is the tech company being 'out-teched'?