Poland is able to boast over 100 years of history and tradition in the aviation industry, and more than 80 years of experience of aircraft production and aviation personnel training, but only now is its connectivity befitting its aviation pedigree with improved accessibility, particularly in the regions providing Polish-based businesses with greater access to foreign markets, encouraging exports, and at the same time increases competition and choice in the home market from foreign-based producers.
Over a decade on from its accession to the European Union and the boost the Polish economy has enjoyed thanks to membership is clear to see thanks to its booming exports, which mostly head to other EU countries. A year before accession, Poland generated an annual GDP of £130 billion; by 2013, that figure had grown to £305 billion. Meanwhile, GDP per capita has risen from 44% of the EU average on accession to over 65% today and is forecast to reach 74% by 2020.
CHART – LCCs Ryanair and Wizz Air now dominate from Poland ahead of national carrier LOT Polish Airlines and together hold a 48.% share of international seats for the week commencing 04-Sep-2017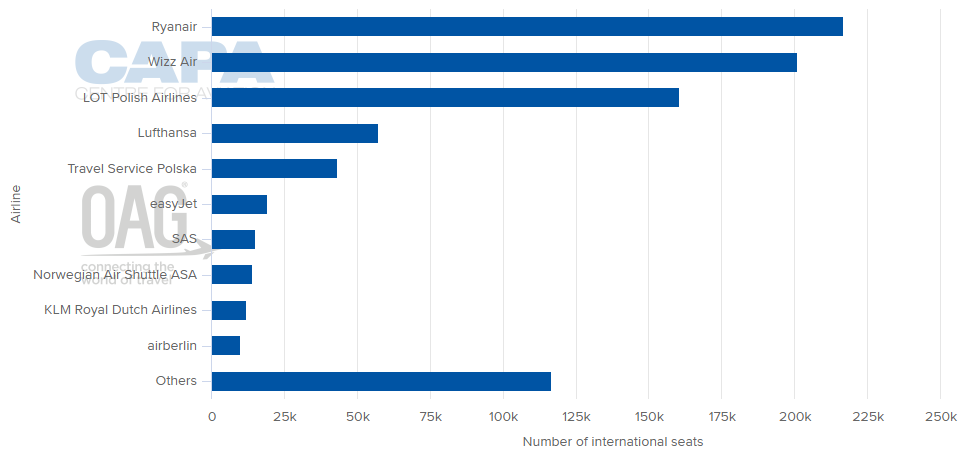 Source: CAPA – Centre for Aviation and OAG
Local economic studies show that if the country had not joined the European Union its GDP per capita in purchasing power standards would have been around four years behind where it is today. This would have been lower by 11% relative to the EU-27 average.
But, it is not just Poland's economy that has changed; the country's citizens have as well. A generation of Poles now have the opportunity to travel and study all over Europe, while the free movement of workers and international employment opportunities have seen economic migration across the continent. This has helped develop the new air services that have become a framework to a better connected Poland.
Poland actually opened its doors to better access into key European markets before European Union accession when it amended its existing bilateral air service agreements with Denmark, Germany, Sweden and the United Kingdom in 2003. Further liberalisation has brought a major transformation to the Polish air transport market since May 2004.
CHART – International air capacity from Poland has risen at an average rate of 7.4% since 2007, but will rise at more than double that rate with an expected 15.9% growth in 2017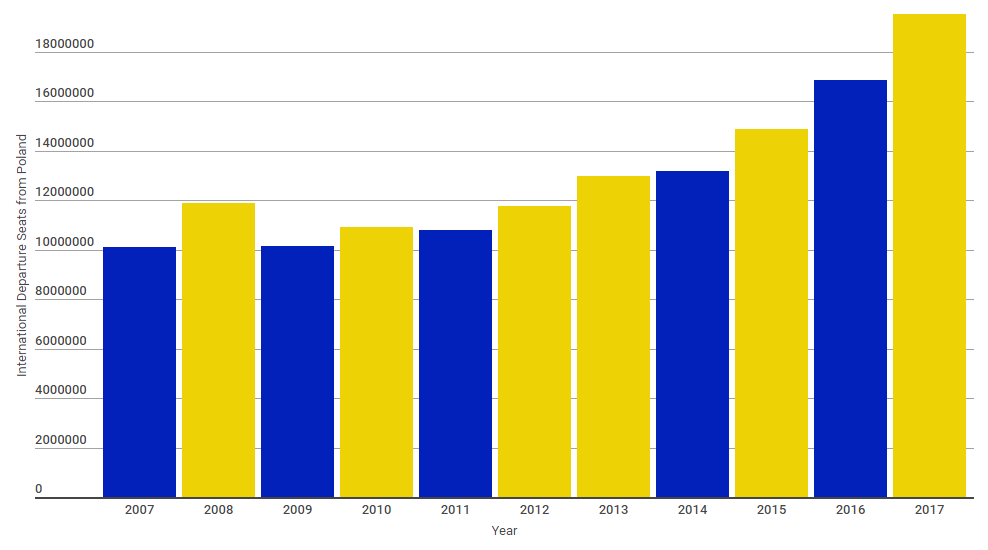 Source: The Blue Swan Daily and OAG
The Blue Swan Daily analysis shows that over the past ten years available international seat capacity from Poland has grown by two-thirds, rising 66.7% between 2007 and 2016, based on data from schedules provider, OAG. This has seen a move from a historical Warsaw-centric strategy focused on the hub-and-spoke operations of national carrier LOT Polish Airlines, a legacy from Communist times, to a more point-to-point offering with direct air links now being offered to an increasing number of international markets from outside of the capital city. In fact this year international capacity is forecast to rise 15.9%, the largest year-on-year annual rise since 2008 and the early days of the LCC boom.
Poland's accession to the European Union benefited both foreign tourists who are interested in visiting the country, but also Poles travelling abroad for holidays. To support this demand we have seen the construction of two brand new green-field airports: Lublin and Modlin. Meanwhile, new international connectivity is now also being offered from cities such as Radom-Sadków after a former military airport in central Poland was converted for commercial operations.
CHART - Eight of Poland's airports will see at least double-digit rises in international capacity this year, based on published schedules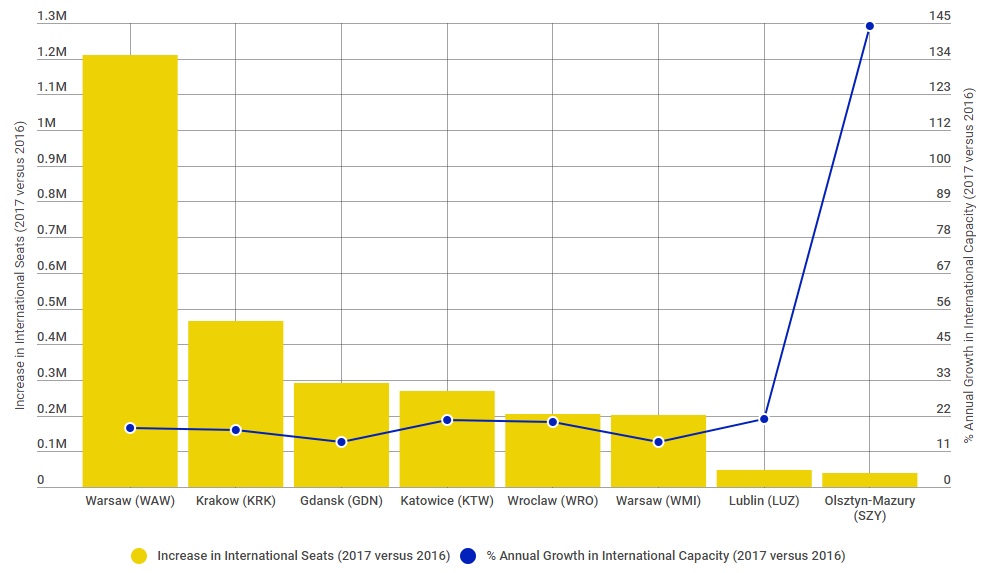 Source: The Blue Swan Daily and OAG
The largest international growth this current decade has been at Solidarity" Szczecin Goleniów Airport in the northeast of Poland, where an average annual growth of 20.0% has been recorded, while John Paul II International Airport Kraków Balice in the south of the country has witnessed an average 8.5% capacity growth per annum.
While initially driving the mobility for Polish citizens, many of the new air services are now supporting the strong Polish communities that have now developed across other European countries. The 2015 edition of EuroStat's 'People in the EU: who are we and how do we live?' study shows that more than 10% of those born in Poland now live abroad in another European Union member state, the fourth largest share among its membership after Cyprus, Ireland and Luxembourg.
In fact, according to the population and housing census, more than one fifth (22%) of all the residents born in a European Union member state but living in other member state originate from Poland. By far the largest community, in absolute terms, is the Polish-born community living in Germany (an estimated 2.7 million people), while there are an additional 654,000 Polish-born residents in the United Kingdom (the fourth largest such community). There are also sizeable contingents all over Western Europe and Scandinavia.
CHART – The UK is the largest European market from Poland thanks to the expanding networks of Ryanair and Wizz Air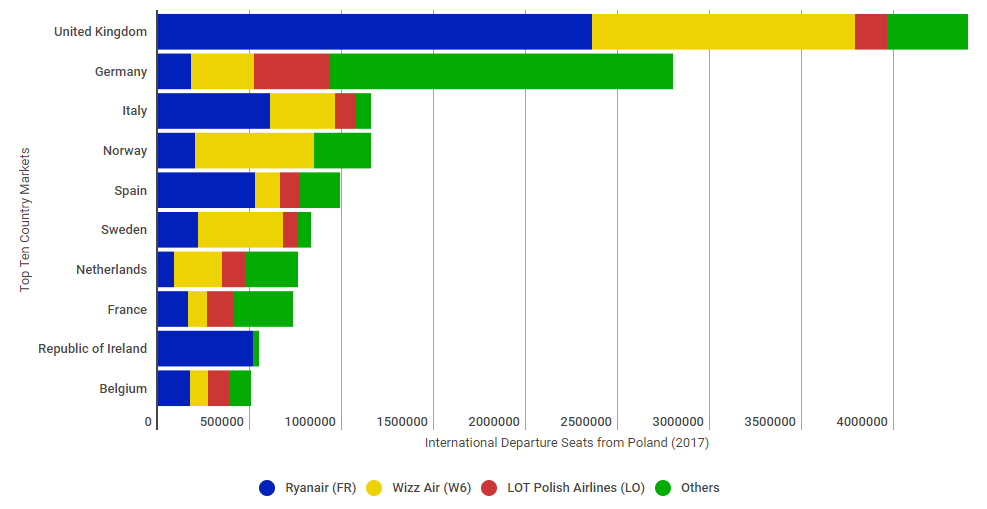 Source: The Blue Swan Daily and OAG
While Germany may have the largest emigrant Polish community, the United Kingdom dominates in terms of capacity and has a 24.2% share of international departure seats into Europe from Poland for 2017 with numbers up 11.0%. Its share is declining - down 0.6 percentage points on 2016 – as the market matures with the strongest growth in 2017 being seen into Portugal, Ukraine, Spain, Turkey and Italy.
With European international capacity from Poland already set to grow 18.7% in Q1 2018 based on already published schedules for 2018, it is clear that there is still significant room for the market to grow. The Poland - Germany market currently has the largest indirect passenger flows and the above chart shows that Ryanair and Wizz Air have limited exposure into this market. There is also room for additional links into the UK and Italy based on this passenger flow data.
In fact data from OAG for the first half of 2017 shows that there are a number of city pairs in and out of Poland that are already enjoying strong one-stop indirect passenger flows. These include Wroclaw - Paris; Warsaw - Bologna; Krakow - Gothenburg; Warsaw - Cologne Bonn; Warsaw - Manchester and Gdansk - Paris.
The accession of Poland into the European Union and the introduction of a more liberal aviation sector has changed the demographics of the country forever. But, with enhanced point-to-point services from expanding LCCs, Polish citizens are enjoying the best connectivity the country has ever seen.