---
Summary:
The Ukraine government wishes to develop regional airports, especially around Kiev, to attract more LCCs and to establish an intercontinental hub in the country;
The hub will be the toughest challenge as the state airline has few flights to Asia and a fleet that might not be appropriate;
Regional airport development will be aimed more at LCCs, whose market share is climbing rapidly in Ukraine and across Eastern Europe.
---
Mr Omelyan said the strategic goal is to transport Ukraine into an international hub connecting Europe and Asia. He identified projects including the development of a multimodal, international transport hub at Bila Tserkva airport and the reconstruction of Gostomel airfield as holding potential interest to foreign investors.
Ukraine will have a job to try to establish a Europe-Asia hub in competition with the new Istanbul Airport and established gateways in the Gulf. The smaller airports could not undertake such a function and the eastern part of the country is still embroiled in a war in the Donbass region, where no aircraft fly since the shooting down of MH17 back in Jul-2014.
MAP - Mind the gap - radar data highlights the empty airspace over eastern Ukraine during a busy daytime hour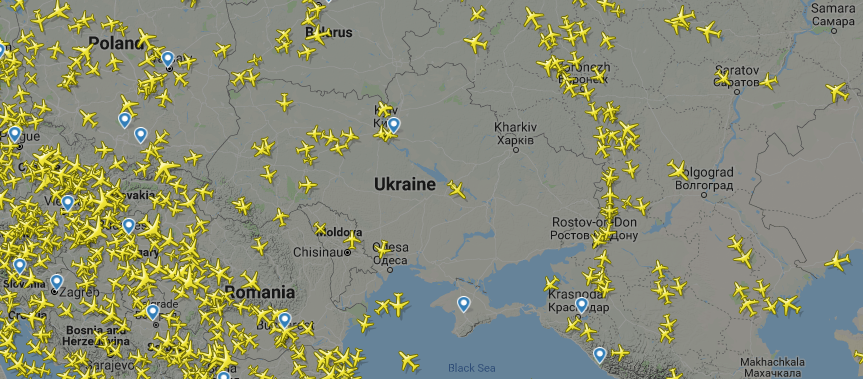 Source: Flightradar.com
Its capital, Kiev, is not too far north to undertake such a Europe-Asia role, especially if the objective is to connect with North Asia (although it may actually be too far south for that when the competition is with Helsinki, which is well established in that role). And of course MH17 was en route between Amsterdam and Kuala Lumpur over Ukrainian territory. If anything it sits between the optimum transfer points for North and South Asia and might be more appropriate to Central Asian states.
But the real problem it faces is the lack of a hub carrier. While Ukraine International Airlines (UIA) has more than two thirds of seat capacity at the main Kiev Boryspil International Airport, its route network, while fairly strong in Europe, has cities in Asia that can be counted on the fingers of one hand. In the case of Emirates Airline and Turkish Airlines such Asian connection points can run to 70-100.
CHART - Ukraine International Airlines dominates at Kiev Boryspil International, the largest international airport gateway into Ukraine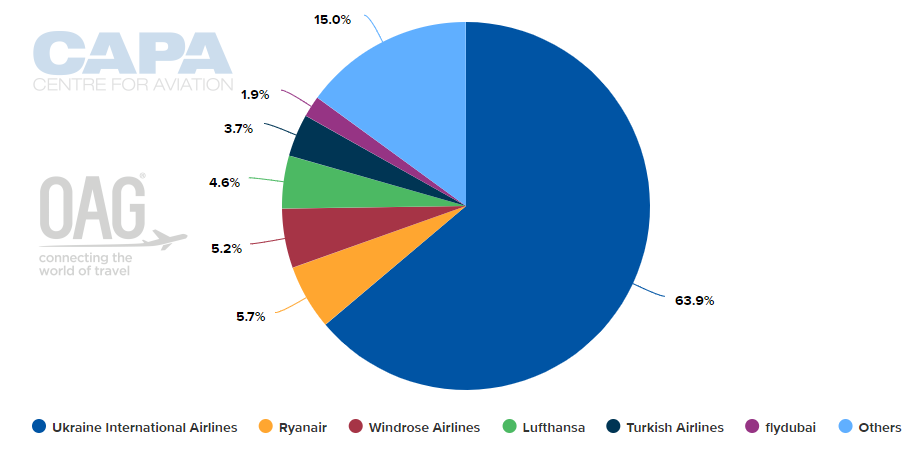 Source: CAPA - Centre for Aviation and OAG (data: w'c 28-Jan-2019)
Such a hub strategy requires the fleet to operate it, which UIA does not really have. According to the CAPA - Centre for Aviation Fleet Database, 26 of its 41-strong fleet are Boeing 737-800s, which would be appropriate for some nearer Asian destinations, but not necessarily for thin distant routes.
CHART - The Ukraine International Airlines fleet is dominated by next-Generation 737 equipment, supplemented by a small number of regional and long-haul types

Source: CAPA - Centre for Aviation Fleet Database
If Mr Omelyan is looking to foreign carriers to fill the gap by way of alliances he may be disappointed there. Just now over 83% of seat capacity at Boryspil is on unaligned carriers, with the largest alliance, Star, having just 12.4%. The other two alliances have a negligible presence.
Bila Tserkva International Airport remains merely a proposed project by Ukraine's Ministry of Infrastructure to develop an international airport in the central Ukrainian city, the largest city in the Kiev Oblast, by 2020. Runway restoration and terminal construction work is estimated to require a EUR59 million/USD67 million investment and could be funded by a range of public and private sources. Work has commenced on the assignment of international status to the airport, which is expected in 2019.
The Gostomel Airport is located 25km northwest of Kiev, and is owned by the Antonov aircraft manufacturing company and operated by its subsidiary Antonov Airlines. The world's largest transport aircraft, the An-225 and An-124, are based at Gostomel so it would be appropriate for the development of long-haul air services. It has previously been identified as a base for LCCs so that budget airlines would have a choice of city airports, which also includes the Zhuliany Airport, now renamed Igor Sikorski International Airport, and which is seeking private investors momentarily.
Of all the possibilities on Mr Omelyan's wish list, a greater LCC presence probably has the highest chance of success, especially now that Ryanair has commenced Ukraine services since Oct-2018 with 10 routes at Kiev and five at Lviv in the west of the country, close to Poland. The upshot is that Ryanair and other LCCs might now be invited to fly into more than one of the Kiev airports.
Currently, the ratio of LCC seats at Boryspil is 9.6%, of which Ryanair has 5.7%. The ratio of international LCC seats into and out of Ukraine rose from 8.3% to 12.4% between 2017 and 2018 and currently stands at 19.2% (Jan-Feb-2019). However, there is still no (0) domestic LCC seat capacity, an eighth freedom cabotage option that Ryanair is sure to covet.