The ongoing spread of the Delta variant – and fears of further enhanced mutations – is hurting the twin matters of the ability of governments to reduce mobility restrictions – particularly in terms of international travel – and helping ease the fears of people. In many parts of the world efficient vaccination programmes have helped reduce restrictions, but a rising threat of infection could dilute that rise as we approach in final quarter of the 2021 calendar year.
In the US, where travel levels have leaped back over recent months, concern over rising cases of the Delta variant are resulting in increasing booking cancellations. American Airlines has stated it has experienced a rise in cancellations, adding its Aug-2021 revenue was trending below internal forecasts. Still, its chief revenue officer Vasu Raja remained upbeat with booked business for holidays still "incredibly strong" and positive views on business demand returning in the trans-Atlantic and Latin America regions.
According to the Airlines Reporting Corporation (ARC), ticket sales for the week ending 15-Aug-2021 were down -41.1% percent compared with 2019, the worst result since the week ending 16-May-2021. The week's sales were also markedly worse than the week prior, which were off -34.7% below 2019 levels. Travel agencies also saw a plunge in the value of tickets they sold relative to 2019 with volumes down-56.4% on 2019, a fall from -51.3% the previous week.
New research from financial intelligence website FinanceBuzz indicates that the rise in cases fuelled by the Delta variant has many US citizens rethinking their upcoming travel, especially when it comes to flying. FinanceBuzz surveyed 1,000 US adults to find out how this surge is affecting their travel plans and planning and more than half revealed
The Delta variant's impact on travel in the US "is significant," said FinanceBuzz. Its research shows over 55% of Americans have cancelled or changed travel plans because of the increase in COVID-19 cases. Taking a deeper look, one in three Americans have already cancelled travel plans due to the Delta variant, and another 22% have changed plans but still plan to travel at some point. Another 11% haven't yet made changes to their travel but anticipate they will.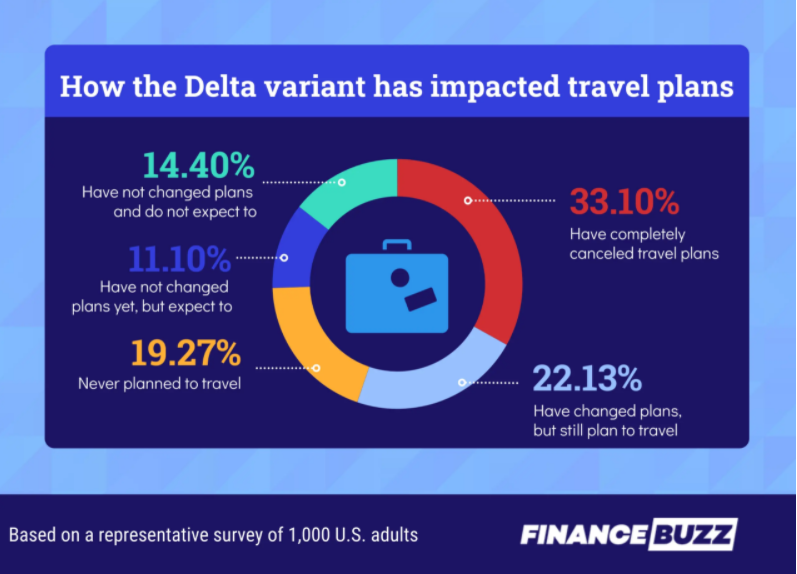 The results show that despite rising travel levels, there remains a strong level of fear among travellers. More than half (58%) of those we surveyed indicated they have not travelled via aircraft at any point during the pandemic. The most common reason — cited by 50% of people — for avoiding air travel was concerns about COVID-19. A similar percentage (49%) indicated that the Delta variant has made them feel less safe to fly compared to earlier in the pandemic.
When deciding where to travel, COVID-19 concerns are also a major consideration. The survey found that nearly 60% of travellers consider a location's COVID-19 transmission rate when deciding whether to travel there. A somewhat higher percentage (69%) consider the masking rules in their potential vacation destination before booking.
Intriguingly, the issue of mask wearing is one that continues to divide US travellers. When questioned how'd they respond if airlines stopped requiring masks, respondents answers were mixed, with 40% saying they'd be less likely to fly if masks were no longer required and 35% saying they'd be more likely to fly if they could do so without wearing a mask.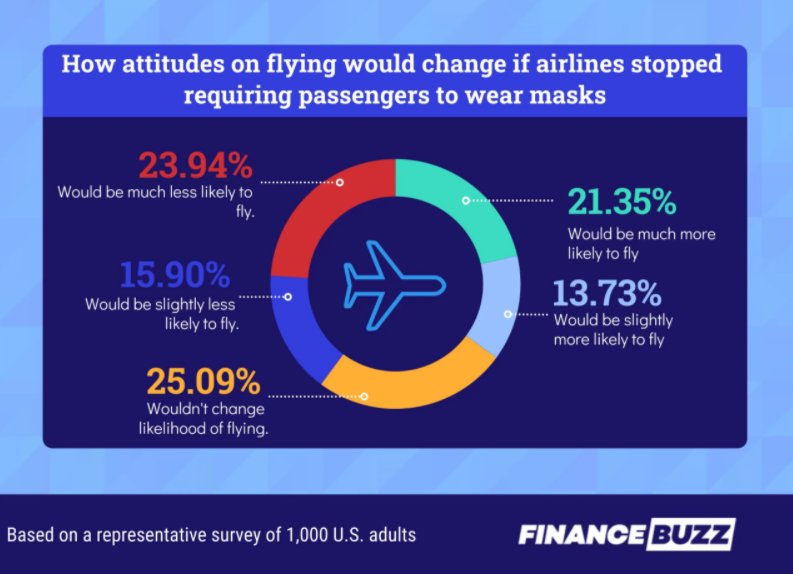 The threat of COVID-19 infection still remains the main driver of government policy. The US recently announced an extension of US-Canada and US-Mexico border restrictions through 21-Sep-2021. These restrictions were certainly necessary prior to the distribution of effective COVID-19 vaccines, but many argue that they no longer serve to protect but further cripple the recovery.
The US Travel Association, the national advocate for all components of the travel industry, describes this decision, driven by Delta variant surges, as extremely disappointing. "Travel restrictions are no longer protecting us from the virus – vaccines are," its executive vice president of public affairs and policy, Tori Emerson Barnes, said in a recent statement, highlight that the extension will be felt strongly across the business travel, professional meetings and events sector.
The COVID-19 vaccine is the key component to a robust recovery. United Airlines and Hawaiian Airlines recently announced they'll require their US employees to be vaccinated by 25-Oct-2021 and 01-Nov-2021. Other airlines like Southwest Airlines and American Airlines are encouraging employees to get vaccinated but aren't mandating it.
Delta Air Lines has been requiring new hires to be vaccinated since May-2021 but is not requiring existing employees to get vaccinated. Still, its CEO, Ed Bastian, acknowledged three-quarters of the carrier's workforce is already fully vaccinated.
United's CEO Scott Kirby believes more companies will adopt employee vaccination mandates. "A few weeks from now, this is going to be something that's widespread across the country," he said, but noted the airline nor others in the country will implement COVID-19 vaccination mandates as a requirement for domestic travel.