The two service groups have converged to a point where full service carriers are launching LCC subsidiaries or attempting to buy independent LCCs as a means of targeting both full service and lower priced segments more effectively. Until relatively recently, dual brand strategies targeting different market segments have been rare. But the industry is now rife with such examples, notably in Asia Pacific. This combination of full service and low cost/no frills airline within one group has become a powerful combination to combat independent LCCs making inroads into the traditional leisure sector.
Of course, this has not stopped independent LCC groups from encroaching on their full service rivals. In Europe for example, LCCs have taken advantage of open skies to expand outside their home markets. Ryanair and easyJet are the region's two largest individual airlines by passenger numbers. In other markets like Asia, where the regulatory regime is more restrictive, larger LCCs have circumvented ownership and control provisions by forming cross border JVs with local partners.
Those lines between full service and low cost operators are now so blurred that many suggest a new definition is now required to differentiate between airlines based purely around service proposition. Until such a day, the LCC term remains and remains a differentiator between airlines, mainly based around the time they were born into the industry.
In Europe, Ryanair is the perfect example of the rise of the LCC model. Formerly a regional carrier flying Romanian and British built One-Eleven jets and turboprop aircraft, it has grown to be Europe's largest passenger carrying airline. According to the CAPA – Centre for Aviation Fleet Database it now has a fleet of over 430 aircraft with 135 new MAX8-200s on order, a more densely configured version of the new Boeing 737MAX-8. Its network currently spreads to over 210 destinations across 36 countries.
That network could soon extend with the carrier understood to be poised to introduce regular LCC routes from Europe into Armenia in 2020. Armenia's Civil Aviation Committee chair Tatevik Revazian has confirmed the regulator is "negotiating" with the LCC to bring new flights into the landlocked country sandwiched between Turkey, Georgia, Azerbaijan and Iran.
Armenia is currently linked by LCCs to Moscow Vnukovo (Pobeda) in Russia and Dubai (flydubai) and Sharjah (Air Arabia) in the United Arab Emirates (UAE). It did previously have links from Vueling from Barcelona between 2014 and 2016. But, LCCs this summer account for just 10.2% of departure capacity from the country (down from 12.6% in summer 2018), well below the global average of 30.8% in summer 2019 (itself up more than half of one percentage points from 30.1% in summer 2018).
The Blue Swan Daily analysis of OAG northern hemisphere summer 2019 schedule data ranks Armenia as the 117th largest country market (among 155 countries) for LCC departures this summer, but slightly higher at 115th by LCC share of total seats. But where in the world do LCCs have the largest penetration?
Our analysis shows that India tops the chart with LCCs holding more than 70% of departure seats, with Macedonia following second with more than two thirds of capacity offered on LCCs. In total 18 nations have more LCC capacity than full service, ranging from the likes of Brazil, Spain, Indonesia and Mexico which are among the world's ten largest LCC markets in scale, to Gibraltar, ranked 119th on that list.
CHART - The world's largest LCC country economies based on share of departure seats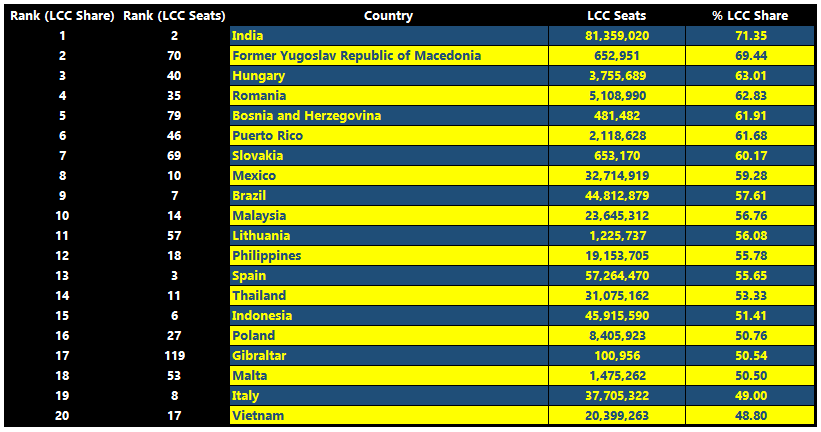 Source: The Blue Swan Daily and OAG (data: summer 2019)