CAPA – Centre for Aviation attempted to address those questions with its World Aviation Outlook Summit, which had more than nine hours of agenda content designed to provide a market outlook for 2019 and review the commercial and operational pillars that will drive global airline strategic decision-making.
Here's some more insights and observations from delegates during the event at The Grand Hyatt Berlin in Germany's capital city…
Austrian Aviation Association: Unions are 'are fighting the wrong cause and the wrong enemy'
Austrian Aviation Association chairman Peter Malanik argued unions "are fighting the wrong cause and the wrong enemy". Unions tend to be protective of employees and therefore adverse to change, making it more disruptive that normal when change is required, he continued.
'We will see more bankruptcies' in the future: Eurowings chief commercial officer
Eurowings chief commercial officer Oliver Wagner said: "The driving forces of consolidation are going to be bankruptcies and not M&As [mergers and acquisitions]". "We will see more bankruptcies" in the future, he argued.
Air Malta chairman: 'If you don't change, you die'
Air Malta chairman Charles Mangion stated: "If you don't change, you die". He said the carrier has had to change radically to retain market share, through increasing capacity on existing routes. Mr Mangion noted the carrier has increased aircraft utilisation from seven hours daily to sometimes 13 hours in summer 2018 season.
Miles & More: 'Loyalty is understanding the customer as a person'
Miles & More director strategy and innovation Benjamin Pfeifer commented on how airlines engage in consumer needs, stating: "Loyalty is understanding the customer as a person" and no longer just about travel.
LOOK OUT...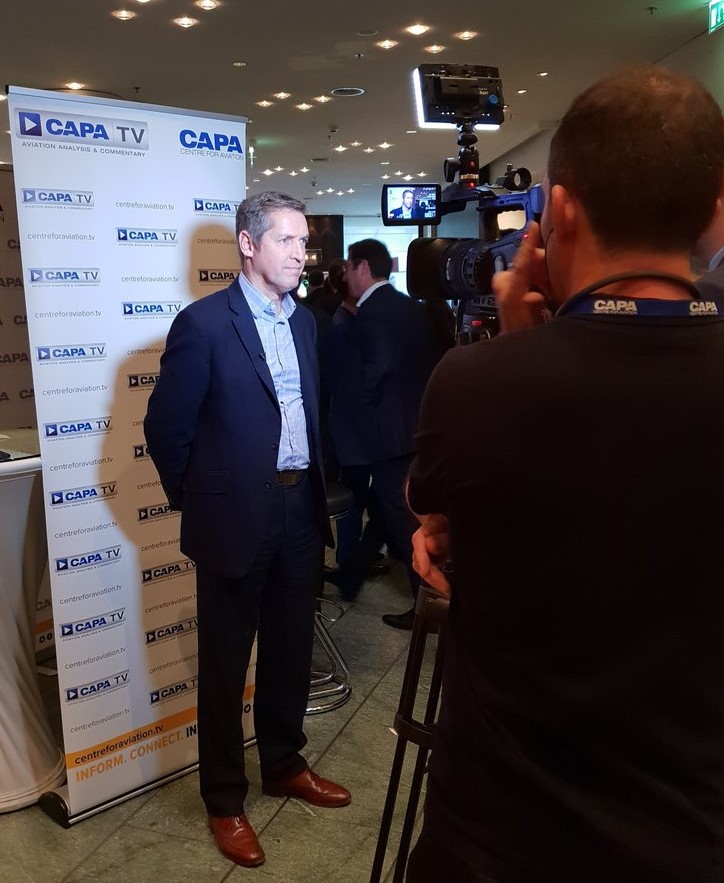 Exclusive executive interviews from Berlin will be published on CAPA TV in the coming weeks, as well as full coverage of the agenda sessions.
Wizz Air CEO: It is 'very clear low cost will prevail'
Wizz Air CEO Jozsef Varadi said the carrier is "liberating lives through affordable travel", adding it is "very clear that low cost will prevail". Mr Varadi argued Wizz Air's business is "competing with other means of transportation", not other airlines.
Eurocontrol: Traffic growth risks 'overwhelming' ability to reduce emissions
Eurocontrol head of environment Andrew Watt reiterated summer 2018 traffic peaked at 37,100 daily movements in summer 2018. Eurocontrol's long term traffic forecast out to 2040 forecasts a 53% increase in traffic. He concluded growth in traffic risks "overwhelming" the aviation industry's ability to keep emissions down.
LOT Polish Airlines CEO sees 'very favourable' market conditions in central Europe
LOT Polish Airlines CEO Rafał Milczarski said "very favourable" macro economic conditions exist in central Europe. He said while there is "strong growth" across Europe, it is particularly strong in central Europe. Mr Milczarski argued economies of central Europe, despite historical circumstances, enjoy an increasing standard of living, with individual wealth increases meaning growth can come naturally and not at the expense of anyone else.
Skyscanner: Digitalisation of airlines an 'absolute benefit' for travellers
Skyscanner senior director strategic partnerships Hugh Aitken said digitalisation of airlines an "absolute benefit" for travellers and customer experience. "We need more help from airlines" to do the right thing for travellers, he said, adding there is a "huge difference" between different airlines in terms of digital capacities.
visitBerlin CEO: Berlin has gone from 'from walled city to world city'
visitBerlin CEO Burkhard Kieker stated Berlin has gone "from walled city to world city". Berlin is a "resurrection story", and number three destination in Europe with 43 million overnight stays in 2017 and growing at a rate of 5% p/a.
CityJet CEO: 'More for unions isn't always good' for employees
CityJet CEO Pat Byrne argued the wellbeing of an airline is not foremost in unions' minds. "We all have to live out of the same pot", he stated, adding "more for unions isn't always good", as an increase in employee leave would force the carrier to look to get more work out of employees in fewer days. He explained the "single biggest threat" to aviation industry growth is a lack of pilots and engineers. He called for unions and airlines to work together to elevate the careers of professional pilots and engineers to encourage people to think further about careers in piloting and engineering.
[perfectpullquote align="full" cite="" link="" color="" class="" size=""]MORE INSIGHTS…
CAPA – Centre for Aviation members were able to see live updates from the CAPA World Aviation Outlook Summit and have access to over 100 briefs from the event. Find out more about how a CAPA membership provides a front row seat to global aviation news, analysis and data as it happens, with access to a comprehensive suite of tools that can be customised to your needs.[/perfectpullquote]