United may have hit the headlines for the wrong reason due to customer service failings in the past year, but the departure of the iconic Jumbo Jet from its fleet gave it an opportunity to show its human face to its staff, customers and the rest of the world. Its CEO, Oscar Munoz, may have been criticised for his initial reaction to its Dr Dao overbooking incident back in April, but was able to smile to the media as he served pre-departure cocktails ahead of the final departure to Honolulu.
The special "Friend Ship" flight on 07-Nov-2017 from San Francisco to Honolulu was a re-enactment of the first ever United 747 flight from back in 1970. United took delivery of its first Boeing 747-100 on 26-Jun-1970 and it made its first commercial service on 23-Jul-1970 from San Francisco to Honolulu. In Apr-1985 United announced its plan to acquire Pan Am's Pacific routes, as well as 11 747SPs and on 29-30-Jan-1988 one of the aircraft set an around-the-world air speed record of 36 hours, 54 minutes, and 15 seconds. The latest variant – the 747-400 – arrived in the United fleet from Jun-1989 and it operated the airline's last scheduled commercial flight with the type on 29-Oct-2017 from Seoul to San Francisco.
After five decades flying variants of the 747 since the type's debut in United Airlines operation on flights between California and Hawaii in 1970, the carrier says new technology, and notably the arrival of the 777-300ER into its fleet means now is the right time to retire the iconic airliner.
"The iconic 747 is a remarkably special aircraft that signalled a new era of air travel and was equally recognisable and beloved by our customers and crew alike."
Oscar Munoz, CEO, United Airlines
As The Blue Swan Daily reported earlier this year, although Boeing continues to produce the 747, only Air China, Korean Air and Lufthansa have signed up to the 747-8I Intercontinental, the passenger version of its final stretch of the aircraft, and just 35 are in service. As more efficient twin-engined aircraft such as the A350, 787 and new 777X enter commercial service, more airlines will drop the popular 747 from operation. In fact many of the most famous operators of the type such as Air Canada, Air France, All Nippon Airways, Cathay Pacific, Japan Airlines and Singapore Airlines have already retired the jumbo jet.
According to data from the CAPA Fleets Database there remains just under 200 passenger configured 747s (including VIP examples) currently listed as 'in service' with 30 registered operators. These include a couple of 747-300s (two) with Mahan Air in Iran and Max Air in Nigeria, but are dominated by the 747-400 series (158) and the stretched 747-8I (35). This number will reduce further before the end of this year as Delta Air Lines also retires the type, while other airlines are also finalising retirement schedules, including British Airways which has confirmed a 2024 end date for 747 operations.
The UK carrier is currently the largest remaining operator of the 747 with a 36 strong fleet, according to the CAPA Fleet Database. A further five airlines also have fleets of ten or more aircraft, comprising Lufthansa (32), KLM (15), Korean Air (14), Thai Airways International (10) and Qantas Airways (10).
CHART – There are 195 passenger carrying Boeing 747s still 'in service' with 30 registered operators. The 'Top 15' are listed here
Source: The Blue Swan Daily and CAPA Fleets Database
The CAPA Fleet database lists EP-MND (c/n 23413), a Mahan Air 747-300, as the oldest example still remaining in passenger service. The aircraft is 31.8 years old having made its first flight on 23-Jan-1986 and has delivered to French carrier UTA a week later on 30-Jan-1986. After almost seven years with UTA it was transferred to Air France in Dec-1992 and flew with the national carrier through to Aug-2006, latterly taking up its Iranian markings in Apr-2009 after flying for a couple of years on the Armenian register.
Meanwhile, a combi (configured with a mixed passenger and freight cabin in the main deck) 747-400, PH-BFC (c/n 23982), of KLM has generated the most flight hours (>138,000) of the in service fleet and an all-Economy configured Atlas Air 747-400 with 474 seats, N465MC (c/n 24784), has the highest number of cycles (>18,000).
CHART – Annual 747 scheduled network capacity is on a downward trend as airlines continue to introduce more efficient twin-engined aircraft on many of its traditional routes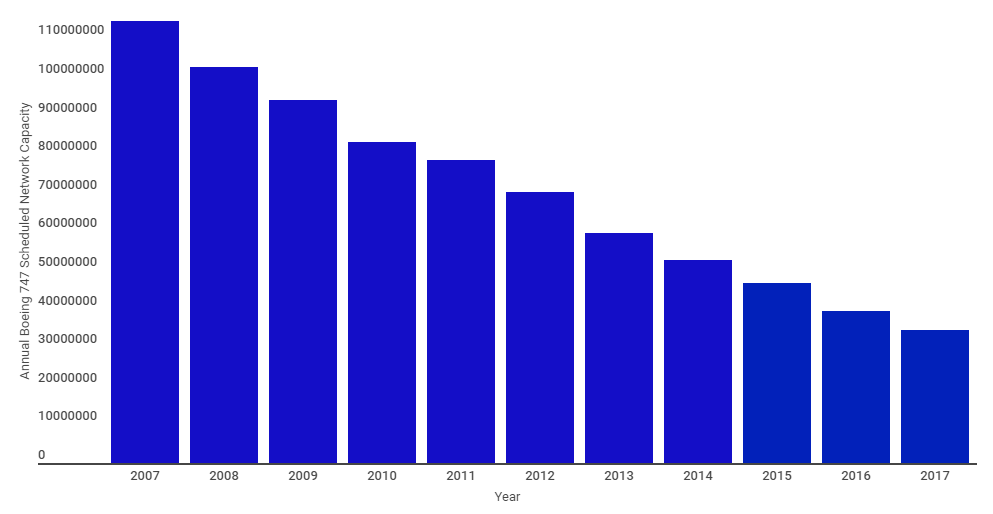 Source: The Blue Swan Daily and OAG
Our The Blue Swan Daily analysis shows the significant decline in 747 operations over the past ten years. Since 2007 global 747 scheduled passenger capacity has fallen from 115 million seats to just under 40 million last year and is forecast to decline to under 35 million in 2017, based on published schedules. The decline in 747 activity at the world's airlines has seen year-on-year capacity declines every year during this period: the largest taking place in 2016 when year-on-year capacity fell 15.1%.
Looking ahead into the forthcoming winter schedule will see 747 network capacity declining -8.2% versus last winter. Alongside the Frankfurt, London Heathrow, Bangkok and Seoul Incheon bases of the four largest operators of the type, the largest markets for 747 operations comprise New York, Beijing, Taipei, Sydney, Hong Kong and Amsterdam.
CHART – The 747 will still be flown to 114 scheduled passenger destinations during winter 2017/2018 with more than 225 departures on average each day
Source: The Blue Swan Daily and OAG