The biggest positive is that there is an excess capacity and airlines have the resources to quickly deploy aircraft if they want. Even last year the availability of a single new aircraft resulted in a fight amongst airports to secure new connectivity. Now, airlines are finding it hard to find markets that can support their aircraft and means a high proportion of the world's fleet remains grounded – for larger widebodies that may stretch to years, potentially forever.
Airlines are showing a much more nimble approach when it comes to flight schedules. This is perhaps more notably emphasised in the actions of US major United Airlines which this week has added a number of new winter leisure flights adding service "to destinations where customers most want to fly".
The airline plans to add up to 28 daily nonstop flights this winter connecting customers in Boston, Cleveland, Indianapolis, Milwaukee, New York/LaGuardia, Pittsburgh and Columbus, Ohio to four popular Florida destinations. United says the new nonstop flights reflect its "continuing strategy to aggressively, and opportunistically manage the impact of Covid-19".
United will incrementally add in these flights starting 06-Nov-2020 with new roundtrip service from Boston, Cleveland and New York/LaGuardia to Fort Lauderdale, Fort Myers, Orlando and Tampa. In December, the airline will increase service to Florida with additional flights from Columbus, Ohio; Indianapolis; Milwaukee and Pittsburgh to Fort Myers and Tampa.
These may not all be new services and some represent the return of flights, but the intention is clear and is a strategy that airlines are now increasingly adopting. "The addition of these new flights represents United's largest expansion of point-to-point, non-hub flying and reflects our data driven approach to add capacity where customers are telling us they want to go," says Ankit Gupta, United's vice president of domestic network planning.
IMAGE – The number of Covid-19 cases continues to rise across the US, but risks vary across the country as highlighted in this risk map that colour codes risk levels based on seven-day rolling averages by county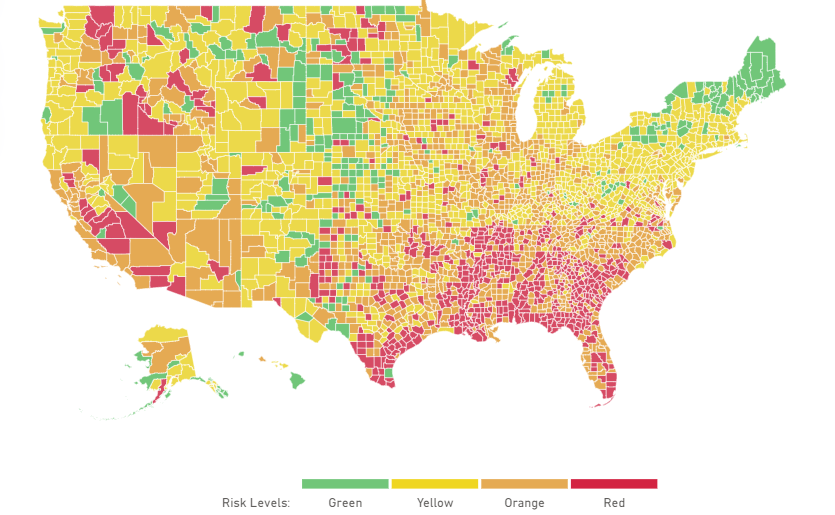 Source: Havard Global Health Institute (data: as at 11-Aug-2020)
We have widely accepted that while infections continue and there is now vaccine for Covid-19 that travel will continues to be significantly impacted. The recovery will not be quick. Southwest Airlines CEO Gary Kelly said this week that we have to accept that "travel will be relatively modest" for as "long as the case counts are high". He noted the carrier is "still losing cash every single day", and it remains "a long way to go before we can feel like we are out of intensive care".
It is a similar story in Europe and The Blue Swan Daily reported last week that Lufthansa had taken a more leisure focus.
https://corporatetravelcommunity.com/when-the-going-gets-tough-lufthansa-says-pandemic-has-had-a-considerable-impact-and-it-warns-that-normalisation-of-demand-to-pre-crisis-level-is-not-expected-until/
The concern is that while sentiment studies seem to illustrate that business confidence is higher, it is not necessarily translating to an increase in business flying, while an increasing number of countries have or are set to impose new travel restrictions that is further influencing demand levels.
One example is Finnair which has revealed plans to fly fewer frequencies to some European destinations in September. While the Nordic carrier is still scheduled to fly in September to all the European destinations that were flown in August, these will be at a lower frequency. The exceptions are Helsinki-Nice and Helsinki-Turku which will be terminated.
Frequencies to some domestic destination will be adjusted. In September, Finnair will fly to Kuopio once a day and to Vaasa and Mariehamn five times a week. The company had also planned to start flights to Tampere in September, but due to the demand situation these flights will be postponed.
"The local demand is more moderate than estimated due to the same restrictions. Therefore, we must adjust flights accordingly," says Mikko Turtiainen, VP, market management at Finnair. This will mean that in September the carrier will only be operating about 30% of the flights it scheduled in the same month last year.
"The corona situation has changed in many countries in recent weeks, which is why several countries have imposed new travel restrictions. There are still no connecting passengers from Asia and the United States to support European flights because of severe travel restrictions in these regions," adds Mr Turtiainen.
Worryingly, from the corporate travel perspective, the decision by the airlines to bank more heavily on the leisure market highlights a much deeper concern over the return of business travel, which currently remains significantly subdued. But, it also offers a bright future as demand returns and shows that airlines can – and will – act quickly to support corporate demand as soon as it arises from its Covid sleep.