During the last few years, the US majors – American Airlines, Delta Air Lines and Untied Airlines - have mostly focused on new or upgraded lounges at their hubs. But there's also growing interest in ensuring their high yielding corporate customers fell comfortable at growing US mid-sized airports.
Raleigh-Durham is home to a booming tech sector, and has seen its annual passenger numbers jump from 8.9 million in 2009 to 12.8 million in 2018. Raleigh is now a focus city for Delta Air Lines after the airline recognised that it was a fast growing city with bright economic prospects, and a location where no airline had more than a 15% share of the market.
CHART - Passenger numbers at Raleigh Durham International airport have jumped from 8.9 million in 2009 to 12.8 million in 2018 and for the first seven months of 2019 are growing at the fastest rate this decade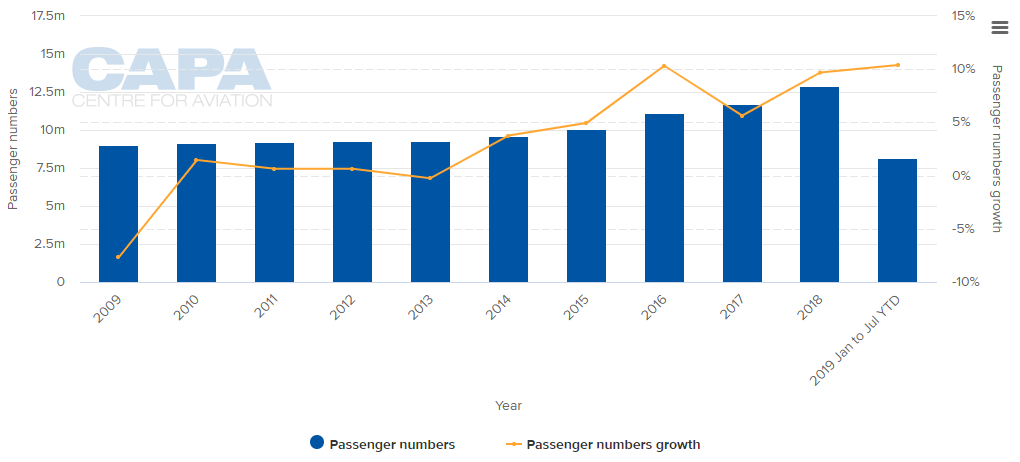 Source: CAPA - Centre for Aviation and OAG
Now United, which represents 14% of Raleigh Durham's ASKs, has opened its new Club at the airport, and it could be a blueprint for similar clubs at other US mid-sized airports.
United director of premium services Alex Dorow told local news outlet the Triangle Business Journal that the airline's new club could act as a pilot for possible roll-out at similarly sized airports such as New Orleans, which will be next on the airline's list to get a new United Club.
Mr Dorow explained: "You have to look at the spokes…Raleigh is one of those markets for us that, over the years, has really grown for us as a business centre".
"By putting one club in a spoke market like Raleigh, we're actually bringing greater value to our overall greater travel experience…It strengthens our value proposition in the market," he added.
CHART – United Airlines has had a stable presence at Raleigh-Durham International airport over the past three years and remains the fourth largest operator behind Delta Airlines, American Airlines and Southwest Airlines

Source: CAPA – Centre for Aviation and OAG
The new United Club is located in Terminal 2 opposite gate D2 at Raleigh-Durham International and is actually housed within what was the former US Airways lounge at the airport and which was closed in 2014 after US Airways' merger with American Airlines in favour of the latter's own Admirals Club lounge at the North Carolina gateway.
The 3,800 square foot lounge will feature some local flavor, with visitors enjoying North Carolina favourites including biscuits and gravy, barbecue and cornbread. It also features 93 seats, complimentary high-speed WiFi and plenty of standard power outlets and USB ports.
It will be open daily between 05:00 and 19:30 to support United's flights to Chicago O'Hare, Denver, Houston Intercontinental, Newark, San Francisco and Washington Dulles. Complimentary access will be afforded to first class passengers, Star Alliance Gold membership status, and United Club members, but any passenger of the airline can purchase a day pass for access.
United has charted solid overall growth in its corporate revenues during 2019. It posted a 13% jump in corporate revenue during 1Q2019 and a 6% rise in 2Q2019, which was in line with its top-line passenger revenue growth of 6.1%.