NDC is a technology standard launched by the International Air Transport Association (IATA) that allows data, such as passenger booking information, to be transferred in a common way over the internet. The NDC standard enables the travel industry to transform the way air products are retailed to corporations, leisure and business travellers.
"Our role in NDC is to shape the change. We're not spectators — we're leading participants in this seismic evolution of how travel is bought and sold," says Travelport's Will Owen Hughes, its senior programme director.
Last month the distribution, technology, payment solutions provider to the travel and tourism industry launched its next generation Travelport+ platform, the centerpiece of its vision for simpler retailing and multi-source content distribution. Through it, it is providing customers with tools to reach new retailing objectives like NDC.
It has always formed the NDC Leadership Council to facilitate the industry-wide collaboration required to ensure NDC's success. It has a geographically diverse group of participating airlines, agencies and corporate travel managers and providers from companies including American Airlines, Qantas, United Airlines, American Express Global Business Travel, AmTrav, dnata Travel, and UBS.
A recent insight from the group is that the NDC servicing features that are critical to achieving NDC at scale are those than enable refunds and the management of customer and airline-initiated changes. The findings are based on a study from the NDC Leadership Council that individually prioritised a selection of 18 discrete servicing features.
The results revealed six of the servicing capabilities to be both key priorities and blockers that have potential to slow progress if they are not supported, and hence, considered by the Council to be mandatory for the success of NDC's rollout.
The results show that overall, customer servicing capabilities (notably refunds and exchanges) for NDC bookings, are critical for the adoption of NDC. There was also a strong consensus (80% of members) on the order of priority between quite disparate business types to drive progress.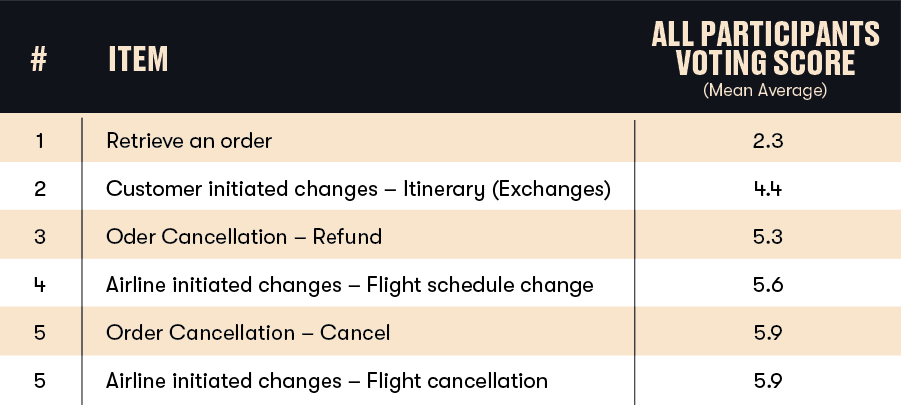 There was also a consensus between agency and airline priorities, although some divergence could be seen due to different business model needs, especially between leisure and business focused travel. Most notably, demand for 'pay using 3D-Secure', 'adding an ancillary' and 'seat selection' capabilities was considerably higher among airlines and corporate travel providers. 'Order history' was also shown to be in high demand among travel agencies.
On the whole, this confirms that – as an industry – we appear to be moving in the right direction. This detailed research into the priority servicing needs for NDC "validates the direction that we have taken to-date," says Kyle Moore, global head of customer strategy at Travelport. Notably, it also highlights the fact that key functionality is now clearly in place.
Mr Moore was a speaker during the Apr-2021 edition of CAPA Live, where he stated that Travelport has experienced "tremendous demand" for information during the coronavirus pandemic and has sought to provide a "hub of information around COVID-19". He said that Travelport is "pretty optimistic about how recovery will pick up", supported by COVID-19 vaccination programmes and digital passport initiatives.
"People want to travel" and "I think business travel will see recovery", but as has become accepted, at a slower pace than leisure travel, said Mr Moore, and acknowledged there has been a "sustained and consistent growth in travel" since 2H2020. Mar-2021 "was a really important month for acceleration," he said, with growth in booking activity and booking lead times.
You can view the full interview with Kyle Moore, global head of customer strategy at Travelport, below: