---
Summary:
The civil aviation ministry anticipates 90-100 additional airports will be commissioned in the next 15 years;
A rolling supply of private capital is anticipated but will these airports offer the necessary RoI?;
There are better prospects for investors with an equally ambitious scheme to expand international airports.
---
This statement comes as MoCA publishes its 'Vision 2040 for the Civil Aviation Industry in India' report in which it said 80 to 90 new airports are likely to be developed in India under the 'NextGen Airports for Bharat (NABH) Nirman' scheme within the next 20 years, including a significant number of smaller facilities supporting regional destinations or functioning as second or third airports serving major cities.
So within the space of a few moments the number of new airports to be commissioned rises by 10 or 20, and within five fewer years, But that's not unusual in India. To make it even more confusing, MoCA reported that most large airports in India are expected to be saturated within the next 10 to 15 years and "in leading regions like Delhi and Mumbai even the [planned] second airports are likely to be saturated by 2040", requiring the development of third airports to serve these metropolitan regions. This seems to hint at MoCA's projections for new airports being conservative.
CHARTS – The growth in passenger numbers at Delhi Indira Gandhi International Airport (top) and Mumbai Chhatrapati Shivaji Maharaj International Airport (bottom) highlight why there are calls for additional capacity in those major markets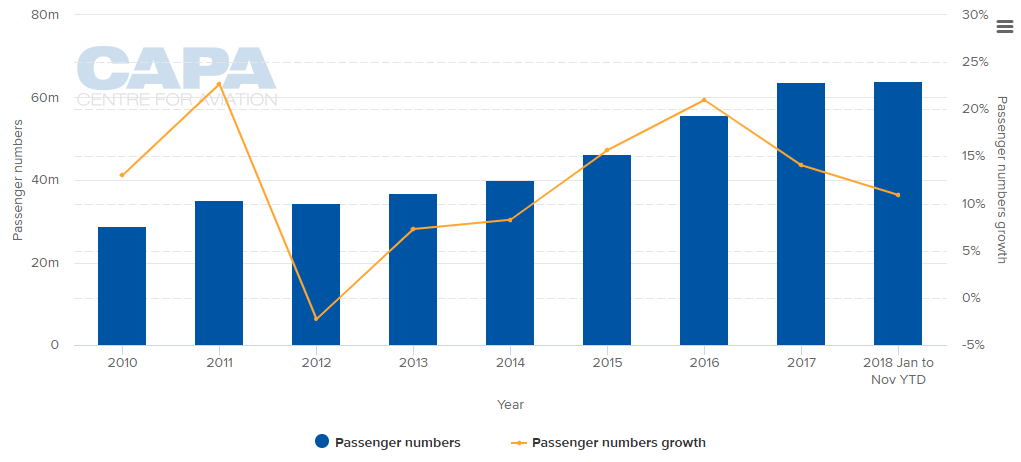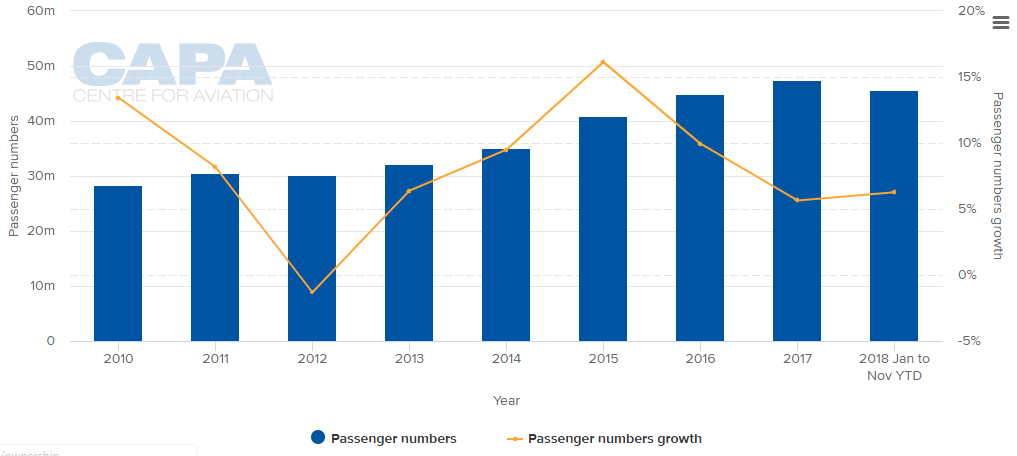 Source: CAPA - Centre for Aviation and Airports Authority of India
MoCA has recommended "establishing a NABH Nirman Fund (NNF) with a starting 'corpus' (amount) of around USD2 billion" to provide financing for the initial stages of development of these smaller airports in exchange for up to a 25% stake. The stake can be sold to private investors to generate funds that "can be reinvested in the next batch of airports".
While this looks like some sort of pyramid scheme it does make sense to involve the private sector, but there is a caveat here. Just how far is the private sector prepared to go to support small regional airports, or even third/fourth level airport in big metropolises?
While a number of international operators including Flughafen Zurich, Changi Airport Group, AviAlliance, AMP Capital Investors and Global Infrastructure Partners have expressed interest in the tender to operate six existing airports for 50 years - in the first such transaction since 2006 - those airports are much larger than the new ones to be commissioned under 'Vision 2040'.
The smallest, Mangalore, hosted around 2.5 million passengers in 2018, and the largest, Ahmadabad, over 10 million. The other four each saw around five million.
Contemporary wisdom still has it that airports of one million ppa or fewer are unlikely to be profitable and that is the case even when there is a large revenue component from non-aeronautical sources such as restaurants, bars and shops, which is unusual at this level in India.
There is a temptation here to compare India with another BRIC country, Brazil, where the concession arrangements there, now entering their fifth tranche with a sixth being planned, are drilling right down to very lightly used airports, some having less than 0.5 million passengers annually, in the expectation that the big global operators investors who have supported previous tranches containing big city airports (Vinci, Fraport, Flughafen Zurich etc) will be knocking on the door again.
At least in Brazil these airports have been cobbled together in groups, with one fairly sizeable airport to act as the carrot. That cannot be the case in India where these 80/90/100(?) airports will be green field ones anyway, unless a way is found of linking them to concessions on existing airports of substance.
https://corporatetravelcommunity.com/the-brazilian-airport-concessions-roll-on-with-another-six-blocks-of-44-airportsand-belatedly-they-include-rio-and-sao-paulo-airports/
MoCA also commented, within Vision 2040, that India is expected to require 70 international airports by 2040 to accommodate 1.1 billion passengers per annum, up from 34 international airports at present. MoCA forecasts the number of airports handling more than 10 million passengers per annum will need to increase from seven to 47 by 2040.
This is much more likely to be attractive news to investors, both domestic and international, who will have greater opportunities to attain the returns they require from these airports under concession or P3 schemes. Numbered amongst them will be the companies mentioned above that have already expressed interest in concessions at the six named airports.
One of these new international airports is the much-delayed Navi Mumbai one, which is now expected to be completed and commissioned by mid-2020 and which, it is anticipated, "could add 1% to Maharashtra's (state) GDP". The state which is home to India's chief economic city, Mumbai, intends to undertake up to nine major airport development projects in addition to Navi Mumbai in the coming years. Projects include the expansion of Nagpur Sonegaon Airport and development of New Pune International Airport.
Perhaps Vision 2040 could have spent more time looking at sea plane services, as the government's UDAN regional connectivity scheme has done. Airports Authority of India (AAI) has identified locations for sea plane services such as Sardar Sarovar Dam, Sabarmati Riverfront, Dharoi Dam and Shatrunjay Dam.
India has a 7,517 km (4,671 mile) coastline, around 140 lakes big enough to land a sea plane on, and innumerable reservoirs. While that might sound far-fetched, bear in mind that the development of basic infrastructure at the four locations mentioned above is estimated by AAI to require just INR150 million (USD2.1 million).