We all want something for nothing and it is estimated that nearly ten million Brits have tried to blag a free upgrade when travelling. With more than 480 million seats travelling empty across the top seven European rail providers and 37 million empty premium seats annually across the world's top 30 airlines, according to Seatfrog, it certainly looks like an area that rail and air operators will be open to finding a solution.
Seatfrog works by creating a live, dynamic bidding system for first class seats that would otherwise remain empty. Using unique technology, the mobile app integrates customer bookings with complex internal systems, allowing travellers to bid on empty seats in first class using live, highly accurate travel information.
The company is looking to transform the future of rail and airline upgrades by allowing passengers to unlock new ancillary revenue opportunities right up to the departure gate via mobile technology. It is the among the world's most comprehensive automation of the upgrade process and is believed to be the first mobile focused platform that allows passengers to transparently bid for an upgrade in real time, pay and receive a new boarding pass direct to their mobile right up until the time of departure.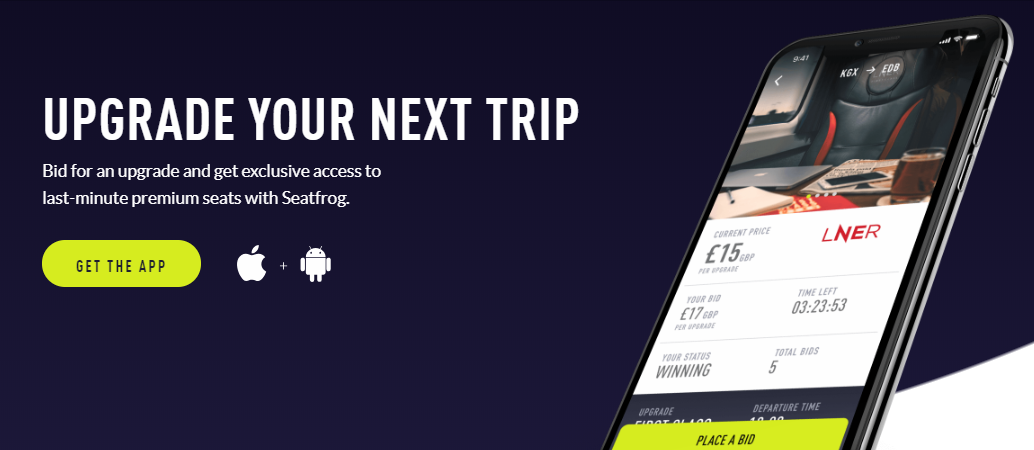 A new relationship between Seatfrog and Capita Travel and Events will now extend this platform to a wider audience and will allow business travellers who book standard advance tickets through Capita Travel and Events the opportunity to upgrade to first class on LNER train services. The travel management company books more than 1.5 million rail tickets annually, delivering significant scale to the technology platform.
This new offering benefits customers booked on a standard advance fare, but looking for greater flexibility and productivity gains whilst travelling. All travellers need to do is download the Seatfrog app (available from the App Store for both iOS and Android devices) and then get bidding for an upgrade.
Travellers simply add their trip to view any available upgrades before placing a bid. The auction platform says "passengers never pay more than the value of the upgrade and there are no hidden fees".
"Our partnership with Seatfrog, supported by our relationship with LNER, will enable travellers to upgrade to first class, providing a much more relaxed and productive working environment," says Joshua Collier, head of proposition (rail and ground transportation) at Capita Travel and Events.
It means that organisations will not have to alter their policy settings to open up first class travel to all travellers, but can instead offer staff the opportunity to bid for upgrades and still maintain a flexibility on whether they will allow the employee to claim this back through expense channels.
Earlier this year Capita Travel and Events announced the release of new proposition – 'Rail Fare Checker' and its focus on delay and repay compensation capabilities. This new partnership with Seatfrog is a further move in Capita Travel and Events' vision to help customers realise the value of smarter working with cost reduction, cost avoidance, wellbeing and productivity at the heart of travel.