Relative to a base as at 2-Jan-2020, Adara's Traveler Trends Tracker, which monitors real time travel data to identify traveller trends and behaviour from 270 travel data partners, shows that domestic flights booked for either VFR or leisure trips have risen steadily since bottoming out in April with leisure flights around 85% below those of 2-Jan-2020.
There was a spike in March as presumably families returned home with a rise of 100% in family travel over the 2-Jan-2020 base. Since the bottoming out in April there has been a steady rise to a new peak on 10-Jun-2020 although still family leisure trips down by 30% and non-family leisure down by around 44% from the base value. There has since been a slight decline as the country continues to battle with the virus and various regional spikes in cases causes concern.
Business flights meanwhile started to tail off in Feb-2020 and continued down to a low of 98% below the 2-Jan-2020 base during April. The good news is that there has been a very slow but steady increase in business flights although still around 70% below that base value.
CHART – US domestic flight bookings are showing an upturn with family leisure and leisure tracking ahead of business demand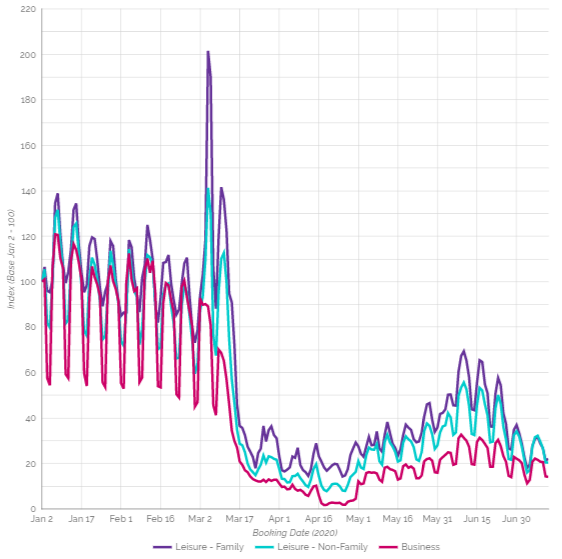 Source: Adara Traveler Trends Tracker (NOTE: the index shows the relative bookings compared to bookings for 02-Jan-2020 – each set of bookings (e.g., business flights) is indexed relative to itself)
Hotel bookings unsurprisingly also took a nosedive in Mar-2020. Leisure bookings dropped to around 94% below normal levels for most of March and April and only started a gradual increase in May and picking up pace in June, reaching just 10% below the base rate in mid-Jun-2020 for family travel and 32% down for leisure bookings.
Business hotel bookings also stayed low through April, beginning to pick up in May reaching a new high of 43% below the base level in mid-Jun-2020, which compared to the 70% drop for business flight bookings could indicate business meetings are continuing but travel by car is on the increase.
In terms of when people are booking flights, business bookings are more likely to be made up to 15 days prior to the trip as companies review the situation and act fast when conditions seem right. By contrast leisure bookings are tending to be made with a much longer lead time.
The same can be said for booking hotels. The trend has always been for business bookings to be made at the last minute and after the bottoming out of bookings in April, signs are that last minute business bookings made within 15 days of departure are again proving the most likely.