---
Summary:
LOT Polish Airlines wants a US immigration pre-clearance station at the proposed Central Polish Airport.
The concept is well-established and the US authorities are seeking to expand it, based mainly on security concerns.
There are benefits for both airports and airlines but there are dis-benefits, too.
---
Immigration pre-clearance to the US is already available at 15 airports, most of them in Canada (since 1952) and the Caribbean/North Atlantic (since 1960), but also two in the Republic of Ireland and one in the Middle East (both since 2011 in their latest manifestation).
In 2014 the US authorities began investigating the possibility of an extension in Canada (Toronto Island and Ottawa airports were confirmed in 2016) and at a total of 10 other airports in nine countries, seven in Europe, one in the Caribbean and one in North Asia. Applications are under way in many cases though some countries declined to take part either straight away or pursuant to President Trump's immigration bans in the early part of 2017.
CHART - LOT Polish Airlines offers over 4,750 seats on USA services per week, 5.4% of the capacity from Poland, the fifth largest market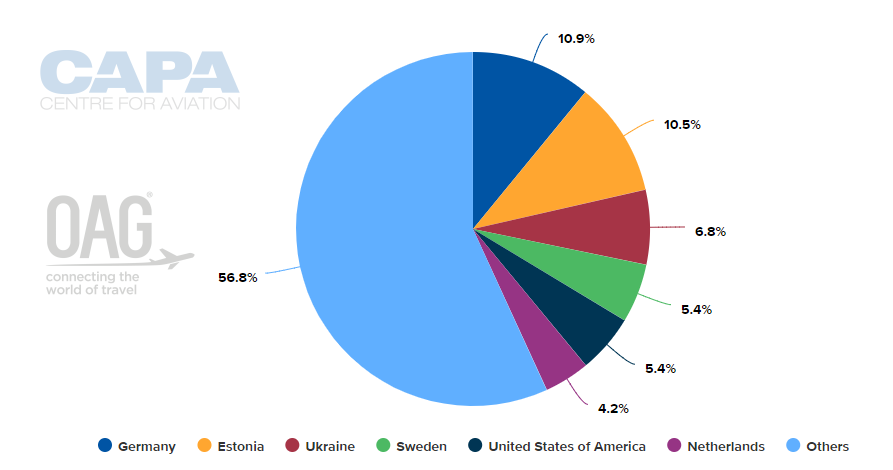 Source: CAPA - Centre for Aviation and OAG
Fundamentally the intention to expand pre-clearance was driven by security considerations emanating from the Department of Homeland Security. On the other hand airports generally welcome the opportunity (even if some of their governments don't) because it offers them a commercial advantage over their rivals. On the other hand again, the cost of implementation is high, and it is borne by the airport. And the pre-inspection post is to all intent and purpose a piece of US territory within a separate sovereign state.
All these matters have been raised in several reports that can be found on the CAPA – Centre for Aviation website, the most recent of which is 'US immigration pre-clearance: Dublin Airport's rapid growth has been supported by enhanced US access'.
Poland has been pondering the construction of a new airport for some time. A facility based around Krakow and Katowice in the south of the country not having come to fruition, lately attention has turned back to the capital region, where the government plans to build a new mega-airport dubbed Central Polish Airport (CPA). This project has been designed for (eventually) 100 million passengers per annum, at an anticipated cost of PLZ30 billion (USD8.2 billion).
Construction will take place over a period of 10 years, after which the main existing airport, Warsaw Frederic Chopin, will be closed. This is not an entirely new project either, having been under consideration in one form or another since 2006. The driver now is a perceived lack of capacity at the Chopin Airport in the wake of a growth in passenger numbers of 14% in 2016, which has been followed by one of 25% in 1H2017.
Current intentions are that the other Warsaw airport, Modlin, will remain open. So far, the government is uncertain whether or not there will be a military role for CPA. Modlin was previously used as a military base and as a general aviation airport, before being converted for commercial use. Ryanair has 100% of the seat capacity there at present.
CHART - Ryanair grew its presence so Warsaw Modlin offered more than three million seats from 2015, but growth has subsequently been flat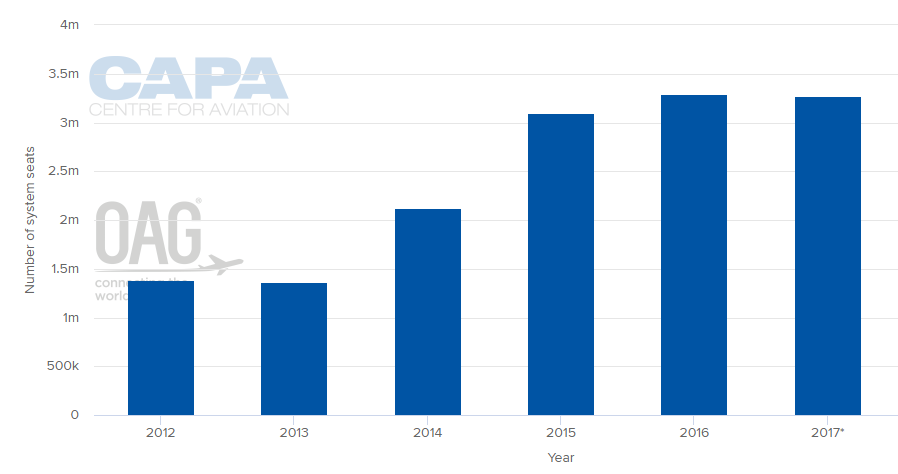 Source: CAPA - Centre for Aviation and OAG
A full report on CPA, together with an analysis of the justification for its construction and arguments against, can be found on the CAPA website: 'A new Central Polish Airport: Welcome new infrastructure, but uncertain need for it'
It is the suggestion that the military might have a presence at CPA that is intriguing in the light of the proposal from LOT concerning US Immigration pre-clearance. Many airlines covet this as-yet rare facility but it is not always to their advantage. There were quite serious teething problems for Etihad Airways when it was introduced at Abu Dhabi airport in 2014, with flights being held up by the need to screen passengers on incoming connecting flights that had been delayed. Moreover, Emirates put pressure on Dubai International Airport not to apply for preclearance acceptance. That airline, because of the huge scale of its operations, needs to operate in a clockwork manner and pre-clearance can work against that.
Many US airlines and pilots unions are also against pre-clearance applying to Middle East carriers because they believe the current arrangement benefits Etihad Airways and Abu Dhabi rather than the US economy and US workers.
Political and security considerations as such do not apply to Poland, a member of the European Union and of NATO. The concerns that apply to other countries are largely absent and the need for pre-clearance can be assessed on commercial value rather than security. But of course that might change.
The construction of an airport for 100 million passengers per annum when passenger numbers in the whole of Poland in 2016 totalled only 35 million does suggest that it will have to be a hub facility on a much larger scale than the Chopin airport and some of those international hub passengers are going to be originating from countries whose residents require deep scrutiny in the eyes of the US authorities.
Thus there are good reasons why an application for pre-clearance status for this new airport would be approved though they are not necessarily the same as those that prompted LOT to suggest it.