Working with Oxford Economics, the association has calculated that COVID-19's impact on tourism and industry revenue for Mar-2020 is negative 80% and a negative 70% in Apr-2020. US Travel has also warned that 18 million fewer travellers will visit the US in 2020 than 2019.
Businesses in the non-airline travel sector are seeking USD250 billion in disaster relief to keep workers employed. Those firms are also seeking an Emergency Liquidity Facility for travel businesses to remain operational and the streamlining of the SBA loan programs to support small businesses and employees.
"The news we have for policymakers and the public is very challenging: the 15.8 million American jobs supported by travel are directly in the crosshairs of the health crisis, and the only thing that's going to protect them is aggressive financial relief right now," says US Travel Association's president and CEO, Roger Dow.
The association and several businesses sent a letter to US Congressional leaders stressing the need for financial assistance. "Together we are grappling with the immediate and devastating impact of the current health crisis," the letter stated. "Furloughs of American travel workers are happening right now".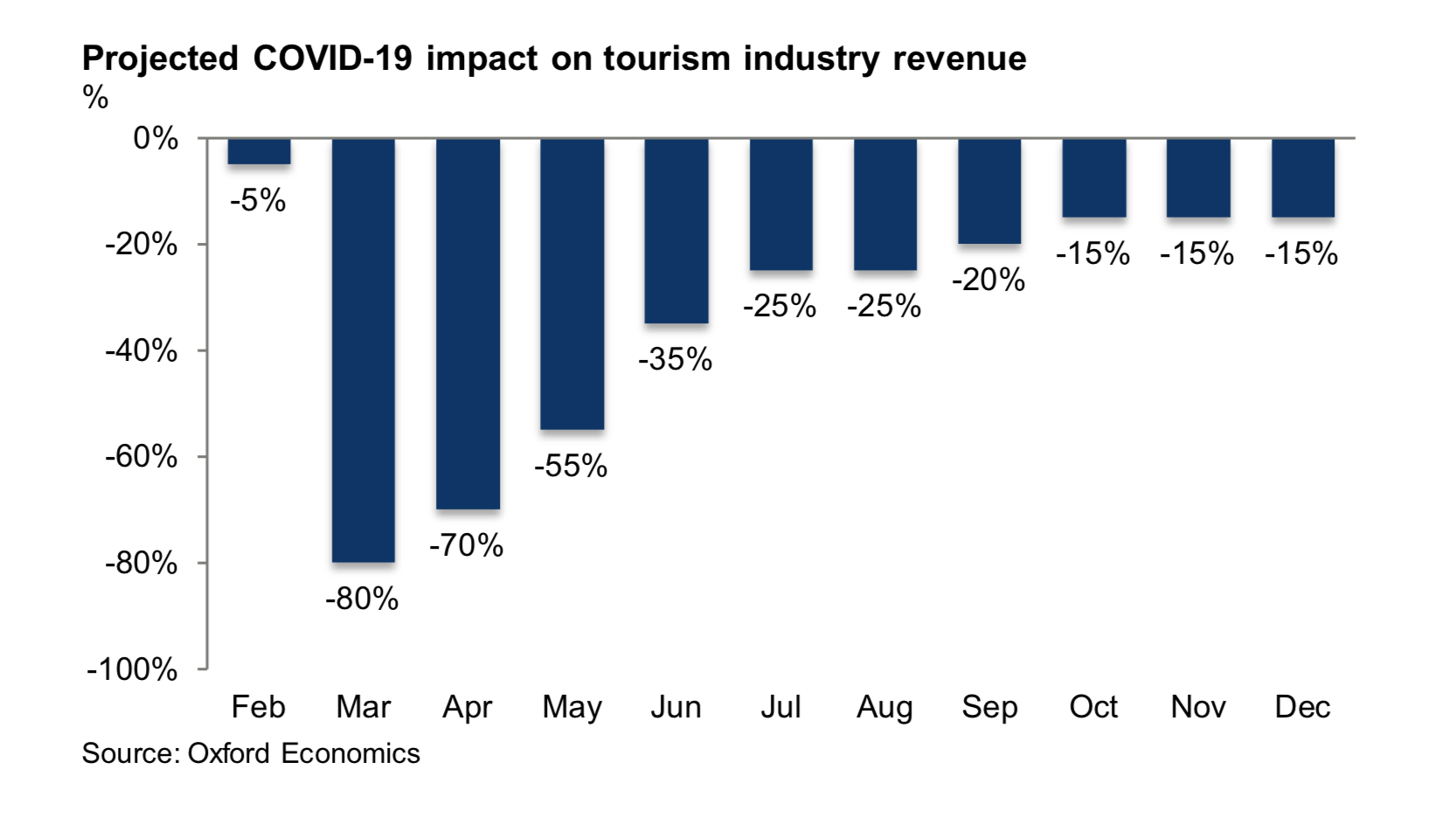 We have particularly heard a lot about airlines culling their schedules across North America, but US and Canadian hotels are also feeling the pain of COVID-19 in key metrics. All types of hotels in the US and Canada are posting double digit declines in some key performance metrics, with no bottoming out in sight. Data from STR shows that in both countries, occupancy rates and revenue per available room (RevPAR) fell in double digits year-on-year for the week of 8-Mar-2020 to 14-Mar-2020.
In the US occupancy dropped 24.4% to 52% while average daily rate (ADR) fell by 10.7% to USD103.29. RevPAR decreased by 32.5% to USD63.74. As you would expect, regions in the country where COVID-19 appears to be concentrated saw some of the steepest declines in those metrics. Seattle's occupancy fell by 55% to 32.9% and ADR slid 24.7% to USD109.28. RevPAR plummeted 661.% to USD35.97.
The San Francisco/San Mateo area posted a 63.3% drop in RevPAR to USD68.56 as occupancy fell 51.6% to 38.9% ADR fell 24.2% to USD176.38. New York City saw its occupancy fall by 43.9% to 48.8%, and its RevPAR decreased by 54.6% to USD88.29. STR noted that performance declines were uniform across chain scales, classes and location types.
"To no surprise, the hurt continued and intensified for hotels around the country," says Jan Freitag, STR's senior VP of lodging insights. "The performance declines were especially pronounced in hotels that cater to meetings and group business, which is a reflection of the latest batch of event cancellations and government guidance to restrict the size of gatherings.
"The questions we are hearing the most right now are around how far occupancy will drop and how long this will last. Through comparative analysis of the occupancy trends in China and Italy over the past weeks, we can with certainty say that we are not yet close to the bottom in the US.
"However, the timeline for that decline and the eventual recovery are much tougher to predict because there is still so much uncertainty around the COVID-19 case numbers in the U.S. and how serious citizens are when practising social distancing," she adds.
Canada's 2.8% decline in ADR to CAD140.70 was modest compared with the US, but the country's occupancy for the week of 8-Mar-2020 to 14-Mar-2020 plummeted by 24.3% to 46% and RevPAR fell by 26.4% to CAD64.71.
The data compiled by STR show Alberta recorded the steepest drops in ADR of 6.5$ to CAD127.90 and RevPAR fell by 32% to CAD53.21. British Columbia's RevPAR decried by 27.6% to CAD83.30. Newfoundland and Labrador actually posted positive increases in some metrics. Newfoundland's occupancy grew by 2.6% to 44.3% and Labrador's CAD53.33 was an increase of 1.8%. Saskatchewan posted a 2.7% increase in ADR to CAD122.37.