Though neither candidate published anything like a comprehensive aviation policy in the lead up to the US Presidential election, the aviation industry will inevitably come into sharp focus because of its vital role in facilitating economic growth. In the near term, although airlines are haemorrhaging and unlikely to stop cash burn until mid-2021, likely generic funding packages should help with employee support, so airlines can continue to operate uneconomic routes.
But, beyond that, the terrifying rate of spread of the COVID-19 virus in the US, where case numbers have increased by more than half in the past fortnight alone, must inevitably impact policies in coming months. Mr Biden has said his administration will do "whatever it takes" to slow the spread - a necessary prerequisite for medium term recovery, and to restore passenger willingness to fly.
A Biden presidency promises a greater emphasis on environmental issues, but as a first priority will be to move quickly to slow the spread of COVID-19 in the US, the necessary first step towards recovery. US aviation experts will explore the likely features and impact of President-elect Biden's actions towards aviation sector in this month's CAPA Live on 11-Nov-2020: CAPA Live - November
The pressure on the travel industry is tremendous and latest research shows few signs of individual behaviours changing as concerns over the coronavirus remain high. According to Ipsos, the number of Americans that have visited friends or relatives (49%), gone out to eat (42%) and self-quarantined (14%) is stable compared to the past few weeks. But, concerns are emerging about the holiday season, with the majority making adaptations to how they will celebrate and changing how they view holiday travel with more than two-thirds (68%) saying traveling for the upcoming holidays poses a large or moderate risk.
More than half of Americans (54%) have begun to make plans about how they will celebrate the holiday season, according to the Ipsos research. The most common adaptation for Thanksgiving celebrations are having a smaller gathering (35%) and not seeing family or friends they normally would (21%). A slim majority, 52%, say they are celebrating Thanksgiving this year with just their immediate family. More than one in 10 (14%) are not planning to celebrate at all. This suggests the usual uptick in demand for Travel during the period will be even less than the already subdued levels predicted.
The latest wave of research from Destination Analysts also highlights reducing sentiment. Six in 10 Americans (61%) expect that the pandemic situation will get worse in the next month, up more than five percentage points in one week. The worsening feelings about the pandemic continue to negatively impact sentiment towards travel in the near-term: less than half (48%) agree they are excited about taking a getaway in the next month and openness to travel inspiration decreased again (44%), according to the latest Coronavirus Travel Sentiment Index Report, compiled earlier this month.
It also illustrates confidence in being able to travel safely in the current environment has eroded five percentage points in the past three weeks (27% from 32%), while half respondents agree that travelling right now feels irresponsible and over 40% feel guilty travelling. Most respondents agree that they plan to travel more domestically and prioritize travel with family over the next two years (following the pandemic) more so than before the pandemic.
Latest travel indicators all performed slightly worse in the last week than over the past couple of weeks, likely due to rising COVID-19 cases and a general sense of pessimism about the course of the virus. Arrivalist's Daily Travel Index, which measures consumer road trips of 50 miles or more in all 50 US states, showed road travel declined moderately last week on a year-over-year basis. This was down -20% on the same week last year, significantly lower than in recent weeks, and its worst performance since the end of Jul-2020.
Similarly, Transportation Security Administration (TSA) passenger screenings slowed down significantly last week, but this would be expected leading up to the holiday season, albeit levels also declined slightly on a year-on-year basis, which remains significantly lower than last year. The seven-day average of daily screenings (through 03-Nov-2020) was down -8% on the previous week and -64% lower than the same period last year (slightly worse than the -63% level recorded the prior week). The decline marks the first reversal in year-on-year improvement in two months, but it was likely influenced by a considerable slowdown in travel on Election Day (-71% year-on-year) compared to the same weekday last year.
ADARA's Traveler Trends Tracker, which taps into real-time travel data on travel-related consumer behaviour including hotel volume and flight bookings for both business and leisure travel, shows domestic air and hotel bookings for future travel declined from -56% year-on-year in the previous week to -60% year-on-year. International bookings for future travel to the US also declined from -60% year-on-year in the previous week to -63%.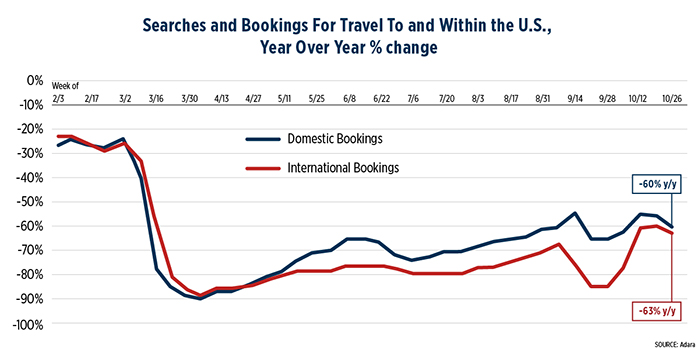 Latest Tourism Economics data for US Travel Association shows a more favourable level of travel spending with it ending its two-week slide in the week ending 31-Oct-2020, gaining 3% from the prior week. The percentage loss from 2019 improved to -42% from -44%. This remains within the seasonal trend that since the end of the summer travel season has seen weekly travel spending remain relatively flat, with the percentage loss oscillating between -45% and -41% in each of the past eight weeks.
National weekly travel spending rose to USD12.9 billion, but it still represented a USD9.3 billion loss in spending, increasing US travel economy's losses in travel spending across the past eight months from the COVID-19 pandemic to USD443 billion. Oct-2020 concluded with USD41.6 billion of travel spending losses—a 6% increase from Sep-2020 and the first increase in monthly travel spending losses since Apr-2020.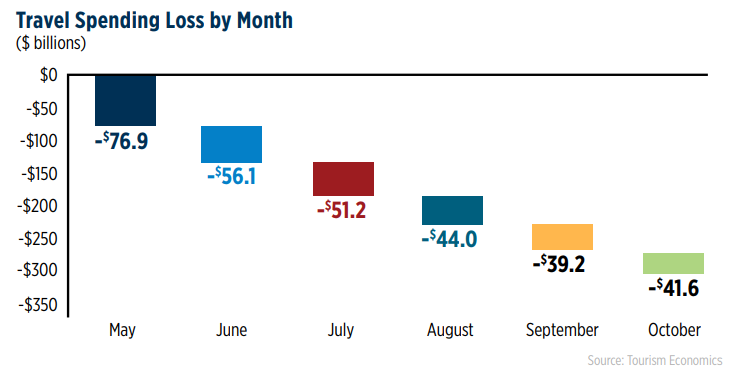 The Tourism Economics research shows that monthly losses have been relatively flat over the past three months, averaging USD41.6 billion per month. This equates to a daily loss of USD1.4 billion. This is half of the USD2.8 billion in daily losses experienced in Apr-2020, but remains "a deep wound to the travel economy," it acknowledges.
The data highlights that Hawaii, the District of Columbia, New York, Massachusetts, and Illinois were again the only states to record losses exceeding -50% of 2019 weekly travel spending levels. While Hawaii (-74%), New York (-70%), Massachusetts (-59%), and Illinois (-57%) all featured little or no growth, the District of Columbia improved six percentage points to -69%.
The slow return of air travel has been a boon for Puerto Rico though, which had been among the five worst performing states and territories for much of the pandemic. Since the week following Labor Day Weekend, air capacity to Puerto Rico has expanded 25%, coinciding with the island's rise from being near the bottom of market performance to now being in the middle of the pack. Meanwhile, many Midwestern states that had been regressing in recent weeks experienced strong rebounds, with Montana, Iowa, Wisconsin, and Minnesota being among the biggest gainers of the week, according to the latest data.