The statistics represent a milestone in the recovery even if year-on-year performance makes unhealthy viewing. In a year-over-year comparison with Oct-2019, the industry reported GOPPAR down -88.3% to USD12.69, while TRevPAR declined -72.2% to USD70.96, EBITDA PAR fell -103.8% to USD-3.24 and LPAR (Labour Costs) was down -61.1% to USD31.28.
GOP margin increased six percentage points from Sep-2020, and certain location types reported encouraging data, notes STR, most notably airport hotels where GOPPAR was nearly three times higher than the previous month, while interstate properties drew close to pre-pandemic levels.
But while these metrics have been improving STR data shows that the US hotel industry showed slightly lower performance from the month prior in occupancy, ADR and RevPAR when compared to Sep-2020. After improving through the summer (from -42% year-on-year in Jun-2020 to -28% year-on-year in Sep-2020), hotel occupancy took a slightly negative turn and was down -30% year-on-year in Oct-2020.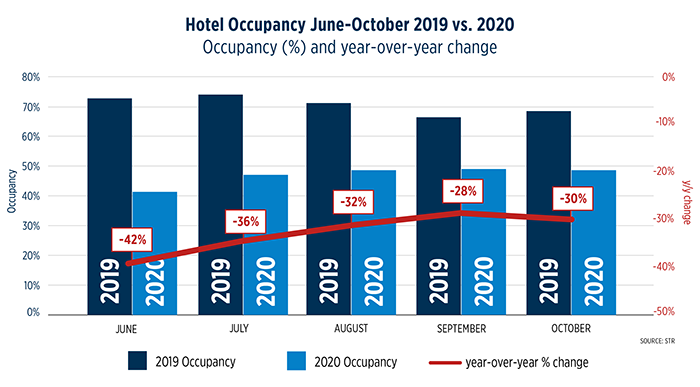 According to the US Travel Association's weekly COVID-19 Travel Data Report, hotel occupancy was 35% on Thanksgiving Day 2020, which is 38% lower than Thanksgiving Day 2019 with government-imposed restrictions and virus anxieties acting as a depressant on travel sentiment right now.
Anxieties about personally or loved ones' contracting the virus and the pandemic's impact on the economy though are in an elevated but stable period that have not reached the peak levels seen during the two prior surges in Mar-2020 and Jul-2020, highlights Destination Analysts in the latest wave of its research into thoughts, feelings, perceptions and behaviours surrounding travel in the wake of the coronavirus pandemic.
The findings from data collected in late Nov-2020 found over 60% of Americans believe the pandemic is going to get worse in the next month. Fully half of American travellers say they have lost their interest in traveling for the time being, and 62% say if they were to travel right now, they wouldn't be able to fully enjoy it. Openness to travel inspiration has been on a steady decline since mid-Oct-2020 —now just 41% of Americans are excited about learning about new travel experiences and destinations to visit in the near-term.
According to the most recent Longwoods International tracking study of American travellers, 77% of them are changing their travel plans because of the pandemic, the highest percentage since mid-Jul-2020 and up from 69% two weeks prior. Concern about catching or spreading coronavirus during a trip has jumped to 60% of travellers, up from 53% a month ago.
More than four in 10 Americans (44%) do not plan to travel until there is a vaccine available – up 10 percentage points in the past two weeks, while Americans are generally feeling less safe traveling outside their community – 39% indicated they felt safe in the most current wave, down from 46% in early Nov-2020.
The Thanksgiving holiday did give a boost to air travel though with daily Transport Security Administration (TSA) screenings reaching new highs around the Thanksgiving holiday reaching nearly 1.2 million (-59% year-on-year) on the Sunday after Thanksgiving, by far the highest level since the start of the pandemic. The seven-day average through 29-Nov-2020) was 917,000 (-61% year-on-year), a new seven-day record. Though it is still deep in negative territory, this year-on-year decline – tied only with the previous week – reflects the best year-on-year performance since the start of the pandemic.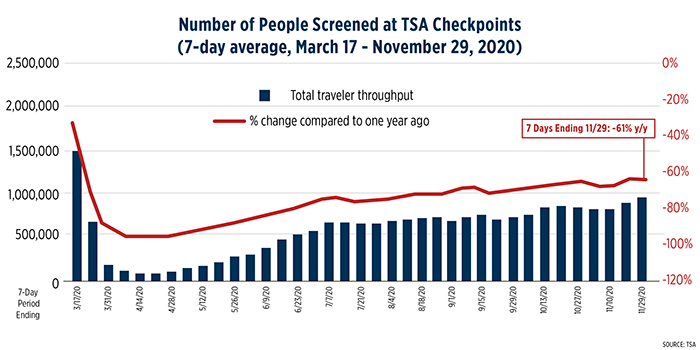 While air travel was rising, road travel was reducing and continuing a consistent trend into deeper negative territory since early Oct-2020. Arrivalist's Daily Travel Index, which measures consumer road trips of 50 miles or more in all 50 US states, shows road travel over Thanksgiving was down -35% year-over-year, the worst performance of any holiday since the start of the pandemic. In terms of weekly trends, road travel for the seven-days ending 29-Nov-2020 was -27% lower than in the same period last year – its worst year-on-year performance since early Jun-2020.
Analysis by Tourism Economics for the US Travel Association shows though that Thanksgiving holiday travel boosted travel spending +9%. In the week ending 28-Nov-2020, travel spending tallied USD13 billion – an improvement from the USD11.9 billion in spending in the previous two weeks – and reflected a -39% drop below last year's levels (an USD8.4 billion loss). This performance was significantly better than the -44% year-on-year drop in the previous two weeks, and marked the best year-on-year performance since Labor Day week, and the second-best since the start of the pandemic.
"While positive results from vaccine trials put an end of the pandemic in sight, rising COVID-19 cases and the continued divide over re-opening protocols present tangible risk to the winter travel season in the US," warns the research.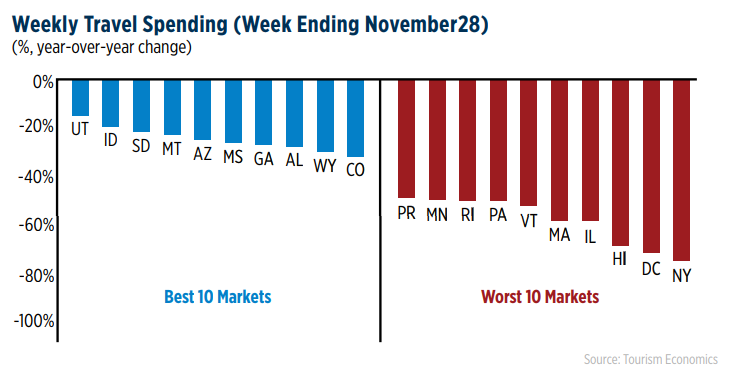 Vermont has joined New York, the District of Columbia, Hawaii, Illinois, and Massachusetts as states with losses exceeding -50% of 2019 weekly travel spending levels. Hawaii's continual improvement since ending its mandatory quarantine for visitors and the District of Columbia's markedly improved hotel performance means New York has become the travel market with the greatest year-over-year decline.
Reinstituting inter-state travel restrictions in most of the region led to the Northeast reaping the smallest Thanksgiving holiday boost of any region. Maine and Vermont, both states with mandatory 14-day quarantines for travellers, felt the greatest contractions in travel spending, highlighting how quickly things can change as COVID cases spike.