The metasearch engine and travel agency identifies that searches and bookings are increasing weekly and sees high-intent to travel around the weeks of Thanksgiving, Christmas and New Year and predicts 25-Nov-2020 will be the busiest day for travel during the Thanksgiving period in 2020. But while we will see a rise on what has been a tough year, Skyscanner US travel expert Mark Crossey warns "we won't see the passenger volumes we saw last year or the year before." However, he adds: "We do expect it to be busier than usual".
Historical data for 2019 shows that almost two-thirds of Thanksgiving travellers (61%) booked approximately six weeks or less prior to departure and a 2020 trend to later bookings shows there is still significant time for booking levels to rise. New York, Cancun and Orlando are the top three searched destinations for Thanksgiving travel in 2020, according to Skyscanner, with Las Vegas, Denver, Los Angeles, Fort Lauderdale, Atlanta, Chicago and Tampa among the top ten searched markets.
"Mexico has been a very popular destination for travellers since restrictions have been lifted," acknowledges Mr Crossey. "We have also seen our users searching, planning and booking travel to winter sun destinations such as Florida".
This optimistic look into next month comes at a time that the recovery again shows a mixed performance of increasing air travel, stable road travel, but slowing travel spend. Notably, US Transportation Security Administration (TSA) daily passenger screenings passed the symbolic one million mark on 18-Oct-2020 for the first time since 16-Mar-2020, but were still almost two-thirds below last year levels. Average daily screenings for the seven days to 20-Oct-2020 reached a new pandemic recovery-high of 864,000, but were -64% lower than the same period last year.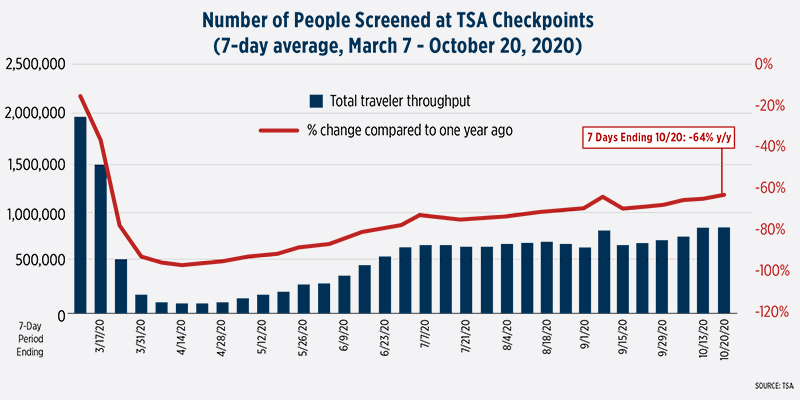 Road travel remained stable but performed slightly worse than the past few weeks. Arrivalist's Daily Travel Index, which measures consumer road trips of 50 miles or more in all 50 US states shows road travel was slightly slower than previous weeks but remained just -11% below last year levels. The latest year-on-year declines reflect significant improvements from lows of -70% year-on-year in early Apr-2020.
Supporting the optimism of Skyscanner, ADARA's Traveler Trends Tracker of real-time travel data on travel-related consumer behaviour including hotel volume and flight bookings for both business and leisure travel shows improving bookings for future air and hotel travel while international bookings for future travel to the U.S. (-61% year-on-year) are significantly better than any other time since the start of the pandemic (up from -77% in the previous week and -84% two weeks earlier).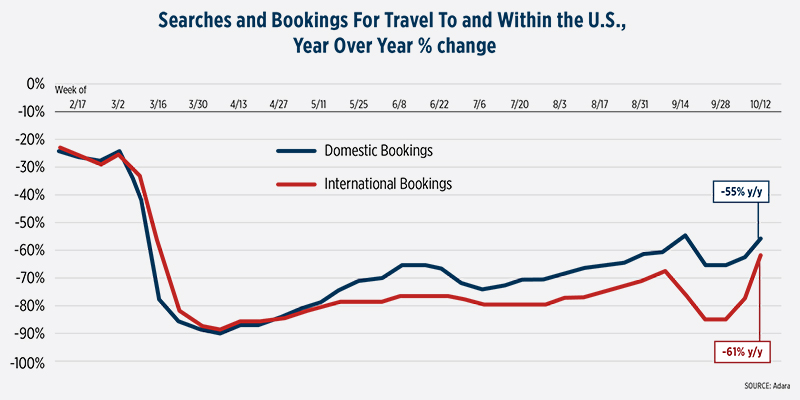 While regional differences remained strong, most states saw a marked improvement from last week. Domestic bookings to Montana (-11%), Wyoming (-12%) and South Dakota (-16%) experienced the lowest year-on-year declines, while New York (-77%) and Massachusetts (-71%) experienced the highest y/y declines but performed better than the previous week.
The weekly update of Tourism Economics' research for the US Travel Association shows travel spending retreated -3% in the week ending 17-Oct-2020 ending a three-week consecutive growth streak. The percentage loss from 2019 worsened to down -43% from down -41% as national weekly travel spending fell to USD12.7 billion, resulting in a USD9.5 billion loss when compared to the same week a year ago.
Since the beginning of March, the US travel economy's losses from the COVID-19 pandemic have now reached USD424 billion and remain on a negative track to exceed USD500 million by the end of the year.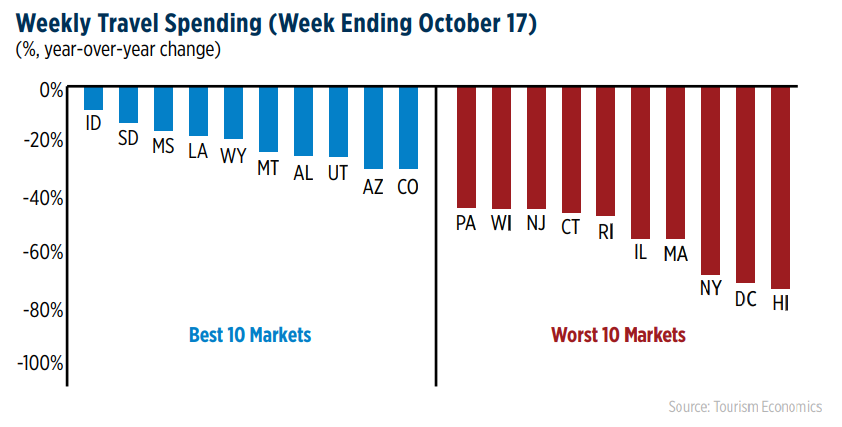 The research identifies Rhode Island as joining Hawaii, the District of Columbia, New York, Massachusetts, and Illinois among the states struggling with losses exceeding -50% of 2019 weekly travel spending levels. Hawaii has been the worst performing market since May, but the ending of its mandatory two-week quarantine for visitors, contingent on a negative COVID-19 test and relaxation on travel restrictions should help reduce the size of losses moving forward.
The Tourism Economics research acknowledges most states saw moderate declines during the analysis week, but several states – mainly in the South – that had been slipping or stagnant in recent weeks experienced strong gains, such as Mississippi, Louisiana, and Tennessee. But, the continual depressed level of travel spending has produced a loss of USD54.5 billion in federal, state, and local tax revenue since the start of Mar-2020, it says. This includes USD33.8 billion in federal taxes, USD12.4 billion in state taxes, and USD8.3 billion in local tax revenue.