The latest wave of its research of 1,200+ American travellers on their thoughts, feelings, perceptions and behaviours surrounding travel in the wake of the coronavirus pandemic conducted between 23-Oct-2020 and 25-Oct-2020 found more than two-thirds (67%) do not believe that the coronavirus will be resolved by the end of the year and more than half (55%) expect the severity of the coronavirus situation to get worse in the next month.
The increase in cases has again adversely impacted feelings about travel in the near-term and the increased anxiety about the virus coincides with decreasing excitement levels about taking a getaway in the next month and openness to travel inspiration. The percentage of Americans who agree they have lost their taste for travel for the time being (47%) somewhat increased after holding stable for the last two months, according to Destination Analysts.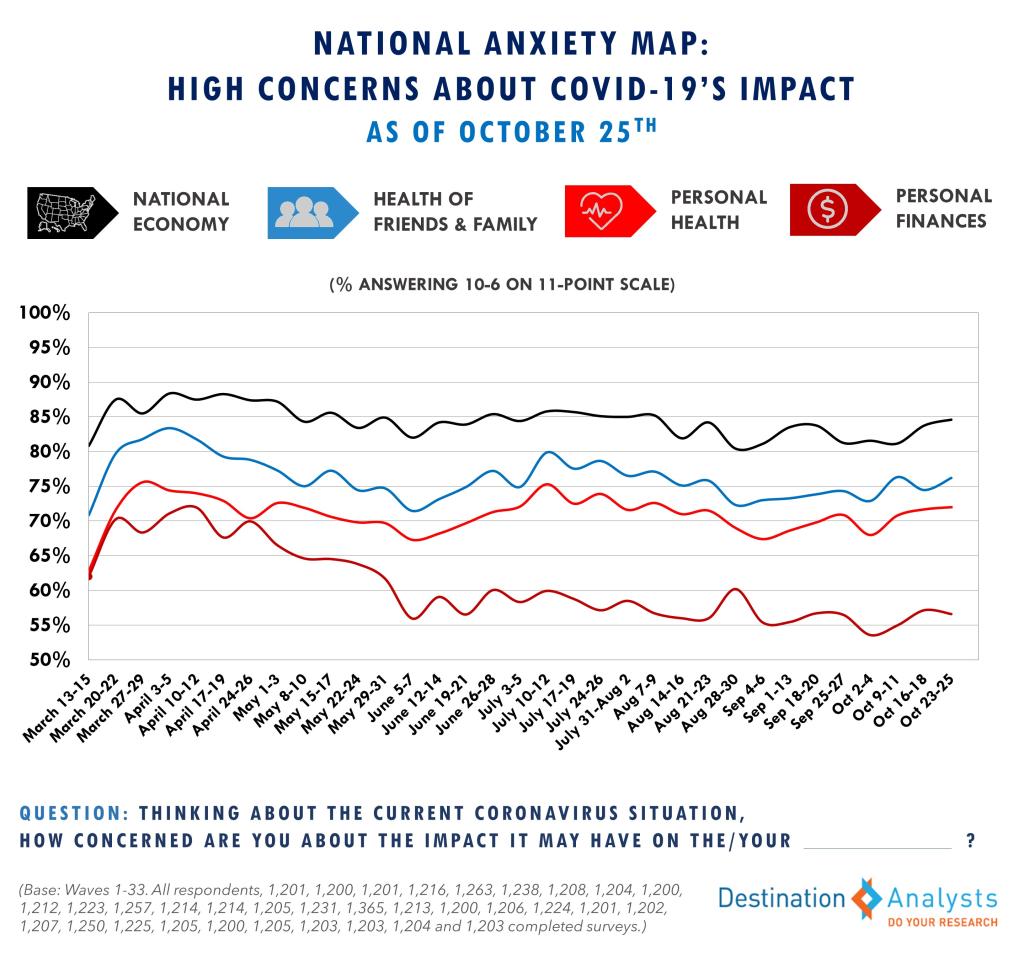 However, there are signs that travel may not be as significantly impacted as it was in previous surges during the pandemic. While half feel unchanged, over a third (35%) of American travellers feel they have gained confidence in how to navigate the pandemic in the last three months. Americans are now actually exhibiting less agreement that they will avoid travel until the coronavirus situation is more resolved and their state of mind about travel readiness remained constant from last week with more than half in a ready to travel state of mind (55%).
Americans also want something to look forward to and the joy travel brings remains ingrained, says Destination Analysts. Nearly 60% of Americans agree that having a vacation scheduled in the next six months would make them feel there is something happy to look forward to. While just 20% of travellers have taken a flight since Mar-2020, over 35% plan to travel by air in the next six months, according to the research.
Comfort level with COVID-19 testing prior to boarding increased to 51% from 43% just two weeks ago, but social distancing continues to be important to a significant share of Americans when it comes to air travel, according to the findings.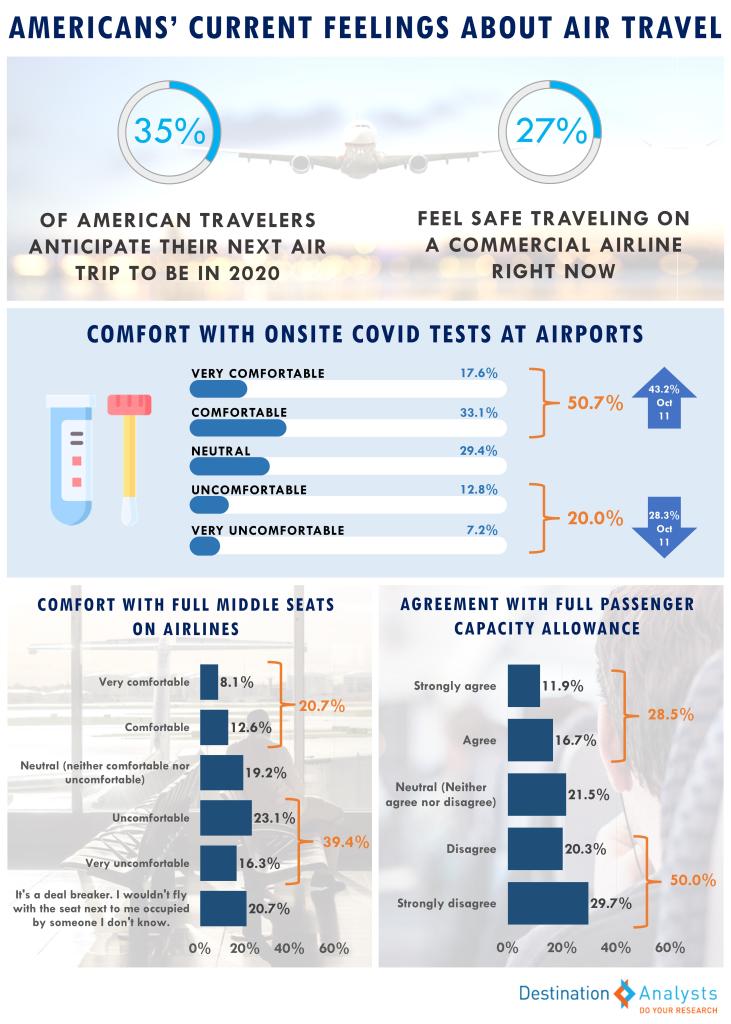 The rising pessimism comes at a time that latest travel indicators show some stability as they remain fairly flat with no noticeable year-on-year improvement in road travel and advanced bookings, and very minimal improvement in Transportation Security Administration (TSA) screenings.
The latter delivered the most positive signs as although daily TSA screenings slowed down in the last week, as can be typically expected the end of October, between the start of the school year and pre-holiday season, they did improve slightly compared to the same period last year. The latest seven-day average of daily screenings (through 27-Oct-2020) was -3% lower than the previous week and -63% lower than the same period last year.
While still deep in negative territory, air travel has continued to slowly but steadily improve nearly each week; the latest seven-day year-on-year decline reflects the best year-on-year performance since air travel plummeted at the start of the pandemic.
Looking at road travel, Arrivalist's Daily Travel Index, which measures consumer road trips of 50 miles or more in all 50 US states, shows little movement compared with the performance seen over the past few weeks. Road travel was down 13% year-on-year last week, according to the Index, in line with recent weeks' performance, but still reflecting significant improvements from lows of -70% year-on-year in early Apr-2020.
It is the same story with ADARA's Traveler Trends Tracker, which taps into real-time travel data on travel-related consumer behaviour including hotel volume and flight bookings for both business and leisure travel. Its national and state-level booking data shows domestic air and hotel bookings for future travel are down -56% year-on-year, roughly the same as last week, though improved from earlier weeks.
Its research is provided to US Travel Association who identify some particular regional differences. Domestic bookings to Montana (-13%), Wyoming (-17%) and Idaho (-23%) experienced the lowest year-on-year declines, while domestic bookings to New York (-78%), Massachusetts (-72%) and Connecticut (-71%) again experienced the highest year-on-year declines.
As per the current trend international bookings for future travel to the US were down -60% year-on-year roughly the same as last week and again fared significantly better than any other time since the start of the pandemic.
Research from Tourism Economics for US Travel Association highlights that travel spending contracted once again in the week ending 24-Oct-2020, falling -2% from the prior week. The percentage loss from 2019 worsened once again to -44% from down -43%.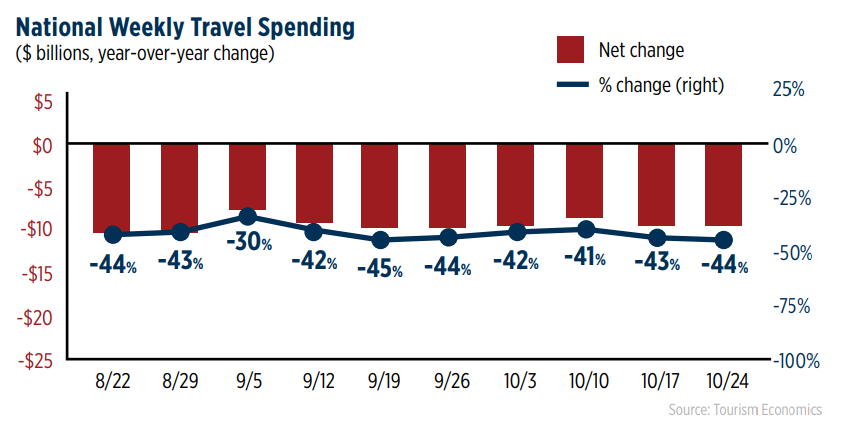 National weekly travel spending fell to USD12.5 billion. The travel economy measured -44% below last year's levels, resulting in a USD9.7 billion loss when compared to the same week a year ago. Since the beginning of Mar-2020, the US travel economy's losses from the COVID-19 pandemic have tallied USD434 billion in travel spending.
Hawaii, the District of Columbia, New York, Massachusetts, and Illinois again recorded losses exceeding 50% of 2019 weekly travel spending levels, although Hawaii would be expected to depart that group after quarantine restrictions were lifted. Midwestern states with climbing COVID-19 cases also continued to see inflated losses, with South Dakota, Michigan, and Minnesota experiencing some of the most severe downturns.
The current data from Tourism Economics covers the first full week since Hawaii ended its mandatory two-week quarantine for visitors. Air visitors to the islands measured only 18% of 2019 levels, but still this is approximately triple the 6% recorded two weeks prior. With this surge in air visitors, Hawaii surpassed the District of Columbia to no longer be the worst performing market, it identifies.
A confusing picture. All in all we see a fairly stable performance with some positive movement, but still significant year-on-year declines. However, worries of increasing pessimism is a concern and could quickly cloud the future outlook.