For the week ending 12-Sep-2020 it says travel spending registered just USD12.7 billion, a contraction of -43% year-on-year, and a significant difference on the -30% year-on-year decline the prior week due to the Labor Day holiday. On a positive, despite travel spending hitting its lowest level of the past four weeks, travel spending losses were less than the weeks preceding Labor Day Weekend, as regular travel spending levels declined with the conclusion of the summer travel season.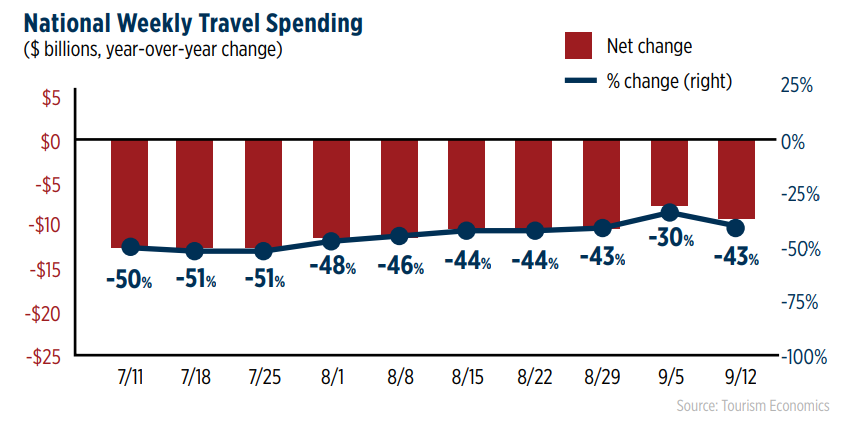 The research describes the decline as "consistent with performance for much of Aug-2020". But still, it was a USD9.4 billion reduction in spending compared to the same week a year ago and means that since the beginning of Mar-2020, the US travel economy's losses from the Covid-19 pandemic have exceeded USD376 billion.
The Tourism Economics data indicates that through the first 12 days of Sep-2020, approximately USD14.2 billion in travel spending losses have been accumulated. At this pace, spending losses will result in USD36 billion for the entire month, it predicts, continuing a positive trend that has seen losses reduce month-on-month since Apr-2020 when a hefty USD83.5 billion was accumulated.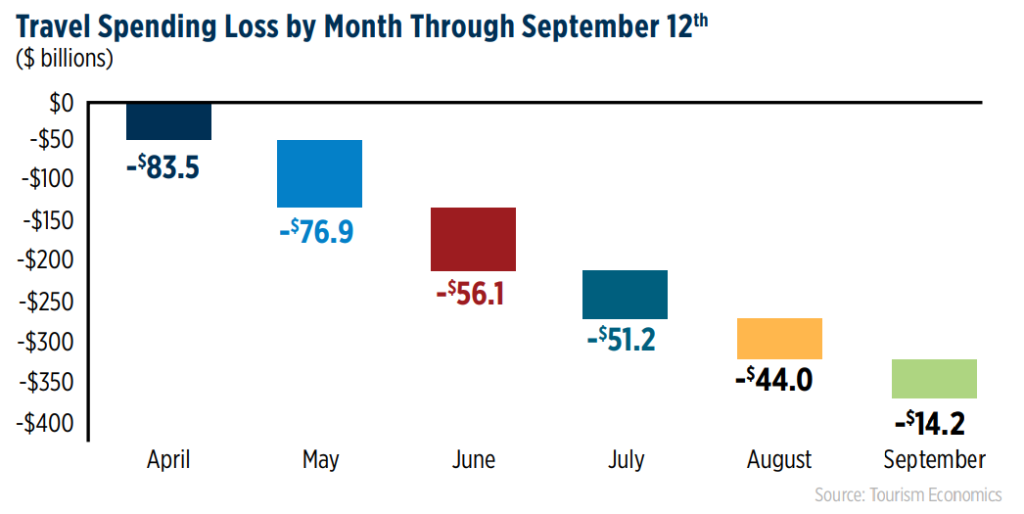 The Labor Day Holiday influence means that every state and territory saw a decline in travel spending compared to the prior week, but, positively, about half saw gains relative to two weeks prior. South Carolina, Louisiana, Georgia, Oregon, and Alabama experienced the greatest improvements over the past two weeks, but Puerto Rico, Massachusetts, Illinois, New York, Washington, DC, and Hawaii all experienced losses exceeding 50%. The number of states posting weekly losses of less than 40% returned to 28 states, following the one-week surge to 39 states.
Similarly, travel spending losses in the Northeast and Midwest reverted to USD2.3 billion and USD1.6 billion, respectively, following the temporary gains due to the holiday weekend. Conversely, the South and West saw travel spending losses rise to USD2.8 billion and USD2.7 billion, respectively – both lower than the USD3.0 billion in losses they experienced the week preceding the week of Labor Day weekend.
The Northeast (-57%) and Midwest (-45%) experienced their greatest year-on-year percentage losses since the week ending 25-Jul-2020. The South (-35%) and West (-42%) experienced substantial declines but still improved relative to two weeks prior, the week ending 29-Aug-2020.
The depressed level of air travel sees it remain at around a third of the levels (34%) seen last September, but this is up from the 29% recorded for Aug-2020. Passenger screenings data from the US Transportation Authority shows a weekly (seven days through 15-Sep-2020) average of 683,000 screenings , similar to levels seen at the end of Aug-2020 (prior to the huge increase above 800,000 over Labor Day weekend), but slightly lower than most of August. They return back to around 70% below last year levels.
Looking ahead, recent studies are all showing a significant uptick over the past month in the number of people who are ready to travel both for leisure and business. Among them, the 'Back to Normal Barometer' insights from sports and leisure research group Engagious shows rising public confidence
Respondents to the Wave 11 research, which has been titled 'emerging from their shells' shows a positive rise in confidence to both current conditions and future expectations, particularly in terms of business travel.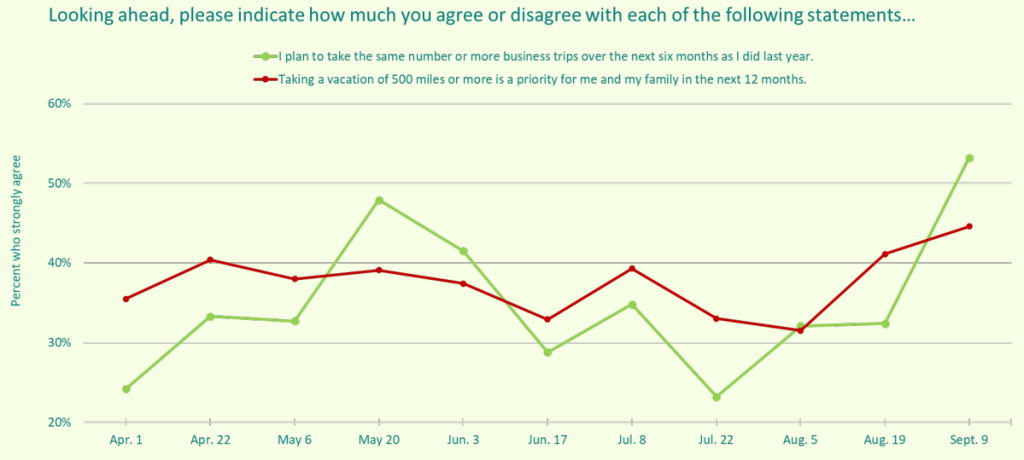 These levels would increase still further with the introduction of a rapid testing regime with 41% extremely likely to stay at a hotel/resort, 38% to fly commercially, 33% to attend a conference/convention if everyone was given a rapid test and only those with negative results were allowed to participate.
Covid-19 has been a daily consideration for most of us. Far beyond simply travelling it has had an impact on where we work, whether our children go to school, our social activities, even how and where we shop. But, almost one third of Americans (32%) believe we will be less focussed on Covid-19 by the year's end, with around one in six (17%) believing that will occur before the Nov-2020 elections. The largest share (20%) believe we may have to wait until 1Q 2021 for the focus on the coronavirus to decline.
Meeting planners are also sharing that general optimism and according to ​iMeet's Survey of Meeting Planners from 20-Sep-2020 the number who believe they will resume face-to-face meetings by the end of the year improved to 22%, up from 20% the previous week and 16% the week earlier.
Uncertainty around resuming face-to-face meetings is steady at 14% of planners targeting 4Q 2020 for face-to-face meetings, albeit that represents a 1 percentage point slip from last week. More than half of planners anticipate they will resume face-to-face meetings in the first half of 2021, with 14% resuming in 1Q and 37% resuming in 2Q.