The leisure and hospitality industry accounted for 11% of pre-pandemic employment in the United States, yet has suffered 36% of all job losses—up from 33% in July. New data from Tourism Economics now suggests that, without immediate aid, 50% of all travel-supported jobs will be lost by December – an additional loss of 1.3 million jobs.
Nearly half of the 16.9 million jobs in the leisure and hospitality industry were lost in Mar-2020 and Apr-2020, according to its research. Since then, while about half have been restored, due to the lack of relief from Congress, and the continuation of the pandemic, almost four million jobs are gone and a million more jobs are at risk. This equates to roughly one-quarter (23%) fewer leisure and hospitality jobs—nearly double the next most hard-hit industry.
With almost a quarter (over 23%) of leisure and hospitality jobs lost since the onset of the pandemic, coupled with numerous airlines, theme parks, cruise lines and other tourism-related businesses forced to undergo additional layoffs in October, the employment situation "remains tenuous and likely will not fully recover until well into 2023," warns Tourism Economics.
The warning comes as weekly analysis from Tourism Economics for US Travel Association shows some bright signs. After several weeks of tepid progress, travel spending grew by +5% in the week ending 03-Oct-2020, resulting in the greatest non-holiday-assisted increase since Jun-2020. Travel spending tallied USD12.9 billion, a second successive weekly rise and a notable increase over the past few weeks: it was -42% below last year's levels (a USD9.3 billion loss), an improvement from the -44% and -45% drops in the prior two weeks.
This takes us back to levels seen in late Aug-2020 before the Labor Day weekend recovery peak. The latest weekly performance is still-16% down on the performance since the week of the popular holiday, a level that helped reduce Sep-2020 travel spending losses to USD$39.2 billion, an +11% improvement compared to the USD44.0 billion level seen in Aug-2020 and the best month since the onset of the pandemic.
This has not stopped Oct-2020 already becoming a milestone month. Since the beginning of Mar-2020, the US travel economy's losses from the Covid-19 pandemic have now exceeded USD400 billion, with the losses recorded in the analysis week bringing total losses to USD401.6 billion.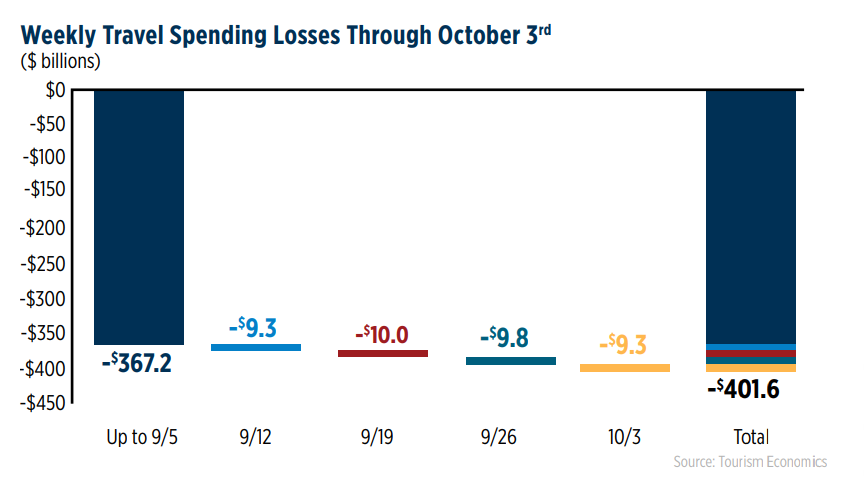 Latest insights show that air travel continues to grow slowly but steadily, with year-on-year rates (-67%) inching slightly better, though still deep in negative territory. The latest Transportation Security Administration (TSA) update on daily passenger screenings shows a seven-day average (through to 06-Oct-2020) that is up +3.4% to 762,000, the third successive week of greater than +3% growth.
Meanwhile, road travel has improved significantly in the latest analysis period versus the previous two weeks and is nearing pre-pandemic levels comparable to Oct-2019. Arrivalist's Daily Travel Index, which measures consumer road trips of 50 miles or more in all 50 US states shows that road travel was "only" -8.2% down year-on-year, which, other than Labor Day weekend, is by far, its best performance in any week since the start of the pandemic
ADARA's Traveler Trends Tracker, which taps into real-time travel data on travel-related consumer behaviour including hotel volume and flight bookings for both business and leisure travel shows domestic air and hotel bookings for future travel remain at the same subdued level of down -65% year-on-year. While regional differences remain large, the gap has narrowed further due to weaker performance in states that have experienced the lowest year-on-year declines, it acknowledges. International bookings for future travel to the US continued to fare significantly worse than domestic bookings and remained down -84% year-on-year.
From a regional perspective, Tourism Economics analysis shows travel spending losses for the week ending 03-Oct-2020 saw moderate improvements to USD2.3 billion in the Northeast, USD1.4 billion in the Midwest, and USD2.6 billion in the West. The South's travel spending losses remained at USD3.0 billion. The Northeast (-57%) and Midwest (-40%) experienced two- and three-percentage point improvements, respectively, while the West (-40%) recorded a four-percentage point improvement. The South (-37%) saw a slight one-percentage point uptick but continues to lead the rest of the country, though its lead has narrowed.
With New Jersey reaching 53% of 2019 weekly spending levels, only Hawaii, the District of Columbia, New York, Massachusetts, and Illinois are now experiencing losses exceeding -50%. Each of these states' tourism industry is heavily reliant on larger cities or air travel as a means of transportation, both of which have been indicative of large destination losses, notes Tourism Economics. The rest of the 10 most impacted states are all located in the Northeast. Despite most states in the region seeing moderate gains, the region is still underperforming its peers.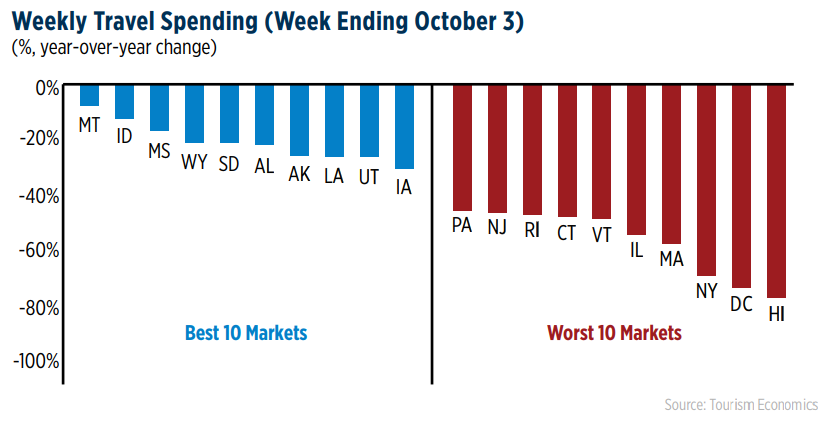 Transitioning into colder weather has seen ebbs away from some beach locations, as states such as Delaware and Florida experienced contractions, according to Tourism Economics. The flows might be heading towards mountain resort towns, as a flurry of home buying in these areas presents early signals of a strong winter outdoor sport season, it adds.
MMGY Travel Intelligence's latest Traveler Intentions Pulse Survey (TIPS) from early Oct-2020 illustrates that while half of respondents are still "somewhat" concerned about contracting the virus, the percentage who are "extremely" concerned has dropped from 31% to 26%. Positively, the likelihood of taking a domestic leisure trip in the next six months continues to rise (with 46% saying they are likely to do so, up from 42% last month), although the likelihood of taking a domestic business trip has remained roughly the same as the prior month.
The likelihood of attending an off-site meeting (up from 21% last month to 26%) or a conference/convention (up from 18% to 21%) during the next six months continues to rise, while the likelihood of flying both domestically (up from 35% last month to 38%) and internationally (up from 17% to 22%) during the next six months has increased.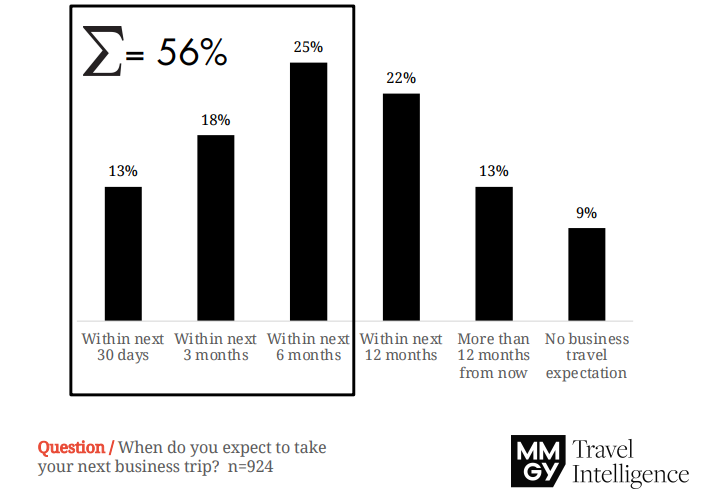 What is alarming is that the Coronavirus Travel Sentiment Index Report from Destination Analysts shows that expectations for the pandemic's course in the next month darkened—now 48% feel it will get worse, up from 43% last week. However, this does not seem to have impaired Americans' travel plans. After dropping for the last two weeks, the proportion in a "ready to travel" state of mind returned to 57%, it shows. When asked about the key factors they would consider before visiting a destination, traditional attributes like affordability and popularity were joined by low rates of Covid-19, mask-wearing and social distancing
With regards to the recovery in business travel, 27% of those who work for companies in which employees travel for business say that this travel has resumed, up from 24% one month ago. However, among those whose companies are not yet back to business travel, just 6% report that their employer has announced a timeline for return. While about a quarter anticipate that their company's business travel will return by Jan-2021, more than half do not expect it until after Apr-2020.
Meanwhile, as the end of the year approaches, the percentage of meeting planners who believe they will resume face-to-face meetings by the end of the year declined to 10%. Less than half of planners anticipate they will resume face-to-face meetings in the first half of 2021, with 12% resuming in 1Q and 33% resuming in 2Q. The research from iMeet shows though that business is now starting to be booked – nearly half (47%) of planners have one or more request for proposals for the future in progress and 73% of planners have at least one future face-to-face meeting contracted.