New York, Washington DC and Hawaii have again recorded over -70% losses and there are 12 states recording over -50% losses. The number of states recording losses of less than -40% is now 16 with Delaware, Utah, Nebraska, Georgia and Arizona reaching the benchmark and Iowa now exceeding losses of -40%. Puerto Rico experienced a notably precipitous drop as air trips contracted, resulting in a -33% fall in travel spending from the prior week.
The month of July is on course to record USD52 billion in travel spending losses. Cumulative losses since the beginning of Mar-2020 have now reached USD309 billion due to the effects of Covid-19. That means for the year, the forecast is for travel spend losses to likely exceed USD500 billion.
Regionally there were no big changes to travel spend losses, with the Northeast staying flat at USD2.6 billion, the Midwest recording 1.8 billion, the South recording USD3.9 billion, and the West USD3.7 billion. In terms of percentage year-on-year variation the Notheast sees the largest decline in spending.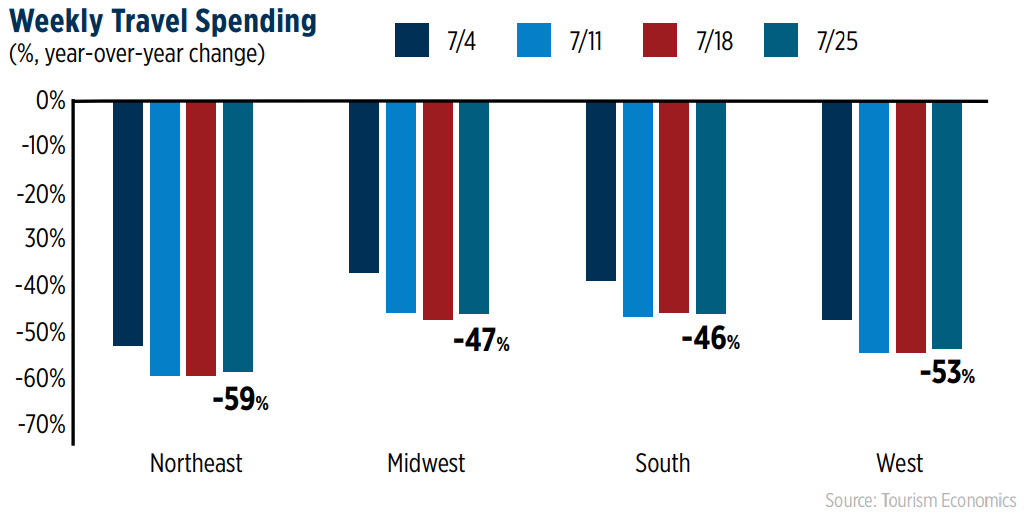 According to TSA screenings, the seven day average through to 28-Jul-2020 was roughly unchanged from the previous week at 673,000 which is -1.5% lower than the recent peak registered for the 04-Jul-2020 weekend. Compared to the same week in 2019 TSA screenings are down -74%.
Road travel meanwhile is recovering well indicating most people feel happier travelling by road than air at the moment. For the week ending 25-Jul-2020 road travel was only -1.4% down on levels recorded in Feb-2020 before the pandemic hit. This is a huge improvement on the lows of -74% recorded in Apr-2020 but still lower than the levels seen in a normal summer.
The trend in forward bookings for both air and hotel has improved slightly over the past two weeks according to Adara's Traveler Trends Tracker. Forward bookings are down -70% from a year ago which is an improvement on the beginning of Jul-2020 when it was down -73%.
Domestic bookings to Wyoming exhibited by far the lowest year-over-year decline at -7% and also performed significantly better than the previous week (-15%). Domestic bookings to New York (-83%), Nevada, Massachusetts and D.C. (all -78%) saw the highest declines.
A weekly survey by Destination Analysts, which tracks consumer perceptions, attitudes and behaviours of American business and leisure travellers, has seen some positive trends this week after weeks of negativity. Those excited at the prospect of near term travel is up from 41% to 48%; openness to travel inspiration is up from 37% to 45%; while the levels confirming they will take a trip in 2020 is up slightly from 53% to 55%.
The downside is that the majority of Americans do not expect to travel by air until 2021, however those that did so rated their experience as positive. In fact, 75% of recent American air travellers said they were satisfied with the coronavirus protocols put in place by airlines and 73% were satisfied with the actions taken by airports.
The issue of face masks in the US continues to be contentious, but this week 81% of Americans who were travelling this week agreed that people should wear face masks in public, which is up from 78% last week.