The most recent data from travel technology company SaleCycle puts the average global abandonment rate at 87.8% for airline sites, much higher than the travel industry average of 81.3%, and the overall online abandonment rate of 76.9%.
This is mainly due to the high complexity of the air travel booking process. Booking a hotel can be a relatively straightforward process, as is the case with other travel products like car hire. By contrast, booking flights requires much more work from users. It can be long with the need to gather individual traveller details, passport numbers, the selection of seating, extras such as in-flight meals and so on, so users can become frustrated and abandon the booking process.
Similarly, many travel purchases are also relatively expensive, require plenty of thought and much research. Tripadvisor research has shown that four in five travel research projects takes more than four weeks to complete. This means that people will visit several sites before making a final decision, perhaps starting and abandoning several bookings as they go.
It is obviously difficult to change functionality - completing travel bookings is mainly about filling in forms, and this is where customers can become bogged down and potentially abandon the booking. Introducing more user-friendly forms is certainly one way that customers can perhaps get through the booking process without encountering problems that can lead to abandonment. A form may be long, but good design and a clear process could make it a more pleasant (or at least a less frustrating) experience.
With huge revenue at stake, it is crucial for airlines to make sure that they are not losing unnecessary sales due to poor user experience affecting conversion rates. If online abandonment can be reduced even slightly, it will equate to a huge boost in revenue and better customer experiences.
This has led SaleCycle to partner with Amadeus to produce a report, Understanding Airline & Travel Booking Trends, which looks in detail at the data behind the travel research and booking process using data tracked from more than 280 million online bookings to capture abandonment trends.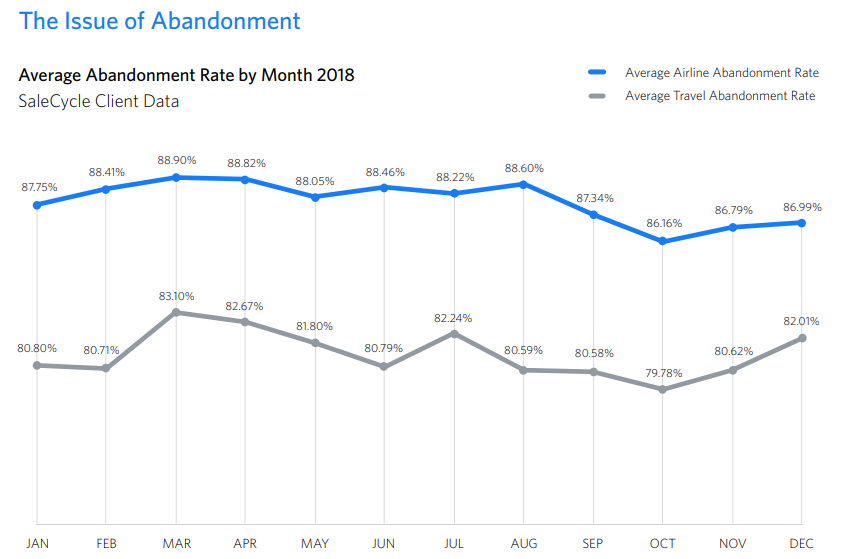 The research found that while airline abandonment rates are reasonably steady throughout the year, between around 87% and 89%, they are generally lower in the months between September and December. This is also the period with the lowest sales volume, which shows that visitors reaching airline websites have a greater intent to purchase, with fewer visitors only researching for future holidays, it explains.
As this online booking and abandonment data from 2018 shows, airlines have a long way to go in improving user experience online. Thanks to the way people research travel, there are always going to be some abandoned bookings but SaleCycle says the key is to "keep these to a minimum and to avoid unnecessary abandonment" as much as possible.
"User experience is now a key differentiator for online travel sites, so it's vital to design sites with a focus on the customer. The way people use websites, and the technology available changes over time, so it's important to keep track of and to have a culture of continuous improvement and optimisation," according to the report.
As well as improving the customer experience via recognising the customer, enriching their user experience, thinking mobile first, letting them pay their way, provide flexibility, even providing a sense of urgency, providing it is used in the right manner, the report also suggests airlines can minimise research based abandonment by giving customers the tools to research on-site, by using destination reviews or relevant and useful content for example.
There is certainly no easy solution, but keeping potential passengers and travel buyers engaged in the booking process and delivering an improved user experience are obvious solutions that should help push down the abandonment rate.