The report, The impact of Covid-19 on the airport business, projects that the airport industry is anticipating a -59.6% reduction in passenger volumes in 2020 vis-à-vis the projected baseline (pre-Covid-19 forecast for 2020) and a -58.4% reduction in passengers as compared to 2019. This equates to a reduction of -5.6 billion passengers for the year.
Along with this, it highlights the airport industry is anticipating a -60% reduction in revenues as compared to the projected baseline. Revenues declined by -USD10.3 and -USD39.5 billion in 1Q and 2Q 2020, respectively, compared to the projected baseline. The revenue shortfall is expected to lessen to -USD33.4 and -USD21.1 billion in 3Q and 4Q 2020, respectively, but this will deliver an unprecedented USD104.5 billion reduction in revenue for 2020 which will heavily impact the airport business.

CHART – ACI airport traffic figures across the first six months of 2020 highlight the impact versus 2019 and the baseline projections for the current yearSource: ACI World
Airports are key drivers of economic development but, have not received the levels of support from government policy that other sectors have secured. With USD104 billion in losses because of the devastating impact of the pandemic on aviation, ACI World director general Luis Felipe de Oliveira says now is the time for stakeholders to come together to support recovery. "Aviation will be central to the global economic recovery, delivering connectivity, trade, tourism, jobs, prosperity and growth," he says.
The recovery of air travel will be crucial in the wider global economic recovery but, to succeed, it requires passengers to have confidence in the industry's focus on their health and welfare. ACI has provided support and assistance for airports including initiatives like the Check & Fly app and its global Airport Health Accreditation programme to help them demonstrate that health and safety is the industry's number one priority.
It is now calling on governments to follow a robust and consistent protocol for testing which should be implemented only when necessary and as an alternative to broad-brush requirements for quarantine. "Unnecessary quarantine measures are harmful to passenger confidence so harmonised measures and a risk based approach that relies on scientific evidences will help to restore the traveller confidence and support the economy recovery of the aviation ecosystem," explains Mr de Oliveira.
Much uncertainty still surrounds the situation of the aviation industry and projecting the path to recovery at this point is "an exercise requiring prudence," acknowledges ACI. A faster launch of a potential vaccine that can easily be mass-produced could bring us a much brighter future than we can now reasonably expect.
But likewise, many factors could quickly contribute to a more pessimistic turn of events. ACI describes unsuccessful vaccine research, a large second wave resurging across the globe, supply side shocks such as escalating aviation-related bankruptcies, a deepening economic crisis, as just a few of the many potential hurdles.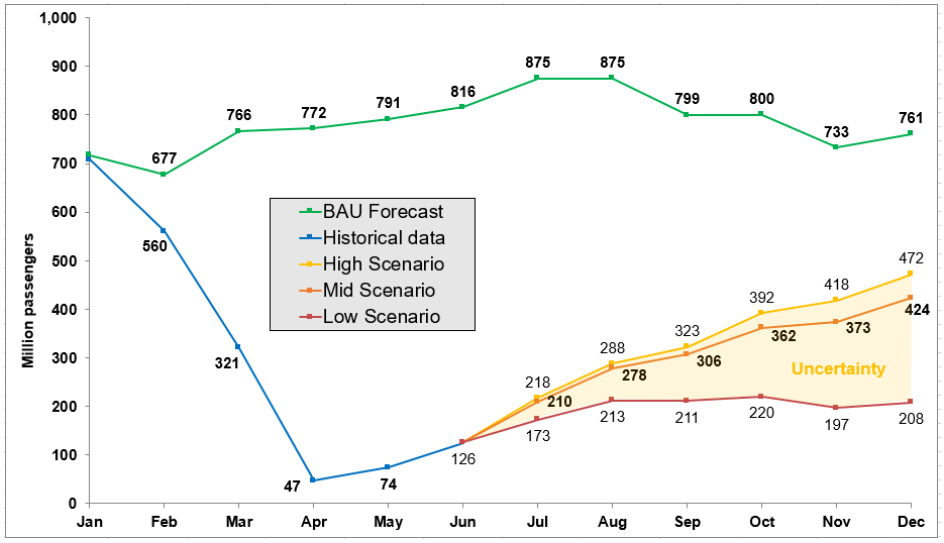 CHART - The three scenarios suggest that by Dec-2020, monthly global traffic may reach above 60% compared to the projected baseline for the month, but that is under favourable conditions and it could remain as low as 27% in a less favourable settingSource: ACI World
ACI indicates an unclear short-term future with a significant level of uncertainty surrounding the recovery trajectory. It predicts that, by Dec-2020, monthly traffic may reach anything between 27% and 60% of the projected baseline for Dec-2020. While the second quarter of 2020 was the worst the industry had seen, with a loss of almost 90% of global airport passenger traffic, the third and fourth quarter are "expected to show sustained – albeit partial – recovery".
This uncertainty is clearly highlighted in ACI projections for the remainder of the year with the clear daylight between the low, mid and high projected scenarios. The most likely baseline scenario, it says, suggests passenger traffic volumes reaching 56%. ACI also reaffirms the view that globally passenger traffic volumes are forecast to not recover to 2019 levels before 2023 and markets that have significant international traffic will not recover until 2024.