There were fewer than 8,000 visitor arrivals from Asia in 2018. However, the Asia market has been growing rapidly; in 2013 there were less than 4,000 visitor arrivals from Asia. China has been the main driver with Chinese visitor numbers increasing from 1,000 in 2013 to 4,000 in 2018. Indian, Japanese and Korean visitor numbers have also been increasing rapidly but from an even smaller base.
During this same period Australian visitor numbers decreased by 8% - from 66,000 to in 2013 to 61,000 in 2018. Australia is still Vanuatu's largest source market by a wide margin, accounting for 52% of total visitor numbers in 2018.
CHART: China accounted for less than 4% of visitors to Vanuatu in 2018 and Japan accounted for less than 1%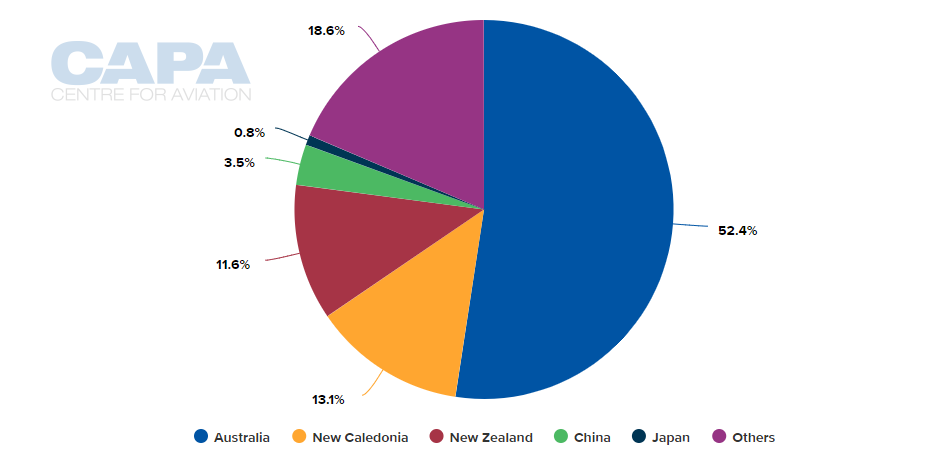 Source: CAPA – Centre for Aviation and Vanuatu National Statistics Office
However, Air Vanuatu CEO Derek Nice told CAPA TV on the sidelines of the CAPA CEOs in Seoul Summit in South Korea in early Jun-2019 that China is expected to overtake Australia as the largest source market in terms of dollars spent within the next 10 years. He added China will also "challenge" Australia as the largest source market in terms of visitor numbers.
The average Chinese tourist spends significantly more time and money in Vanuatu than the average Australian, which isn't surprising given the journey time from China is typically over 20 hours compared to the short hop from Australia. Chinese tourists are also typically more adventure seeking and like to visit the outer islands while Australians usually stay on the main island.
During a panel discussion at the CAPA summit Mr Nice commented that "we love our traditional markets" but added: "No offence you are not as valuable as your average Chinese tourist." For a country that depends heavily on tourism (over 40% of GDP) and needs to diversify tourism in order to grow economically plugging into the outbound China travel boom is clearly the sensible strategy. "We don't have oil but we have the arrival of Chinese tourism," Mr Nice told the summit.
Mr Nice shared with CAPA TV how Air Vanuatu and Vanuatu overall is preparing for the influx of Chinese and other Asian residents: "We have got to think carefully how we enhance the visitor experience. We have to ensure that we have infrastructure that is friendlier for Asian visitors in terms of signage, in terms of helping the tour operators and the resorts upgrade their capability to handle inbound tourism out of Asia. But I think we are working together work with them and we all have identified the need for us to make the transition and be a friendly destination."
While Air Vanuatu has no intention of launching flights to China or elsewhere in Asia it is planning to pursue rapid expansion in its short haul markets to improve connectivity. "Our role is the last mile. Our role is to bring visitors from the major hubs of the Oceania region into Vanuatu," Mr Nice said.
For more on Air Vanuatu's expansion plans and new strategy stay tuned to CAPA's analysis channel, which will soon publish a comprehensive analysis on the Vanuatu market.
HEAR MORE… Air Vanuatu CEO Derek Nice discusses the small flag carrier's recent A220 order, plans for expanding the turboprop fleet, expected improvements in connectivity and the anticipated growth of tourism in Vanuatu in this exclusive interview with CAPA TV filed on the sidelines of the CAPA CEOs in Seoul Summit in early Jun-2019.