Argentina has closed its air transport sector until Sep-2020, while 14 day quarantine restrictions for international arrivals eliminates across an increasing number of countries may be keeping the borders open, but limits movements to essential travel.
The 2020s were supposed to bring more bright years for commercial air transport as it continued to grow. Just five months ago in Dec-2019, International Air Transport Association (IATA) had predicted 4.72 billion passengers would be carried during the current calendar year, a 4.0% rise on 2019, and that the global airline industry would produce a net profit of USD29.3 billion, up from USD25.9 billion expected in 2019.
Now, IATA has predicted that 2020 global air passenger demand will fall by -48% compared to 2019, mainly driven by the world heading for recession and travel restrictions deepening its impact on the demand for travel. Putting that into numbers that is a shortfall of around 2.17 billion passengers, bring the 2020 total to around 2.36 billion passengers.
That is slightly more than the level we saw in 2006, effectively wiping 14 years of growth off the industry. This comparison highlights just how much aviation has developed over the past two decades, making a significant impact on global economies, but also on the environment.
The International Civil Aviation Organization (ICAO) also delivers a solemn prediction. It says that compared to "business-as-usual", by Sep-2020 international air passenger totals could drop by as many as 1.2 billion travellers. Its estimates also show that international capacity could drop by as much as two-thirds from what had been forecast for the first three quarters this year, leading airline revenues to drop by as much USD160 to USD253 billion dollars for the Jan-2020 to Sep-2020 period.
Because air connectivity is so critical to economic and sustainable development in every world region, this information is of critical importance to the many national governments and regional organisations now planning for their Covid-19 economic recoveries.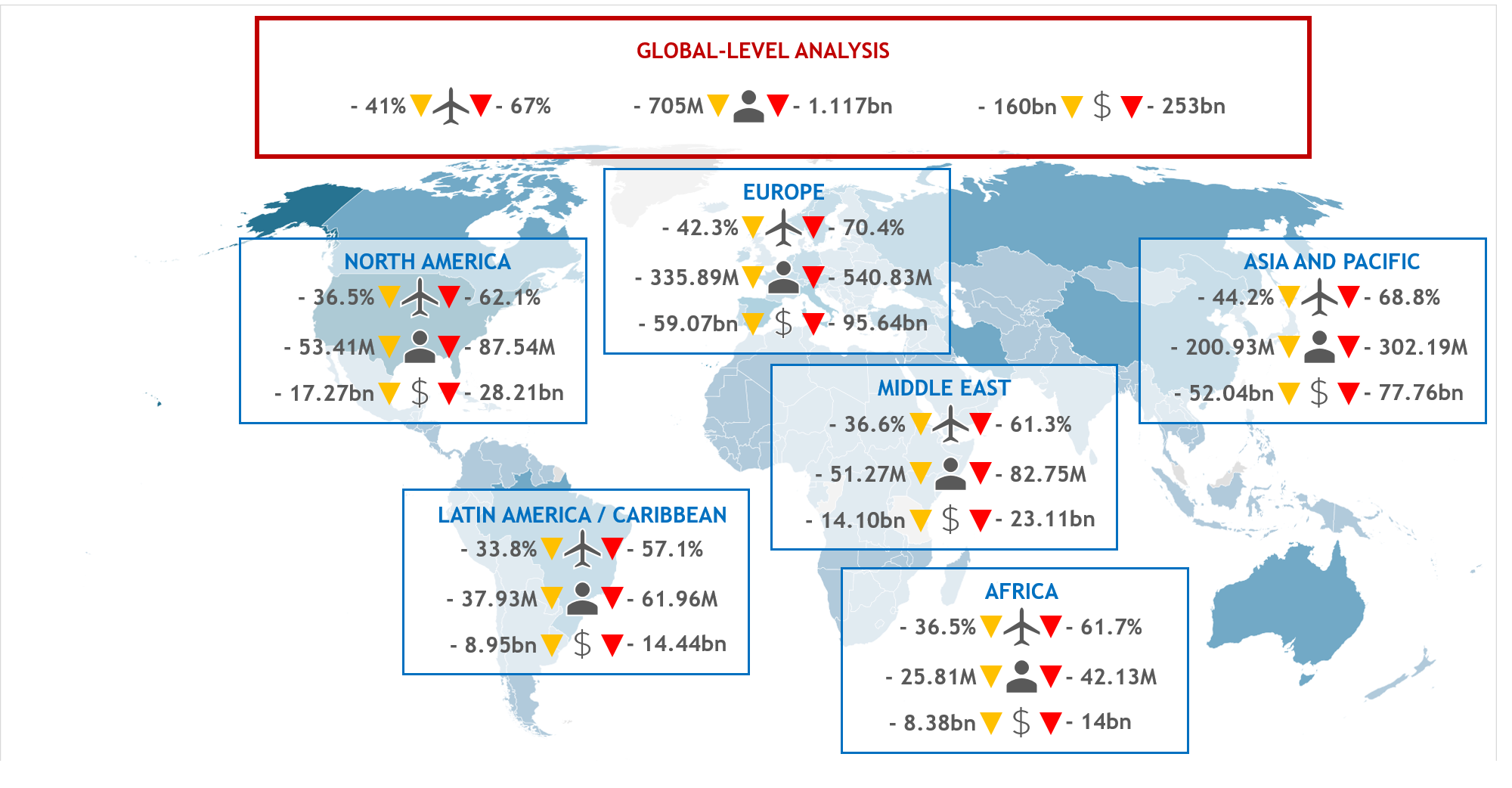 ICAO's projections are built around six different recovery paths under two indicative scenarios. The actual path will eventually depend upon various factors, inter alia, duration and magnitude of the outbreak and containment measures, availability of government assistance, consumers' confidence and economic conditions.
The indicative scenarios are based around the optimistic "V-Shaped" path that follows the normal shape for recession where a brief period of contraction is followed by quick/smooth recovery and a pessimistic "U-Shaped" path that indicates prolonged contraction and muted recovery with a possibility of no return to trend line of growth (L-shaped).
Recovery will come and the 2020 passenger figures will hopefully not be a benchmark though, rather just an anomaly in the data that will always remind us of the fragility of the world.
To showcase how the aviation industry has developed we have taken a look into the CAPA TV archives for the latest 'Video of the week' report. We feature a panel session from the World Aviation Summit in Helsinki back in Oct-2015 where Bobby Healy, then chief technology officer at CarTrawler; Johnny Thorsen, then senior director strategy at Concur; Ian Heywood, then global head of product & marketing for air commerce at Travelport; and David O'Brien, chief commercial officer at Ryanair; shared their thoughts on the changing aviation landscape.
At the time, barriers to entry and regulatory red tape had not stopped entrepreneurs and innovative organisations from shaking up numerous industries. Irreversible change was also starting to come to aviation and travel. From ownership structures such as the cross-border JV, to LCC subsidiaries and new mobile and distribution technologies entering the supply chain, aviation and travel was starting to being disrupted. How much had changed between 2015 and the start of this year? Find out in the video below: