---
Summary:
Flughafen Wien reported a huge 24.2% increase in passengers to 2.2 million in Nov-2018, continuing a strong business performance in 2018;
Low-cost market share is increasing and 'local' passenger demand is increasing the fastest, but the airport is also a long-established network hub;
Local capital city airport competitors still represent a threat and most are growing at a faster rate still, albeit from smaller passenger levels.
---
The airport saw a huge 24.2% increase in passengers to 2.2 million in Nov-2018, with aircraft movements increasing by 15.7% to 20,256. Cargo volume increased by a more modest 2.1%. That took overall passenger growth to 9.7% in the first 11 months of 2018, continuing an upward trend which began in 2014 following a dip the previous year, and which has been exponential in the last three years, the growth rate being double that of the previous year in each case.
CHART - Vienna Airport was expected to report decade-high annual growth in 2018, exceeding the 8.7% rate it recorded in 2010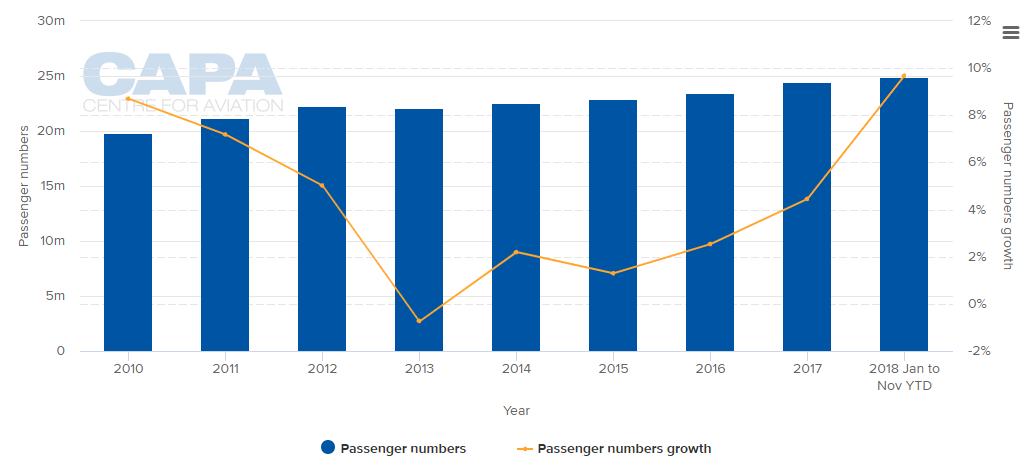 Source: CAPA - Centre for Aviation and Vienna International Airport reports
The airport notes that the number of local passengers increased sharply, by 29.9%, while transfer passenger volume was up by 7.2%. There was a slight disparity in the growth levels on flights to and from Western Europe (22.1%) compared to Eastern Europe (28.2%), while passengers travelling to what the airport describes as 'The Far East' (presumably Asia Pacific) grew by 26% and the Middle East by 21.5%. Africa's growth rate was 24.4% and the largest of all was North America, at 32.7%.
There is thus uniformity of growth across regions, while the biggest impact has been made by locally originating passengers. That is not to underestimate the importance of transfer passengers, who can sometimes be incidental to schedule planning by airlines. Vienna has been recognised as a hub/transfer airport for decades, since Austrian Airlines began to organise its schedules on an east-west basis around connection times as low as 30 minutes. Many airports would love to report 7% growth in transfer passengers in a month.
But while Vienna had its hub reputation, what it missed was respect as an origin and destination point in the low-cost segment, and it began losing passengers to Bratislava Airport in nearby Slovakia. Bratislava is only 80 km (50 miles) by road from Vienna and just 57km from the Vienna airport and its own airport, if it were in Austria rather than Slovakia, would probably be referred to as 'Bratislava-Vienna'.
What Flughafen Wien has been able to do is to position Vienna Airport as both a full-service hub airport and a low-cost local one, stealing a march on Bratislava and on other regional competitors such as Prague and Budapest. The degree to which low-cost activity has increased in importance at Vienna is clear - one third of all available seat capacity now falls into this category.
CHART - Vienna Airport became a LCC battlefield in 2018 and that sector now accounts for almost one third of available seats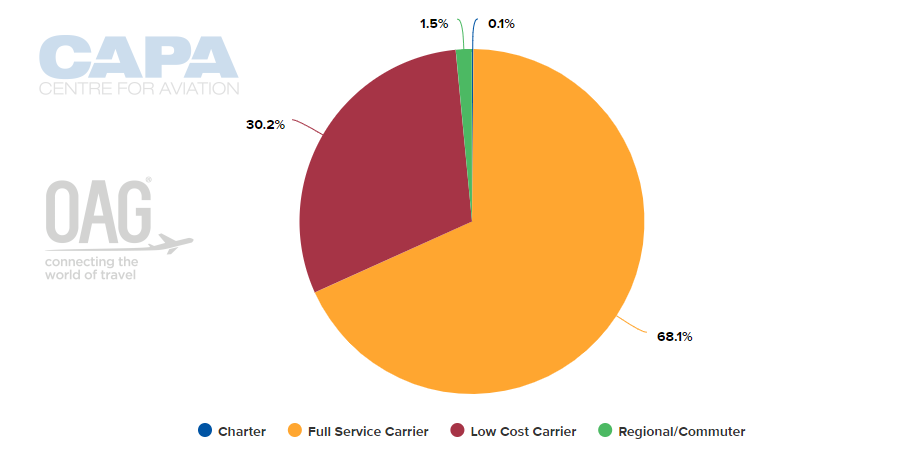 Source: CAPA - Centre for Aviation and OAG (data: w/c 07-Jan-2019)
That level of LCC activity is a marked increase from only a few months ago when, in a previous The Blue Swan Daily article on Bratislava Airport, it was reported that Vienna Airport had restricted low-cost to just over one quarter of all seats, and that was considered by the management to be "too high". Perhaps they've had a rethink, because Vienna's trio of country capital competing airports have an even greater LCC presence – 34.9% of seats at Prague; 66.5% at Budapest; and 88.5% at Bratislava.
https://corporatetravelcommunity.com/a-new-concession-deal-is-being-sought-for-bratislava-ivanka-airport-but-investors-must-beware-the-history/
The Bratislava figure is down by four percentage points in two months, which suggests, as that article indicated, that Vienna is starting to attract the budget business back.
So Vienna's charge of the low-cost brigade is driving growth there, but it should not be overlooked that network carriers still play an important role. Austrian Airlines retains a 44.6% seat capacity share (2.4 percentage points down in two months) and 60% of seats are on alliance-member carriers. That compares to only 49% at Prague; 29% at Budapest; and just 2% at Bratislava.
Vienna seems to be getting the mix right, retaining its status in one segment and the transfer traffic that goes with it while growing another, but not catering specifically to LCCs by way of separate terminals or piers. And the result is a growth rate which while still falling well behind two of its peer airports is at least moving in the right direction.
The Austrian economy has no particular bearing on this result. It grew at the same pace as the EU28 average throughout 2018. Business confidence fell to a multi-year low in 4Q2018 on worries over an economic slowdown and the health of the automotive sector but economic growth should remain robust in 2019, although the pace of expansion is expected to moderate. GDP is forecast to grow 2.0% in 2019, and 1.7% in 2020.
The Blue Swan Daily also reported that while winter temperatures in Austria may be close to freezing point, but the same certainly cannot be said of its aviation sector this winter. After a significant growth in activity 2018, particularly in the LCC sector, the European nation is forecast to be the fastest growing of the world's top 50 aviation country markets over the current Northern Hemisphere winter schedule with departure seats growing by more than a quarter versus winter 2017/2018.
https://corporatetravelcommunity.com/low-cost-carrier-battle-for-vienna-helps-elevate-austria-to-worlds-fastest-growing-top-50-aviation-market-this-winter/