---
Highlights:
Vietnamese carriers are now able to apply to the US FAA for a foreign air carrier permit following Vietnam securing a Category 1 safety rating;
Vietnam Airlines, VietJet and Bamboo Airways are all looking at launching flights to the US;
While the Vietnam-USA market is large, it will be hard to overcome intense one-stop competition from North Asia airlines given the price sensitivity of passengers.
---
Vietnam-USA is a large and growing market that is served mainly by North Asian airlines. The Vietnamese government is hoping the introduction of nonstop flights will stimulate demand, boosting trade and tourism. However, nonstop Vietnam-US flights are not likely to be commercially viable.
While traffic levels are sufficient, one-stop competition is very intense and the market consists mainly of price sensitive leisure passengers. There are simply not enough premium passengers – and likely not enough economy passengers willing to pay a premium for a nonstop product – to cover the high costs associated with ultra long-haul flights.
For these commercial reasons Vietnam Airlines is not keen to serve the US. However, with Vietnam having invested to secure the Category 1 rating the flag carrier is under pressure to launch a US route. This is an unwelcome distraction, contradicting a mandate to pursue further privatisation and operate like a private company.
Ho Chi Minh-Los Angeles is the largest Vietnam-US city pair but not feasible with the Boeing 787-9s and Airbus A350-900s that Vietnam Airlines currently operates. Vietnam Airlines has been looking at potentially serving Ho Chi Minh-Los Angeles via Osaka or operating a nonstop Ho Chi Minh-San Francisco service, which is likely feasible with this equipment.
The carrier signed an MoU with Airbus in Sep-2016 for a higher gross weight variant of the A350-900 with the idea of using the aircraft for Ho Chi Minh-Los Angeles. However, this MoU (for 10 aircraft) was never converted into a firm order. As CAPA – Centre for Aviation has stated in a prior analysis report, the MoU was politically driven and the deal was quickly drawn up while French president Francois Hollande was visiting the Vietnamese president Tran Dai Quang.
Vietnam Airlines would not actually mind another Vietnamese carrier launching services to the US. However, this would not necessary remove the unwanted pressure on the flag carrier to launch a US flight.
Fast growing LCC VietJet has long expressed interest in serving the US – and in acquiring new generation widebody aircraft. While it reiterated this interest after the US FAA announced the Category 1 rating for Vietnam it is unclear if VietJet will make a move anytime soon given it has delayed consideration of widebody aircraft several times over the last four years. VietJet has instead been focusing on narrowbody expansion within Asia.
Start-up Bamboo Airways, which only commenced operations last month, seems more likely to make a near-term move and has stated it aims to launch services to the US in late 2020 or early 2021. Bamboo signed an MoU last year for 20 787-9s, which should be capable of serving San Francisco or Seattle (and potentially Los Angeles if the aircraft are in a low density configuration). However, overcoming a lack of brand awareness and securing a foreign air carrier permit from the US FAA at such an early stage of its development will be difficult.
Bamboo, and any Vietnamese airline entering the US market, will also have to overcome stiff competition from several North Asian airlines. Return fares in the Vietnam-US market start at less than USD500 and some of North Asia's leading airlines (in terms of service ratings) have fares starting at around USD700 with total transit times that would only be a couple of hours longer than a nonstop.
North Asian airlines also have the advantage of offering multiple gateways in the US and Vietnam. They use the Vietnam-US market to help fill the economy cabin on transpacific legs, essentially subsidised by business and higher yielding economy passengers flying in the North Asia-US market.
TABLE – Ho Chi Minh-Los Angeles return fare (in USD) for travel 19-Mar-2019 to 2-Apr-2019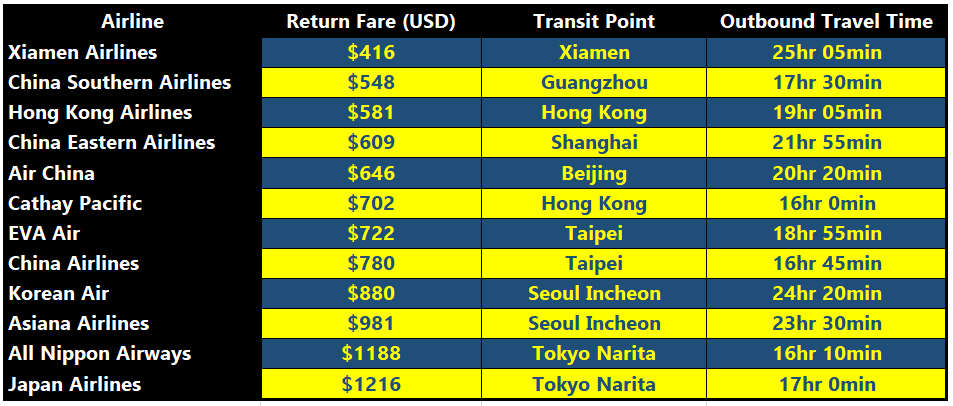 Source: Skyscanner