Lithuanian Transport and Communication Minister Rokas Masiulis, believes reconstruction of the airport's runway is this year's largest successfully completed project not only in Lithuania, but also Europe (where there are currently 32 runway extension and 28 new runway projects either under way or planned, according to the CAPA - Centre for Aviation Airport Construction Database).
During the closure flights were diverted to Kaunas Airport, serving the country's second city, 100 km (62 miles) distant. Two bus companies provided transfers between the cities.
Kaunas City officials were not slow to take advantage of the flight diversions to promote the city and region with this tongue-in-cheek video.
Lithuanian air transport is going through a period of strong growth, with traffic increases being recorded at two of the three main airports (Vilnius and Palanga, on the Baltic coast), although Kaunas saw a very slight reduction (1%) in 2016 and will have been appreciative of the diverted traffic this summer.
Kaunas hasn't done itself any harm with the "professionalism" in which it handled the diversions. The Minister of transport said recently that as a result he has "a lot of plans" for that airport.
Palanga, where passenger numbers grew by 60% in 2016 has a broader airline mix than does Kaunas, hosting LOT, SAS, airBaltic, Ryanair, Wizz Air and Norwegian Air Shuttle. A coastal resort with a difference, albeit with a short summer season, Palanga has even managed to attract a seasonal Ryanair service from Glasgow, Scotland, from where visitors no doubt look forward to sampling a deep-fried potato dumpling.
All three airports are managed by SE (State Enterprise) Lithuanian Airports, the organisation set up in 2014 to prepare the way for partial privatisation by way of concession, which is a work in progress.
Attractions include a special concession law with a full demand risk transfer, long term forecast GDP growth for the nation of up to 3.5%, a terminal that will now be modernised and expanded following completion of the runway repairs, and an increase in low cost penetration (via Ryanair and Wizz Air).
CHART -Vilnius International Airport total system seats (w/c 21-Aug-2017)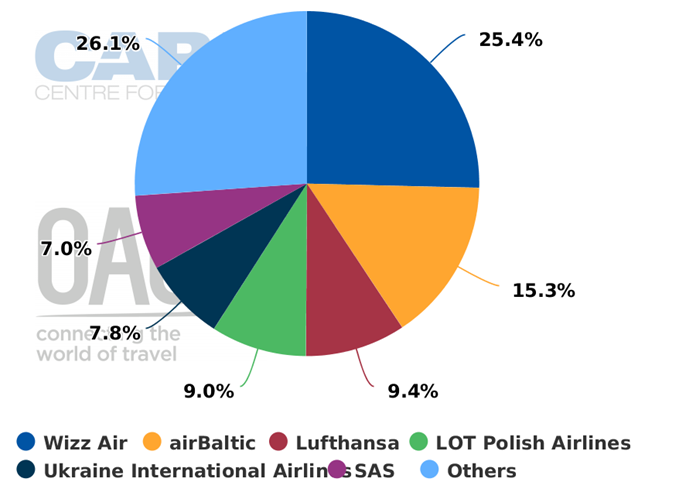 Source: CAPA - Centre for Aviation and OAG (N.B. Ryanair is missing from this chart as it is currently still operating, for now, at Kaunas Airport, where it has 100% of the seat capacity)
Indeed it is the low cost segment that has driven growth at Lithuanian airports for several years now and which has helped ensure that Vilnius Airport recorded double digit traffic growth consistently from 2010 to 2016.
CHART - Vilnius International Airport annual passenger traffic (2010 - 2016)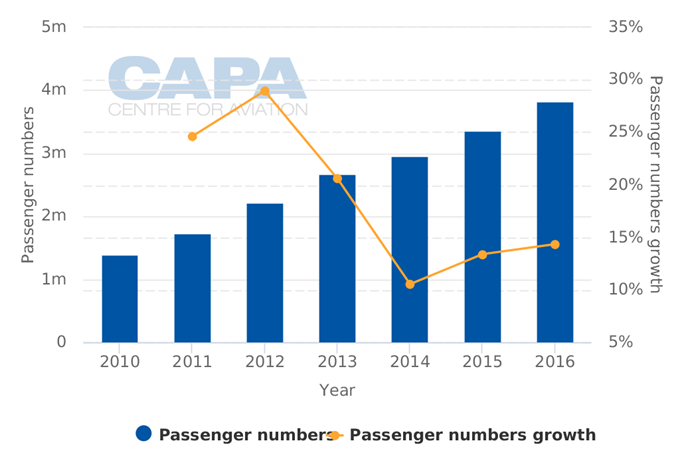 Source: CAPA - Centre for Aviation and Vilnius International Airport reports (N.B. Traffic is stable in the first seven months of 2017 (not shown) owing to the runway repair closure schedule)
Moreover, Vilnius, having already overhauled Tallinn (Estonia) to secure the #2 ranking in Baltic States airports, is starting to close the gap on Riga International Airport (Latvia), which serves a city which is longer-established as a tourist destination than is Vilnius. Lithuania does, though, have a considerably higher population than the other two states.
TABLE - Comparable traffic data for Vilnius, Riga and Tallinn airports (2016)

Source: CAPA - Centre for Aviation and airport reports
The privatisation downsides include the lack of a national carrier. Latvia's airBaltic assumes the role to a limited degree while Lufthansa has overtaken SAS as the leading full service/network/alliance carrier. Lithuania's Small Planet Airlines, which arose from the ashes of FlyLAL, mainly flies external charters though scheduled services from Vilnius could be introduced at some point.
Also, a lack of clout in the cargo segment; a declining population (which may start to stabilise in the run-up to 'Brexit'); and inadequate tourism promotion, though that has improved recently.
SE Lithuanian Airports seeks operator experience of airports with up to 10 million ppa (the target amount for the end of the concession), operating at least two regional airports in Europe, and financial strength. It will be able to develop connecting traffic (which could be difficult – Vilnius does not lie on the road to anywhere in particular though it does attract many passengers from neighbouring Belarus), encourage self-connectivity, drive new point to point routes and instigate a private route development fund out of the concession fees.
In 2014 CAPA published two an in-depth report on Lithuanian aviation in two sections, large parts of which is still relevant today: Lithuania aviation Part 1: An innovative charter carrier changes the scene after turbulent years and Lithuania Part 2: Small Planet Airlines focuses on other markets as airport privatisation is pursued.