---
Summary:
An established operator and a relative newcomer to airport investment are both looking over Lille airport in northern France;
The privatisation process for Lesquin Airport is expected to begin by the end of 2018 and despite being a fairly small facility is likely to attract widespread interest;
Lille Lesquin Airport handled 1.9 million passengers in 2017 and serves a wide area of industrial northeast France and western Belgium;
Presently it is majority-owned by the Chamber of Commerce and Industry (CCI) and historic transactions suggest it will want to retain a 25% holding in any sale.
---
Serving the Lille Capital-Métropole area and Nord-Pas de Calais region, Lille Lesquin Airport handled 1.9 million passengers in 2017, which is about half a million more than in 2012. Passenger growth has been stellar but not in the sense of fast and consistent. Rather, it has been up and down, varying between +20% and -4%.
CHART - Passenger traffic at Lille Lesquin Airport has grown +62.8% since the start of the decade from 1.17 million in 2010 to 1.90 million last year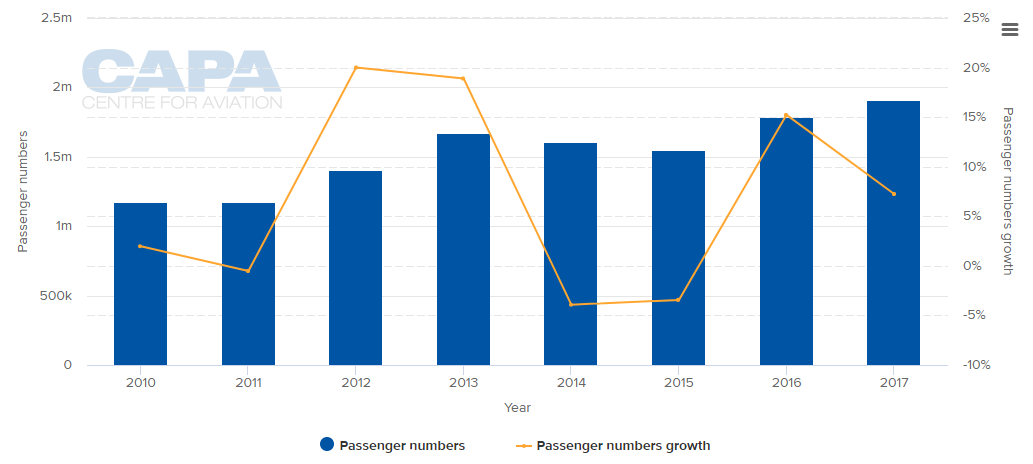 Source: CAPA - Centre for Aviation and Union of French Airports
Overall, the trend has been positive, which is one attraction to investors. No statistics are available for 2018 but it is known that seat capacity has increased so far this year by +7.2%. Other positives include a good traffic mix of 60% low cost seats, 37% full service and a small charter contribution. The largest airline by capacity is easyJet, ahead of French regional carrier Hop! and leisure operator TUI Airlines Belgium. Other airlines serving Lille (w/c 10-Sep-2018) include Volotea, Ryanair, Air Algerie, Nouvelair Tunisie, Vueling and Aegean Airlines.
Situated in French Flanders the airport borders Belgium, offering an alternative facility to heavily populated parts of the western part of that country as well as to another conurbation in France (Béthune/Lens/Douai/Arras) to the south in France. Together with Roubaix and Tourcoing, the metropolitan population exceeds one million, making it the fifth largest in France.
MAP - Lille is a cultural hub and bustling university city at the northern tip of France, in French Flanders, on the Deûle River, near France's border with Belgium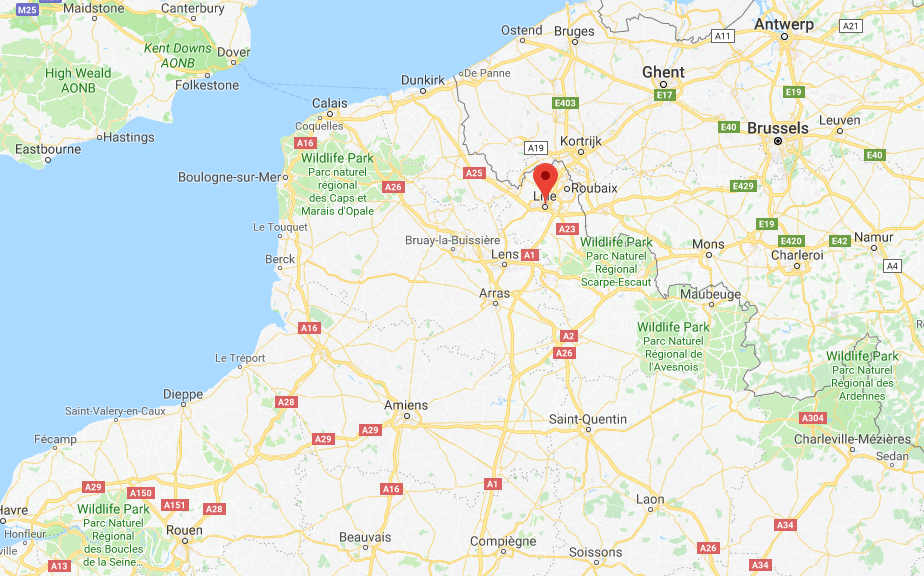 Source: GooglaMaps
While over 90% of employment in Lille is now in the service sector these are France's heavy industry cities and there is potential through marketing to increase services aimed at the business community. For example there are no flights to or from anywhere in the UK.
Presently, the airport is managed by Socièté de gestion de l'aéroport de la région de Lille (SOGAREL) and majority-owned by the Chamber of Commerce and Industry (CCI) and by transport sector companies (Veolia) Transdev and SANEF. Previous transactions suggest that the CCI will want to hang on to a 25% holding in any sale transaction.
Its first suitor, Vinci, has become one of the best-known airport operators and investors in the world, with an interest in almost 50 airports globally. 10 of those airports are in France but for the most part they are management contracts and, apart from an 8% holding in Groupe ADP, it is only fairly recently that Vinci became an active investor in an airport over which it could exercise substantial control. That was when it took a 60% share – in a consortium together with Caisse des Dépôts and Crédit Agricole Assurances - in the Lyon St Exupéry and Bron airports in Dec-2016, on a concession contract to 2047.
Despite its worldwide activities Vinci remains committed to its homeland. It plans to acquire a further stake in Groupe ADP when the French government divests its 50.6% stake in the company for example, though it will face tough competition there.
This is despite setbacks such as at Nantes, where earlier in the year, the government rejected the Notre-Dame-des-Landes construction project proposal that had been awarded to Vinci, instead favouring the proposal to expand Nantes Atlantique Airport, which was operated under concession by Vinci anyway. Then the government ended that concession as well, but only so a new one could be signed.
Separately, Vinci can be expected to bid in forthcoming concession tenders involving Bordeaux and Marseille airports. While it was successful at Lyon it was not at Nice and, prior to that, Toulouse airports.
Meanwhile, Eiffage is a comparative newcomer to the business and has no investments so far although it did join a consortium with Flughafen Zurich and Meridiam to make an unsuccessful bid for the concession on Belgrade's Nikola Tesla International Airport (coincidentally Vinci was the successful bidder there).
Eiffage was formed in 1992 through the merger of several long-standing companies and the group's business activities are focused on the construction industry, real estate development, civil engineering, metallic construction, road construction, energy, and concessions. Projects have included the Channel Tunnel, completed in 1994; the Copenhagen Metro, completed in 2002; the famous Millau Viaduct in southern France, completed in 2004; and the LGV Perpignan-Figueres high-speed railway line, completed in 2009. It is comparatively little experience in the airport sector.