---
Summary:
Virgin's FY2018 results seem to employ accounting adjustments which shroud the carrier's performance, with both operating records achieved and losses incurred.
Domestic and loyalty businesses continue to operate strongly.
Outlook is bullish; FY2019 could be more positive in the sense of profit after tax.
---
Virgin Australia's FY2018 results are rather intricate from an accounting standpoint. Its loss includes a range of non-cash accounting adjustments and restructuring charges.
AUD451.9 million in deferred tax assets have been derecognised and an AUD120.8 million impairment of Virgin International business assets, meaning almost AUD573 million was immediately added to the AUD653.3 million statutory loss through accounting alone. AUD148.5 million was also incurred through "restructuring charges".
Despite these hefty bookkeeping alterations, the group actually delivered AUD109.6 million in underlying profit before tax – its highest result since FY2008 and an AUD113.3 million increase on FY2017. This was delivered despite fuel price headwinds totalling AUD45 million, while group revenue also jumped a healthy 7.4%.
Even more impressive was a record operating cash flow performance, with AUD570.4 million in net cash generated – marking an 108.3% improvement year-on-year.
Virgin Australia Group CEO and MD John Borghetti commented on the accounting methods and what the results mean for the carrier: "These accounting adjustments have been made as the Group leverages its transformed product to pursue initiatives in the Asian aviation and loyalty markets. While these initiatives are undertaken, and in light of industry-wide fuel price increases, the Group has taken a prudent approach and made accounting adjustments to the carrying value of the deferred tax assets and the assets of the international business".
Mr Borghetti goes on to reconfirm the adjustments as non-cash and having "no impact on the fundamentals of the Group's underlying business". Deferred tax asset derecognition also means the assets remain available to the Group to offset future tax liabilities. The company's cash and cash equivalents have increased since FY2012.
Virgin Australia financial data: Cash and cash equivalents from the year ending 2009 to 2017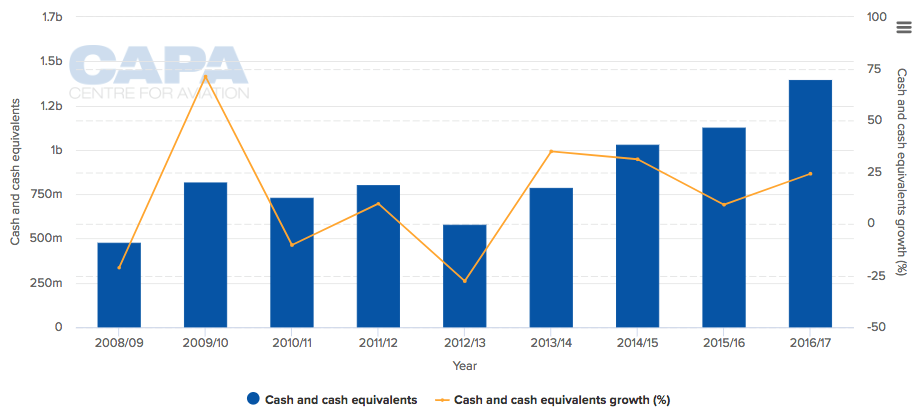 Source: CAPA - Centre for Aviation and Virgin Australia Holdings Ltd Reports. Values in AUD
Domestic operations deliver the bulk of Virgin's (quietly strong?) operating performance, along with continued success at Velocity
Earnings before interest, taxes, depreciation, and amortisation (EBITDA), EBIT and EBIT margin results in the domestic market significantly improved on FY2017 and were the highest results since domestic segment reporting began for the carrier in FY2012. EBITDA was reported at AUD516 million, a 49.5% improvement, while EBIT and the EBIT margin increased 165% and by 4ppts, respectively.
International segment EBITDA totalled just AUD19 million, while EBIT fell into the red at negative 12.8 million, a decline of AUD13.3 million. The decline was driven by an estimated AUD13 million in net headwind from fuel price increases, an AUD10 million impact from Bali volcanic activity in late 2017, and the start-up costs associated with new long haul routes from Melbourne and Sydney to Hong Kong.
The group's long term financial bright spot, the Velocity frequency flyer programme, continued to perform well, with an EBIT of AUD110 million. Though this is a decline of 23% year-on-year, the result was impacted by the Reserve Bank of Australia's changes to the credit card interchange regime, with Velocity actually adding over one million members over the period.
With a bullish outlook, could Virgin Australia be on the verge of a breakout in profitability in FY2019?
Based on current market conditions, Virgin's revenue in 1Q2019 is expected to grow by at least 7% year-on-year. The company's full year 2019 results will also be buoyed by the long haul services to Hong Kong no longer incurring start-up costs.
Considering the number of accounting adjustments Virgin has undertaken, along with its upbeat outlook, signs point to a potential recovery in profit after tax in FY2019. The adjustments seem to mirror, to a lesser extent, those employed by Qantas when it booked its biggest ever loss in FY2014, only for its books to show a remarkable recovery in the next year.