The last time Virgin Australia's load factor on these routes dipped below 70% was Apr-2013, and is the worst performance since Sep-2011, around the time Air New Zealand and Virgin Australia (previously Virgin Blue prior to rebranding from an LCC to an FSC) initiated their alliance on the Tasman.
This drop was at least partially due to a seat capacity increase of 8.1% to just over 140,000 weekly, following significant frequency expansion from Auckland to Sydney and Melbourne and the launch of Queenstown-Melbourne, Wellington-Sydney and seasonal Auckland-Newcastle services in late Oct-2018. This added 40,000 trans-Tasman seats per annum. It was only the fourth time the carrier has exceeded 140,000 available seats in the market, exclusively during peak summer periods.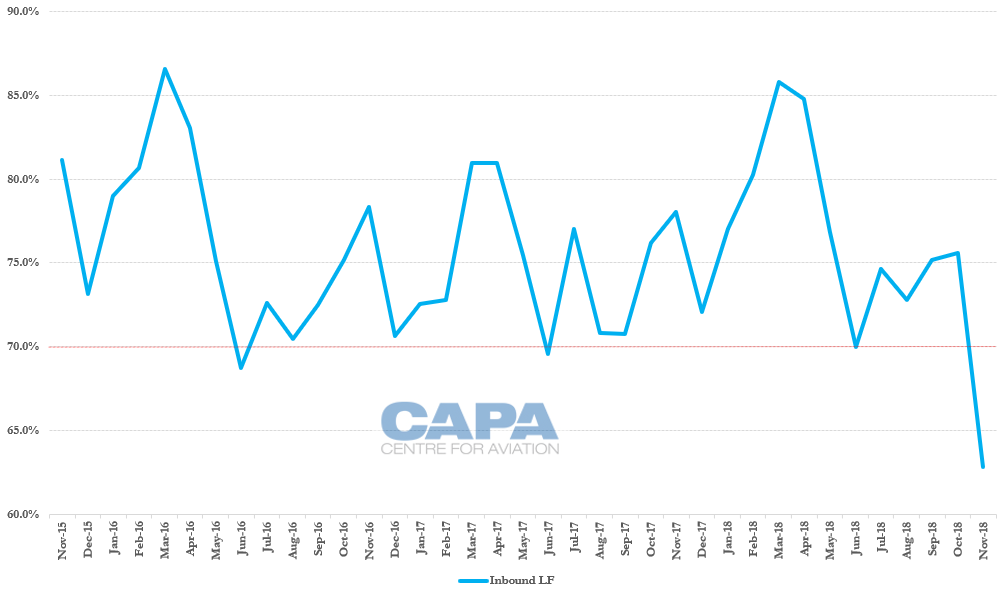 Source: BITRE
Virgin Australia currently holds a roughly a 15% share of weekly seats between Australia and New Zealand (based on schedule data for the week commencing 11-Feb-2019), compared with Qantas/Jetstar Airways' combined 36% share of a total 98,154 weekly seats.
Previously, with Air New Zealand as a partner, Virgin had been able to sell its code in another 36 per cent of the market. To improve its currently weak position, Virgin Australia's plan is likely to involve introducing its LCC subsidiary Tigerair Australia into the market, as outgoing MD and CEO John Borghetti has suggested in the past. This will be one of the several key decisions for Paul Scurrah, the newly appointed leader of the Virgin Australia Group to make.
The IASC, Australia's independent statutory authority on capacity allocation and entitlements, recently approved Virgin Australia's request to transfer capacity on routes to New Zealand to its LCC Tigerair Australia, paving the way for a potential introduction of Virgin's LCC brand as early as this year. This would create a new pricing dynamic for Virgin Australia in an already fiercely competitive market, and possibly work to stabilise utilisation as passengers are drawn to cheaper fares under the Virgin group brand.
The trans-Tasman is not the only market where Virgin Australia loads are cause for concern. Its load factor in the Australia-Hong Kong market has had consistently average showings through 2018, peaking at around 77%, dropping as low as 48% in May-2018 and averaging around -14 ppts lower than Qantas' in the market from Jan-2018 to Nov-2018.
However Virgin Australia is a relatively recent arrival in that market, entering late 2017, and year-on-year it has approximately doubled monthly passengers between Hong Kong and Australia.
The loss of Air NZ is a severe short term blow
The sudden loss of Air New Zealand's partnership on the Tasman was always going to hurt Virgin in the short term. Virgin can still sell its code on Air NZ domestic flights, but there the new Qantas-Air NZ partnership – coupled with the cordial relations between the two – puts Virgin in the shade. Virgin does market the fact that it is the only airline on the Tasman that offers a premium option on all its services, but its overall offering is inevitably considerably smaller than the combination of two larger carriers.
The effect is not only to reduce Virgin's market penetration, but also to make it harder to capture the higher value passenger, including corporate accounts, for whom network coverage is important.
The imbalance, on a market as substantial as the trans-Tasman, is something Virgin is going to have to address as a priority. A return to modest profitability, as Virgin has now achieved, allows some scope for a competitive response. But without the ability to add large amounts of capacity Virgin remains confined to a narrow range of options.
In the short term, Virgin cannot escape the downside of Air NZ's change of allegiance and it will be some time before some balance can be restored. A large fleet expansion is unlikely to be accepted by its unusual shareholding, with three airlines, a large Chinese investor and Virgin Group each attracted to Virgin's access to the Australian market. The loss of Air NZ as a partner is meanwhile likely to translate to losses in the cutthroat, but vital, Australia-New Zealand market.
Introducing Tigerair to the Tasman, an almost inevitable strategy, will not plug the dam however.
It's time for some hard decisions by Virgin's owners
If Virgin is to be a truly viable and sustainable force for the long term, the first act of Mr Scurrah, like it or not, will be to seek major new commitments from his owners. He arrives as the Group reaches an important crossroad. Mr Borghetti has done most of the hard yards in converting what was a hybrid LCC into a substantial force, but the current half-pregnant ownership structure is untenable beyond the short term.
Unless Virgin's owners are prepared to commit wholeheartedly to supporting it through a new phase of its existence, they should step off the plate. Otherwise they will still be wringing their hands and blaming management next year. The ideal outcome, in an Australasian context, would be for Singapore Airlines, whose longtime aspirations to enter the Australian market are well known, to take control. But things aren't quite that simple.