The new partnership was signed in early Jun-2017 during the IATA AGM in Cancun. Virgin Australia's Group Executive John Thomas said during an interview with CAPA TV on the sidelines of the IATA AGM, that the new codeshare with Hong Kong Airlines will be implemented when Virgin Australia launches five weekly flights to Hong Kong on 5-Jul-2017. He pointed out the codeshare will include Hong Kong Airlines operated routes from Hong Kong to 12 mainland Chinese cities that have a combined population of 240 million. "With Hong Kong, it's more than just opening up opportunities from Australia to Hong Kong it is actually tapping into the 1.2 million Chinese visitors to Australia and growing that by making Australia more accessible to the secondary and tertiary cities in China to get to Australia very conveniently," Mr Thomas said.
Virgin Australia will also place its code on Hong Kong Airlines' flights from Hong Kong to Gold Coast and Cairns while Hong Kong Airlines will place its code on Virgin Australia's Hong Kong-Melbourne flights as well as domestic Australia flights and Australia-New Zealand flights. Mr Thomas said Virgin Australia now has commercial relationships in place with all the airlines of the HNA Group, which acquired a 20% stake in Virgin Australia in 2016. HNA Group owns approximately 15 mainland Chinese airlines as well as Hong Kong Airlines and low-cost airline Hong Kong Express.
The new Melbourne-Hong Kong route is part of an increased focus on international operations at Melbourne. In Apr-2017 Virgin Australia resumed services from Melbourne to Los Angeles with five weekly flights. The launch of Hong Kong will give Virgin Australia five international routes at Melbourne, where the airline already has 13 domestic routes (based on OAG schedule data).
Mr Thomas said Melbourne Airport provides are more seamless experience for passengers heading from Adelaide, Hobart or Perth to Los Angeles compared to transiting in Brisbane or Sydney, where separate domestic and international terminals make connections more complicated. With the new Hong Kong route, the ability to offer seamless domestic connections was obviously an important factor in selecting Melbourne over Australian gateways.
The ability to offer connections both beyond Melbourne (using the Virgin Australia network) and beyond (using Hong Kong Airlines) should make the Melbourne-Hong Kong route viable for Virgin Australia. Cathay Pacific and Qantas also compete on the Melbourne-Hong Kong route with three daily flights and one daily flight respectively. Hong Kong is the fifth largest international route from Melbourne based on current weekly seat capacity data.
Melbourne to Hong Kong one-way weekly seat capacity by airline: Sep-2011 to Dec-2017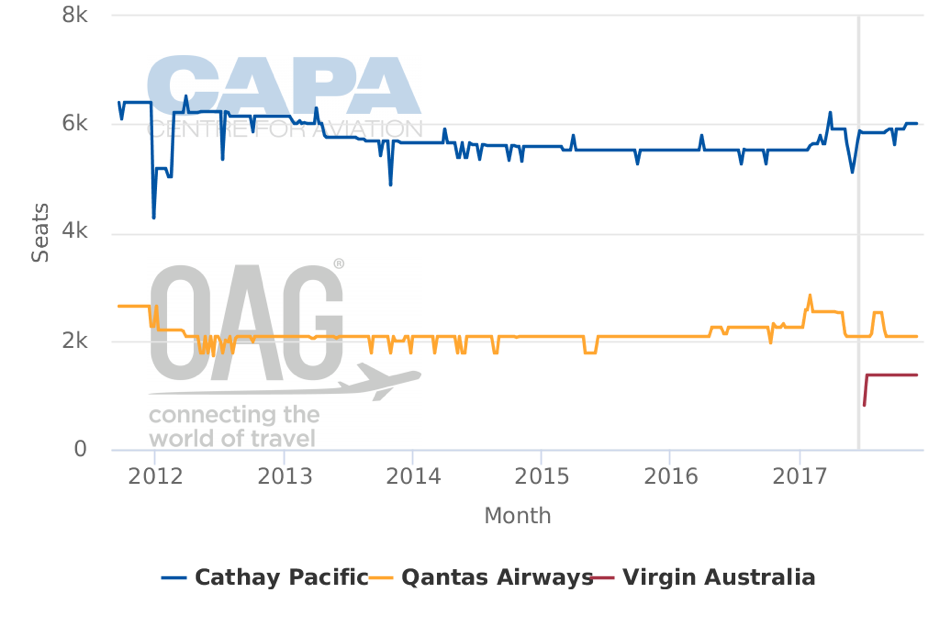 Source: CAPA – Centre for Aviation & OAG
Mr Thomas also told CAPA that Virgin Australia recouped its investment in Economy X, the new extra legroom domestic product that was launched in late Mar-2017, in just two and a half weeks. "It proves that if the airline industry brings something of value to customers, customers are very willing to buy these products," he said.
Mr Thomas said Virgin Australia has several other similar "customer experience enhancements coming down the pipe". He would not disclose details saying they will be divulged as they are launched.
While Virgin Australia has struggled financially, this is clearly an exciting period for Virgin Australia from a product and network perspective. Mr Thomas said Virgin Australia's new long-haul business class product, which was introduced on the 777 fleet in 2016, also has been well received by the market, winning awards and enabling Virgin Australia to woo passengers from competitors in the Australia-Los Angeles market. "We think it is the best business class in the world and certainly we are seeing a yield premium on that service relative to our competition," he said.