WA Premier Mark McGowan says he believes the changes will improve tourism marketing, but it's hard to understand how burying an independent and specialist marketing organisation in such a tower of bureaucracy can possibly improve anything.
The move is designed to combine the role with a wider focus on economic development. Not many in the tourism industry think it's a great idea and even allowing for inertial resistance, they seem to have a case. It has all the hallmarks of a clever theoretical consulting concept, driven by a political need to be seen to be doing something. A quick look around Australia would give cause to wonder if everyone else in tourism marketing has got it wrong.
WA's domestic tourism numbers are well down in 2017
Tourism concerns have been heightened this week with results from the National Visitor Survey, for the year ending Mar-2017, showing Western Australia has the poorest performance in domestic tourism of any other Australian state.
The number of intrastate overnight visitors in WA fell by 3.9% over that period. This compared with healthy average growth of 3.4% across Australia. WA's interstate visitor numbers decreased by 8.2%, in comparison with average growth of 3.7% across Australia. In total, Western Australia is down by more than 450,000 visitors year on year. (Source: Tourism Research Australia)
The mining industry's softening growth trajectory has a wide impact. Tourism WA CEO Gwyn Dolphin stated overall reduced business visitation had impacted WA's total visitor numbers, welcoming 1.357 million visitors - 8.2% or 121,000 fewer visitors year on year. Mr Dolphin continued, "the drop can be attributed to a decline in the business sector, which was down 17.4 per cent or 115,000 fewer business visitors than the previous year. This is unsurprising given WA's changing economy."
Tourism WA attributed the decline in intrastate travel to multiple different reasons, including declines in trips to visit friends and relatives (VFR) - down 13% - and holiday trips, down 2.6%, which could also be due to the State's economic shift.
But international tourism is prospering
WA's international visitor numbers presents a very different picture. The state recorded a 9% increase in visitations, to 953,800 in the year ending Mar-2017.
There has been a push from Tourism WA to focus on international destinations, which has clearly had a positive impact on numbers. As we reported in Blue Swan Daily (LINK), Perth Airport has become the "most international" of any Australian airport.
Take another look at our Blue Swan Exclusive Infographic: Perth Airport
The industry doesn't like the new bureaucracy
Tourism Council WA, which partners closely with Tourism WA, and directly represents more than 1,300 private and public sector members across the tourism industry, is fighting to have the government decision overturned. Tourism Council WA CEO Evan Hall, said "the proposed changes have created uncertainty across the tourism industry, creating concerns that moving Tourism WA into a larger department will reduce its independence and effectiveness as a marketing body, resulting in less visitor and job growth."
"States that are performing well in domestic tourism, such as Queensland, have specialist tourism marketing organisations solely focused on increasing visitation and jobs," continued Mr Hall.
The results from the National Visitor Survey are unsurprising, with majority of services into and out of Perth decreasing in capacity to Perth within the last year. While mainly due to the post mining boom, the drop in leisure visitors is taking a big toll.
Travel to/from Perth by domestic city pair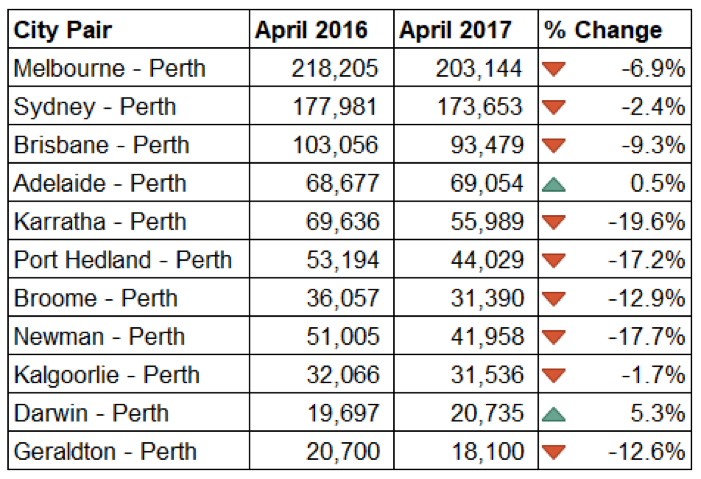 Source: National Visitor Survey
Interestingly, airline load factors which are low by national standards, have been fairly consistent since 2014, ranging from 71.2% to 73.5%.
Perth Airport seats and passenger numbers: 2014 - 2017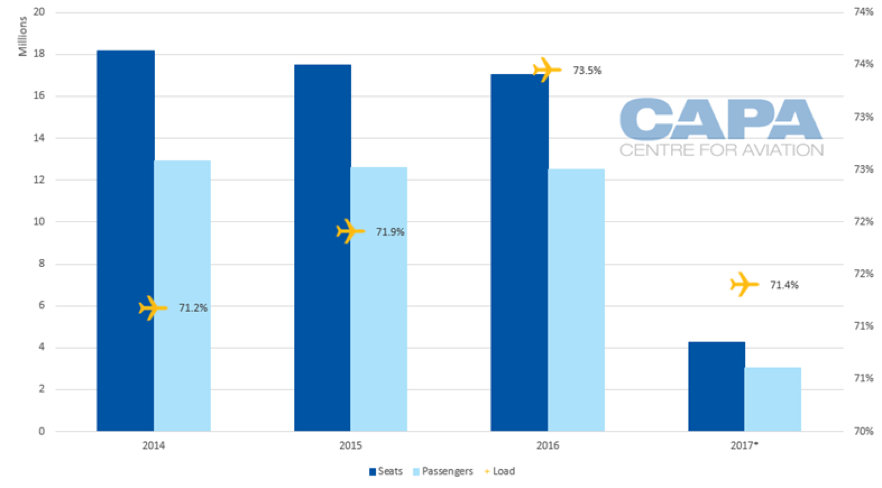 Source: CAPA – Centre for Aviation, OAG and BITRE
The Qantas London-Perth non-stop offers the chance of a unique marketing burst, but….
Qantas' milestone nonstop services between Perth-London, set to launch on 25-Mar-2018, will give a great boost to tourism opportunities for the State.
Qantas expects the services to deliver an AUD70 million a year boost to the state's economy.
In short, the new service provides a unique opportunity for launching a new era in WA tourism, both internationally and domestically.
Meanwhile, Tourism WA will be buried in more pressing priorities like getting new stationery printed and taking part in important strategic policy discussions about formulating new 5 year plans for economic growth for the state.
Chalk another one up for bureaucracy.
To hear more from industry experts and key spokespeople, join us at the CAPA-ACTE Perth Aviation and Corporate Travel Summit on 4th July 2017. Register your attendance here.