This is particularly evident in Australia where the opening of international borders brings some stability to decision-making in this sector. "With everyone in catch up mode after so many postponed events over the past two years, along with Q1 events also being postponed – the market is expected to see demand peak later this year," predicts Simone Seiler, general manager, FCM Meetings and Events.
While the clouds are lifting some pessimism remains and that could ultimately be what causes the 'demand peak' prediction for the second half of 2022. "Some clients are also taking a 'wait and see' approach to Q2 and considering pushing events back into the latter part of 2022, which is increasing the squeeze on availability," explains Ms Seiler.
In a new whitepaper, 'Booming and booked out: the dilemma facing the MICE industry', FCM Meetings and Events describes a perfect storm for the industry clouded by domestic holidaymakers that have already heavily booked both accommodation and flights for the year ahead. This will mean hotel inventory will be put under pressure with domestic venue availability in Australia for 2022 already hard to find.
The report includes positive insight from Nicole Tingey, director of industry consulting firm Clockwise, that some companies are already confident enough to now start planning national, and even international, events for bigger groups. "We are also starting to see businesses use travel as an incentive reward for staff or clients after a tough year," she adds.
There will be slim pickings for meetings and events
The industry is expected to hit a new, and potentially painful, peak this year as the corporate sector meets competing demand from other areas head on, suggests the report. Businesses wishing to book large events to re-engage staff and clients are now competing with leisure travellers and loved-up couples locking down venues for weddings that were put on hold due to COVID-19.
"Plus we are seeing a lot of small-medium corporate events coming online and the overlap of large events happening around the country this year," says Ms Seiler. "All of this is occurring in an already confined market, with everyone looking to book and stay domestically before international events progressively come on board in 2023."
Meetings and events influenced by leisure travellers with money to burn
The report acknowledges that fresh from hibernation, and almost two years of lockdowns, leisure travellers have money to burn and awash with cash, this influx of holidaymakers is putting pressure on both availability and prices for meetings and events.
This means that the regional areas, which were the first choice of companies wanting to avoid cities during COVID-19, are heavily booked for 2022. This, the whitepaper suggests, will push event planners to look again to CBD options in larger cities.
City destinations return to the meetings and events agenda
In the view of Hardy Kilimann, director global sales Marriott, 2022 is the year that city destinations will be back on the agenda. In the report, he notes that over the past 18 months Marriott resorts did very well as bookings moved away from CBD settings and there now is the challenge for the whole meetings and events industry to work together to sell city destinations. "Our CBD properties have the capacity to hold the large events, such as national conferences and there is wide availability," says Mr Kilimann.
US exhibition behaviour provides optimistic outlook for rest of world
The US is proving a strong illustration of the post-COVID recovery path for other global markets. In this sector new insights from The Center for Exhibition Industry Research (CEIR), a non-profit professional organisation for the marketing, promotion, and importance of exhibitions, highlights an optimistic outlook.
CEIR data shows that the US business-to-business (B2B) exhibitions industry improved significantly in the fourth quarter of 2021 from the previous seven quarters. Cancellation rates for physical in-person events dropped to 12.5% from 91.3% in the first quarter, 66.2% in the second quarter and 20.6% in the third quarter of 2021. About 98% of exhibitions were cancelled during the second half of 2020.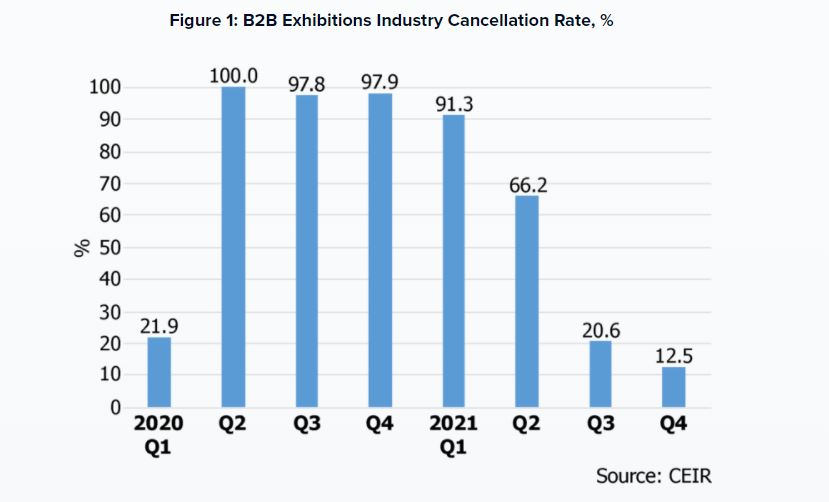 The drop in cancellations boosted the Q4 Index result, though the CEIR Total Index – a measure of overall exhibition performance – still remains below 2019 results, registering a decline of 45.3% compared to 2019. This though a vast improvement compared to the three prior quarters: a decline of 94.0% from 2019 in Q1 2021, 75.6% from 2019 in Q2 2021 and 50.6% from 2019 in Q3 2021.
CEIR's survey research and index results indicate recovery of the industry will accelerate. CEIR omnichannel study results indicate strong intent to return in 2022, particularly on the exhibitor side but with slightly softer intent to return among attendees. The core values of the B2B exhibition channel motivate a return to participating, as COVID ebbs.
There is also clear pent-up demand for face-to-face engagement. The CEIR Jan-2022 COVID impact and recovery survey results indicate the overwhelming percentage of organisers are holding the course, with plans to run their 2022 events, despite Omicron as a factor when the survey was fielded.
"With more vaccine mandates and safety measures implemented at large gatherings, and with a majority of the population vaccinated, the recovery of B2B exhibitions should continue in 2022, unless a new variant causes a severe fifth wave of COVID-19 infections," says CEIR CEO Cathy Breden.