So, how is the global industry progressing in this quest for a better future, particularly the aviation sector which is recognised for its environmental footprint? At the Sep-2021 edition of CAPA Live, the monthly conference of CAPA – Centre for Aviation, officials of the International Aviation Waste Management Association (IAWMA) discussed the subject with CAPA's managing director, Derek Sadubin.
The non-profit organisation established to develop strategic supply and collection chains proclaims to be the only evidence-based circular economy knowledge incubator dedicated to aviation issues. It notes that with aviation's recovery in the spotlight, the industry needs to show progress on some environmental metrics and that includes waste, which will invariably lead to an examination of International Waste (IW) practices.
The International Civil Aviation Organization (ICAO) has generally defined IW as waste derived from international flights. It can also include waste from those terminals that international flights service. IW was born of agricultural contamination concerns in the 1970s regarding potential pathogens being transported between countries.
International air travel continues to grow, and along with it, the quantities of foreign waste from in-flight service. Airlines and airports have efforts in place to manage and reduce waste from these activities; however, the extraction and eventual recycling of recyclables from international in-flight service are often overlooked.
Policies and protocols for the handling of waste from international flights are developed to prevent contamination of flora and fauna of the recipient country, which becomes responsible for handling the waste. Despite these potential threats from waste, the occurrence of contamination from these sources is still "not well documented," acknowledges IAWMA.
A low or non-existent contamination rate may be due to a host of reasons, including the stringent handling and processing prescribed methods. These may include incineration, steam sterilization, and disposal in approved landfills to ensure the protection of host countries from potential disease and infestations.
Global findings suggest that the recycling of international waste from in-flight service still occurs despite perceived policy constraints or threats of disease. In general, the higher the attention and importance placed on recycling, the higher the recovery rates. Yet, when compared to other airline environmental initiatives, "recycling appears to have a lower priority compared to Greenhouse Gas (GHG) reduction," notes IAWMA.
Speaking at CAPA Live, IAWMA regulatory affairs director, Jonathan Cocker provided more insight into the circular economy and how redesigning, recycling and the regeneration of natural systems are the main pillars behind its foundation. "It's a reuse, recapture, refurbishment, remanufacturing of material and goods to avoid a depletion of the world's resources," he explained.
IAWMA commercial director and founder, Gregoire James explained aluminium and plastics are "the two front-runners" when it comes to the airline market. "There's not a lot of circularity taking place today," he noted and questioned: "How do you find solutions that cost less and do more for the environment? "There in lies the challenge," he answered.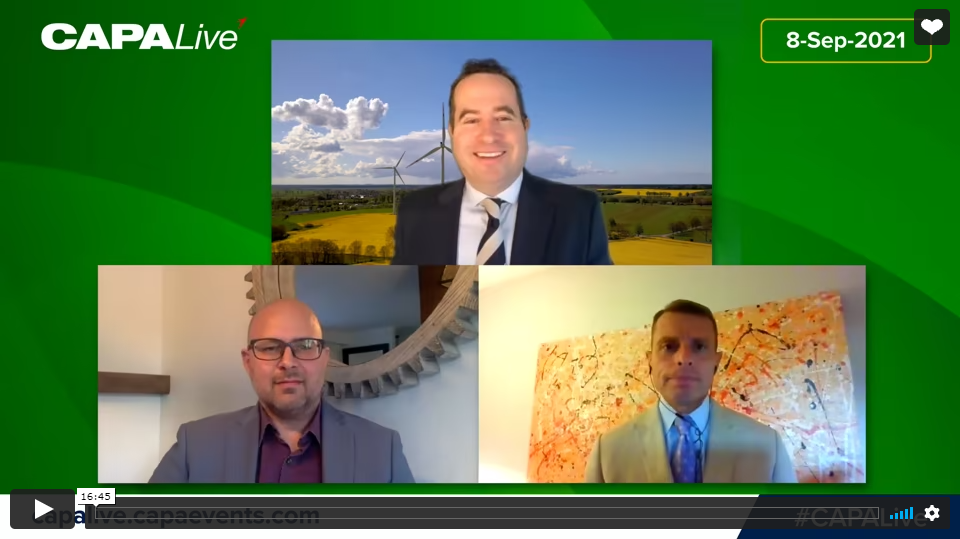 Click on this link, or the image above, to watch a CAPA TV recording of the CAPA Live interview.