"There's no question that there's great insight in the data that we can glean and there's no question that we're not utilising a lot that insight at present," Delta CEO Ed Bastian concluded at the airline's recent investor day. "The first priority for that insight is to make certain that we equip the people of Delta to better serve the customers, first and foremost."
Delta believes it is important to know how a customer's experience has been on the airline, and "how your experience coming up will be", Mr Bastian stated. In that respect, Delta uses personalisation to determine if a customer has missed a connection and make amends.
"That's the journey we're on, and putting the power in the hands of our people, putting the power in the hands of our operations control centre in terms of making sure that we understand them [customers], not just the individual customers, but the plane customers," said Mr Bastian. Delta wants to understand who is collectively on the aircraft, "and the value and importance of where they're going with us", he explained.
However, over, the long term, Delta believes there are more valuable opportunities inherent in customer data, but Mr Bastian warned that the airline has to be "cautious that we don't become creepy or we don't become a stalker".
Delta can learn from data mining experts including Amazon and Starbucks, "that are a little ahead of us on this journey", Delta's CEO acknowledged, adding, "…we just want to be careful".
CHART - Delta Air Lines has continued to see traffic gains during the past decade with annual passenger numbers exceeding 150 million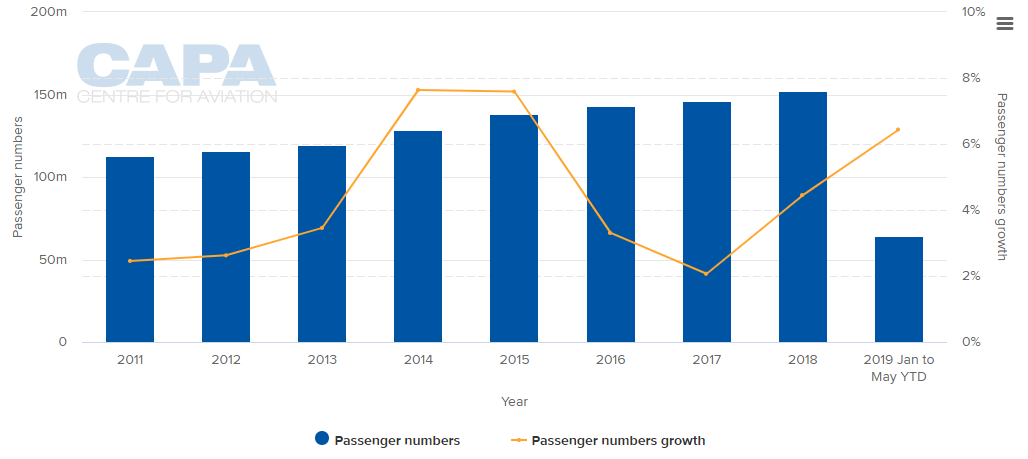 Source: Delta Air Lines
Delta's evolution as an airline has seen a lot more focus on the customer experience. No other US airline talks more about net promoter scores (NPS) more than Delta, perhaps it is due to the fact that it has made significant strides in that metric during the last few years.
During the airline's recent investor day Delta executives noted that its customer satisfaction scores are now regularly in the 50s. When it started tracking NPS about ten years ago, its NPS was in the teens, "and the numbers were so low the we didn't know if the math was right," said Delta CEO Ed Bastian.
Fast forward to 2019 and Delta's NPS is regularly in the 50s and Mr Bastian remarked that no large-scale, full service provider has ever had a NPS close to that level. Offering a more granular insight into Delta's NPS, company president Glen Hauenstein explained that for customers using Delta's app, "with all the communications that we give the is five points higher than those people who don't have the app".
Citing Delta's 50 NPS, Mr Hauenstein concluded that "…when you have scale and people like you, it really is a powerful potion, if you will. And all of our strength really comes off of that."
He explained that Delta is encouraging customers to download its app, sign up for its SkyMiles frequent flyer programme and ultimately get the airline's credit card (which it offers in partnership with American Express). "And if we can do all three of those, which we've been doing over the last few years, we will have a continuation of the strength of the brand," he concluded.