During 3Q2017 WestJet's managed corporate business revenues grew 9% year-on-year, and revenue from its highest tier fare offering Plus, jumped 19%. The airline's total topline revenue increased 8.1% year-on-year in the quarter, with yields notching up 0.2% and total unit revenue growing 2.2%.
But company EVP commercial Ed Sims recently concluded WestJet is "severely under-indexed" among business travellers in Canada, calculating its share in that passenger segment is roughly 23%-24%.
CHART - WestJet has grown its traffic levels 44.7%since the start of the decade with six successive years of annual growth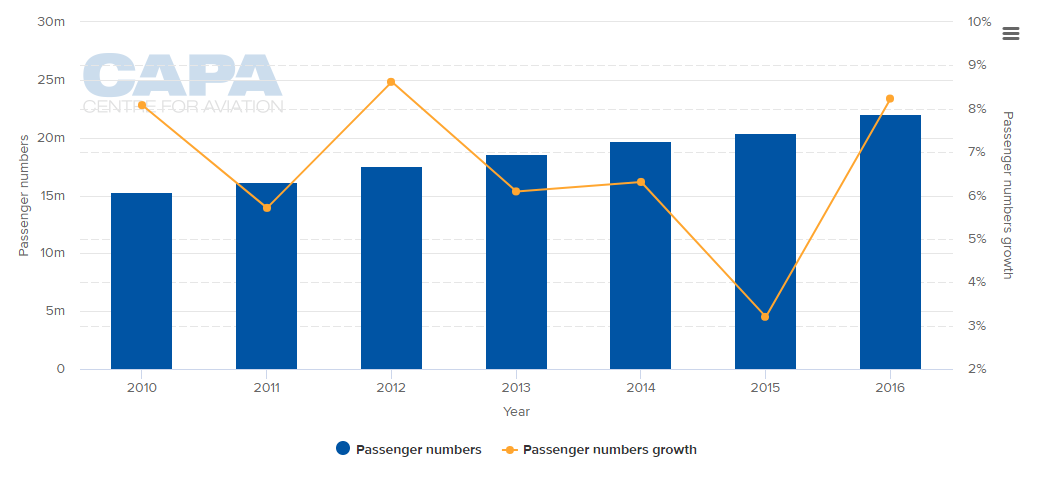 Source: CAPA - Centre for Aviation and WestJet reports
WestJet continues to challenge the notion that business travellers are not price sensitive. Highlighting lessons learned from the economic downturn in the Canadian province of Alberta during the last couple of years, WestJet CEO Gregg Saretsky concluded procurement power is now in the hands of both corporate travel management companies and the individual corporate traveller.
Mr Saretsky stated the 19% increase in WestJet's Plus revenues, which is five times higher than Canada's GDP, is indicative of the success the airline is achieving in attracting business customers. "We're winning large corporate accounts," he concluded. "The sales team is signing those up on a regular basis, and so we are seeing an improved mix in business travellers that pay an average ticket price because they're booking at the last minute."
CHART - Calgary is the largest point in the WestJet network by departure seats ahead of Toronto, its largest market by ASKs, based on flight schedules for the week commencing 13-Nov-2017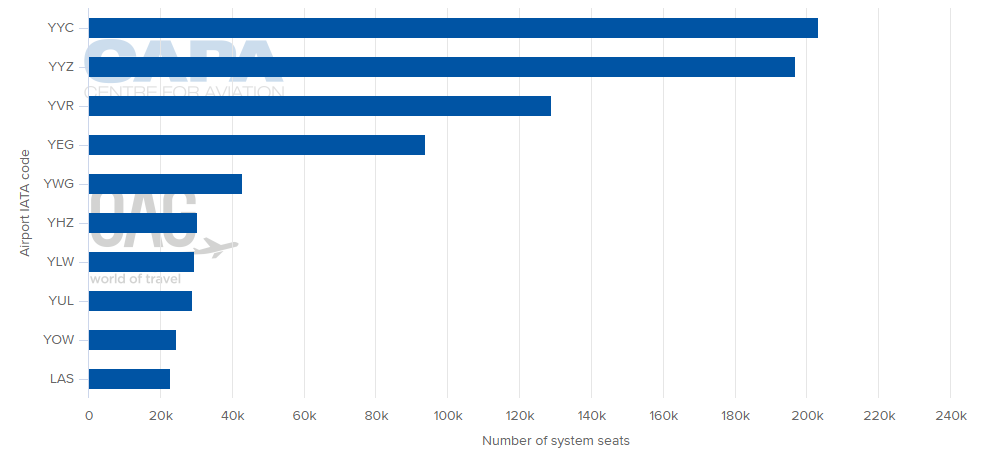 Source: CAPA - Centre for Aviation and OAG
As WestJet works to shore up its corporate share, the airline is forecasting continued unit revenue momentum in 4Q2017 of 2% to 4% growth year-on-year. Airline executives explained WestJet has several revenue management initiatives underway, noting one significant tool in its arsenal is how it manages connecting and point to point passengers in its hubs.
The company estimates 47% of its passengers connect in Calgary, 44% in Vancouver and 19% in Toronto. Those airports are WestJet's top three hubs measured by ASK deployment.
"We're revenue managing whether we choose to take connecting guests [for] higher values or whether we sell point to point guest for higher values," explained Mr Sims. "We're balancing the potential to protect the flights for too long versus selling those out too soon," he explained. "That is really putting us in control of the yield relative to capacity" Mr Sims concluded. He boasted that WestJet is the only North American airline in 2017 to have three consecutive quarters of both capacity growth and pricing growth over all three quarters.
For the 9M ending 30-Sep-2017, WestJet's capacity increased by 5.9% and yields grew by 1.1% year-on-year.