Even as Argentina faced significant headwinds under its outgoing president Mauricio Macri, his administration introduced an air liberalisation reforms that allowed for an influx of low cost airlines to start operations in the country including FlyBondi, JetSMART Argentina and Norwegian Air Argentina.
Between Jan-2019 and Jul-2019 those airlines controlled 19% of Argentina's domestic flights, and Argentina's domestic passenger levels through Jan-2019 through Sep-2019 grew +15% year-on-year.
Despite Argentina's persistent economic weakness, domestic passenger levels continue to grow, and it remains fertile ground for the low cost model. The country has a population of close to 45 million residents, and there were 0.3 trips per capita in 2017.
But the staying power of reforms that allowed low cost airlines to take root in Argentina is now up in the air as a new administration settles in. Before Mr Macri took office, prior governments – including the administration of former president Ms Kirchner – had adopted protectionist policies to shield state-owned Aerolineas Argentinas from competition.
CHART - Domestic seat capacity in Argentina has continued to grow in 2019 for a third successive year after a flat performance in 2016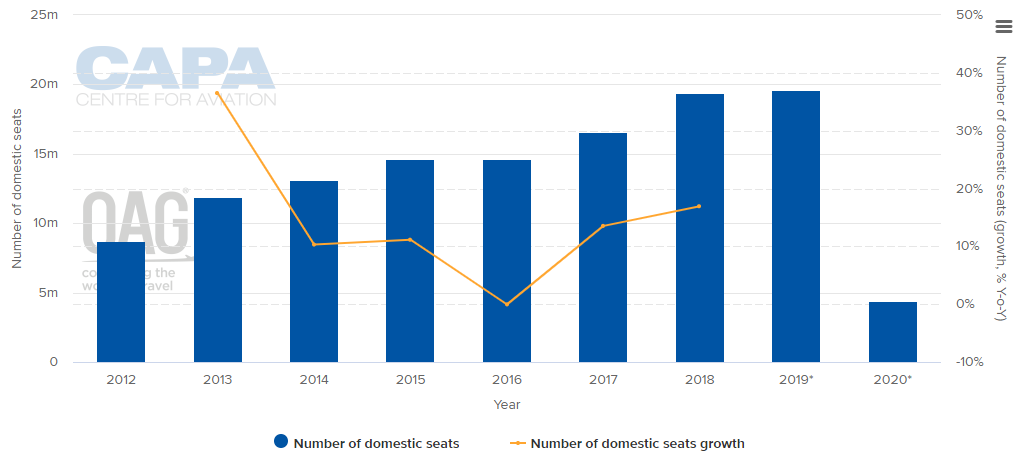 Source: CAPA - Centre for Aviation and OAG (NOTE: *the values for this year and 2020 are at least partly predictive up to 6 months from 11-Nov-2019 and may be subject to change)
Before the outcome of the Argentina's election, IATA's regional VP of the Americas Peter Cerda remarked that depending on the outcome, the results "could have significant implications on further growth of air transport in Argentina during a very difficult time because of their economic recession".
Airlines, airport operators, airport on-site enterprises (restaurants and retail), aircraft manufacturers, and air navigation service providers employ 71,000 people in Argentina, according to IATA's regional study on the country. In addition, by buying goods and services from local suppliers the sector supported another 79,000 jobs.
On top of this, IATA says the sector is estimated to support a further 51,000 jobs through the wages it pays its employees, some or all of which are subsequently spent on consumer goods and services. Foreign tourists arriving by air to Argentina, who spend their money in the local economy, are also estimated to support an additional 129,000 jobs. In total 329,000 jobs are supported by air transport and tourists arriving by air.
The air transport industry, including airlines, and its supply chain, are estimated to support USD7.5 billion of GDP in Argentina, according to the IATA study. Spending by foreign tourists supports a further USD 4.2 billion of the country's GDP, totalling to USD12 billion. In total, 2.1% of the country's GDP is supported by inputs to the air transport sector and foreign tourists arriving by air.