But what's now clearly apparent is that the now certain extended delay entirely changes the outlook for the industry. There has been much talk about aviation losing 30 to 40 years of development in terms of passenger traffic, like a trip back to the 1970s, with its reduced traffic levels, the prospect of more active government intervention, smaller networks and higher prices.
But, Mr Harbison argues that the current public health crisis has sent us even further back to the 1930s when you consider international air travel and closed borders and a heightened risk of injury. "There are important lessons to be learned from industry and government behaviour 90 years ago," says Mr Harbison.
WWI had spawned the multilateral Paris Convention of 1919, which established that every state had absolute sovereignty in the airspace over its territory – a response to the new aircraft that easily crossed boundaries. "That meant essentially that all borders were closed to foreign aircraft and permission became necessary even to overfly," says Mr Harbison.
Additionally, in the early, barnstorming days of aviation the biggest inhibitor of commercial air travel expansion was safety. "There was an uncomfortable tendency for airlines to crash, a feature that would be passengers found undesirable," explains Mr Harbison.
Aside from the cost of flying and the lack of comfort – two characteristics that once again emerge in our current condition – people were unwilling to embark on such dangerous missions and it took many years for each of these constraints to be overcome. Mr Harbison notes that it really "took until after the Second World War for intergovernmental agreement on new norms to be achieved, mostly around standardising safety regulation," a factor that could define our current recovery.

READ MORE INSIGHTS... in the latest issue of Airline Leader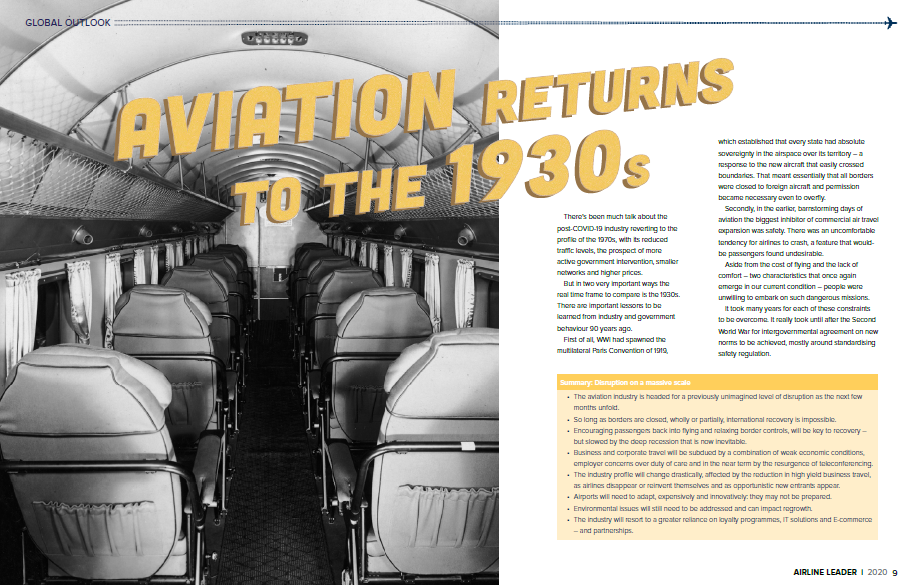 DOWNLOAD THE LATEST ISSUE: Airline Leader

It is hard to look forward with confidence, but the industry that emerges in a few months "will be considerably smaller, less competitive, less connective and higher priced, with greater government interventionism," predicts Mr Harbison.
Passenger confidence will most likely spawn recovery. Today, most national borders are effectively closed to airline operations, but once again it is the fear of illness, and perhaps death, that has been clearly demonstrated as a major deterrent to air travel.
But it will ultimately be the willingness – or not – of travellers to fly that will decide how and when air travel recovers. They will make their decisions based on their personal confidence about safety.
It is in times of crisis that we like to look back in history and learn from previous shocks, but in the current circumstances there is nothing to compare. The Global Financial Crisis? SARS? 911? None of these dealt a ripple against the tsunami of damage that Covid-19 is causing to the travel and transport industry. These are unchartered waters. An unprecedented problem that will leave an indelible mark on one of the world's leading economic generators and potentially result in every business textbook being rewritten.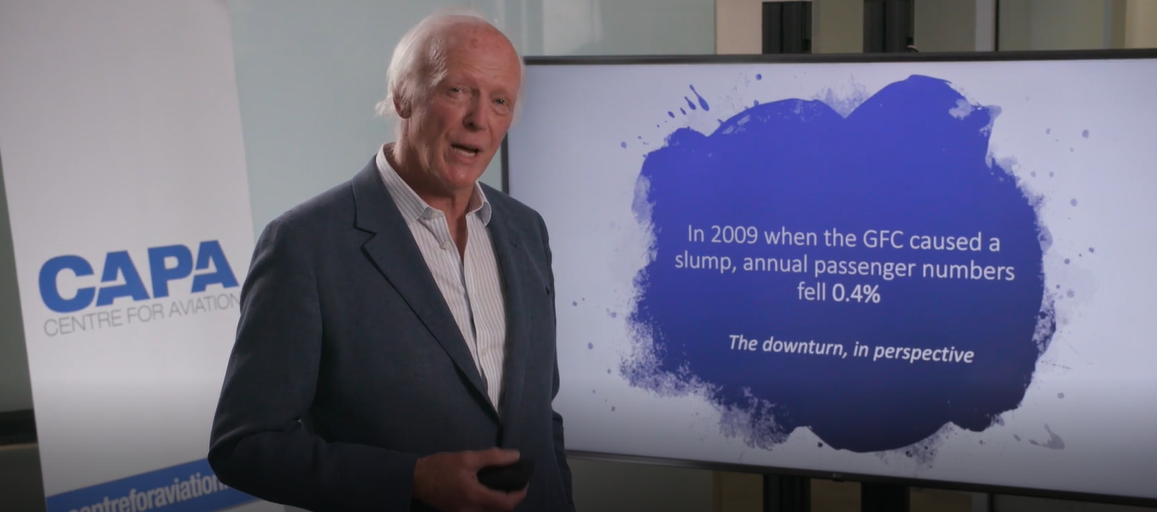 In fact, Mr Harbison revealed in a presentation during the CAPA Australia Pacific 2020 Aviation Summit that the worst year of traffic growth after the Global Financial Crisis in 2009 saw a reduction of just -0.4% in passenger numbers globally. "This year, even after a fairly decent first two months, we'll see a -60% drop in passenger numbers," he said.
He described it as an uphill battle for full service carriers to survive, but if anything can be taken from previous crises then there has been a surge in LCC operations around the world as the profile of passengers changed and as the need to have a really low cost base became more apparent. "It will be these cost effective value models that survive more effectively in the future," predicted Mr Harbison.
Domestic recovery has led the way, but the addition of capacity has not necessarily been followed at the same rate by demand. But international recovery will come very slowly, and Mr Harbison anticipates we will see a "much smaller international industry with probably 30% fewer airlines that will operate lower frequencies and fewer routes with higher fares".

Meanwhile, it is one thing to get people back into the air and get the economy going, it will be a much harder getting them back in the air with decent load factors and with decent fares. "That is going to be the real challenge," he said. "We're still floating on government money and even though dramas have occurred, we don't have the full disruption that is to face the industry yet."
"Economically we're staring down the tube of a global economic recession, so business and corporate travel is inevitably going to be subdued," warned Mr Harbison. The industry profile as a result is going to change dramatically and high yielding business travel will be certainly "delayed for several months, if not years," according to the executive. "Even the most optimistic estimations of where business travel will be next year is around 60% of previous levels, that is sufficient to make a difference to average yields for full service carriers," he added.
It is clear the airline industry will look very different when passenger numbers return to pre-Covid levels, be it 2023, 2024 or even further to the right. It is also clear that it desperately needs restructuring if it's going to have an economically sustainable future. "It has not in the past and it needs it," according to Mr Harbison, who urged governments not be wasting this crisis. "This is a one off opportunity to make sure we can have a sustainable and effective industry for the future," he added.

The virtual CAPA Australia Pacific 2020 Aviation Summit took place on 02-Sep-2020 with over five hours of content, including exclusive interviews with Alan Joyce, group CEO, Qantas; Paul Scurrah, managing director and CEO, Virgin Australia; Cam Wallace, chief commercial and customer officer, Air New Zealand; Akbar Al Baker, group CEO, Qatar Airways; Tadashi Fujita, director and vice chairman, Japan Airlines; Campbell Wilson, CEO, Scoot; and Graham 'Skroo' Turner, CEO, Flight Centre. It is not too late! You can still sign up to view the exclusive content on-demand. Find out more: CAPA Australia Pacific 2020 Aviation Summit